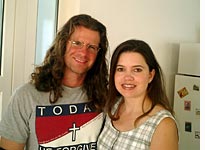 ORADEA—Michelle Sims picked up the floppy infant and showed him to me. "He looks like a 2-month-old, and he was left here almost six months ago," the American social worker said. "They call him Little Bird Boy." The puny child with a mat of black hair and big brown eyes that stare blankly was abandoned at birth at the Oradea Children's Hospital in northwest Romania, near the Hungarian border.
If his mother has not shown up to claim him by the end of six months, the hospital can declare him officially abandoned, making him eligible to be adopted domestically, according to current Romanian law. But that is unlikely to happen, Sims explained, since Little Bird Boy's dark skin identifies him as a Roma, or gypsy. Romanians aren't lining up for Roma children. They make up 10 percent of the population but about 60 percent of abandoned babies.
"Any American family would take him because he's so cute!" Sims said, squealing the compliment and squeezing his foot. But after accusations surfaced that adoption agencies were selling children to the highest bidder, the European Union pressured Romania to permanently shut down foreign adoptions. It is one of a flurry of new initiatives drafted to overhaul the child welfare system as a condition for EU entry in 2007 and to show that Romania can take care of its children.
Sims runs a foundation called Children in the Son, which is affiliated with a South Carolina church. It is building a home for pregnant mothers, hires foster parents for about 10 children, and pays for infant formula and clothing for the 30 or so abandoned babies. They are one of several nonprofit groups that hire women from 8 a.m. to 2 p.m. each weekday to hold, rock, and sing to the babies to try to prevent attachment, failure to thrive, and sensory-deprivation problems.
"You should have seen it before," Sims said, a refrain I would hear repeatedly during my stay in Romania as people described malnourished, under-stimulated children screaming for attention and biting themselves in the infamous orphanages, which were exposed in 1991 and led to a wave of international adoptions.
This Sunday, hospital workers change diapers only on scheduled rounds and prop up baby bottles on blankets because they don't have time to hand-feed their charges. Despite the forest murals in the sterile hallways and the donated Fisher-Price toys in the corner, the place is pretty grim. The smell of feces hits you as soon as you enter the floor, and babies don't stop crying. The noises are not the sharp outbursts that signal the need for attention or the whimper of a fussy baby resigned to a nap, but rather the unfocused wails of neglected infants. "Nurses don't hear the crying anymore," Sims said, as she looked for a supervisor to release another baby to his new foster parents.
Sims suspects that Little Bird Boy's mother was one of the many women who drop their babies off at the hospital, listing a false address, and then disappear. Some babies have been there a while because their mothers use the hospital as a form of child care, especially during the winter months, when many poor families don't have heat. If a mother visits her baby once every six months, she can keep her parental rights. "One told me, 'I'll get him in a couple of years when I can afford it.' I must hear stuff like that a dozen times a year," Sims said.
In the meantime, babies like Little Bird Boy languish. But in what appears to be an "a-ha" moment for the Romanian government, a new law will require hospitals to report abandoned babies within 24 hours to the local departments of child protection, which will place them with foster families. The police have 30 days to locate the mother and encourage her to take back the child. If she can't be found, local authorities will give the baby a name and birth certificate.
The reforms also mandate that babies under age 2 will no longer be placed in institutions. The government is slowly shutting the orphanages anyway in favor of group homes and foster care, but the babies will benefit first. Marv and Diann Tieman, an American couple who run a private home for abandoned babies in Galoti, a few hours north of Bucharest, were told they would receive no new babies after Jan. 1, 2005.
But no one seems to know where the state is going to find enough foster families. Marv Tieman said he had to keep some of the babies for months before families could take them. Sims had to turn down requests from the state hospital asking her foundation to find and pay for foster care for five children because she couldn't afford it. And a group of foster parents from Olt County in southern Romania recently staged a protest claiming they were being forced to care for more children than they had agreed to.
"We're developing a foster care network. But it's hard to find so many parents. It's very expensive," explained Sanda Gancevici, a pediatrician who specializes in developmental disabilities at Orphanage No. 1 in Bucharest, which is in the process of closing. She is a slight woman with a hard face who became resigned to the sluggish, exasperating system long ago. A quick tour of the orphanage showed that the children were well tended to, but they still had the telltale signs of having spent years in institutions—the hand-waving, head-rocking, and morose faces.
"It's improving, but a child in an institution is forever a damaged child," she said.
Despite pledges to close all the big institutions by 2007, about 37,000 children still live in them, according to the latest EU report on Romania released last month. The same number live in group homes run by the state or nongovernmental organizations, and nearly 50,000 live with foster families. Romanian government figures are even rosier: They show that only about 32,000 children remain in institutions—down about 5,000 since last year. But critics claim that children simply have been moved around to make the numbers look better.
Then there's the problem of how to find permanent homes, since international adoptions are no longer an option. "We can't solve the problems with Romanians," Dr. Gancevici said, folding her arms and leaning back in her chair as if challenging me to prove otherwise. "No Romanian will adopt a gypsy or problem or disabled child."
In the meantime, the Romanian government is trying to figure out how to cut off the supply of unwanted children by forcing desperate mothers to rethink their decisions. The current law requires mothers to wait 45 days after the birth of a child before she can legally sign over her rights.
Anna, 16, who didn't give her last name, was forced to take her newborn daughter back after she tried to abandon her at a hospital in the suburbs of Bucharest, "A social worker told me, 'You can't leave it here,' " she said. "I first thought about abortion, but I couldn't do it because the baby was too big, almost five months. I was confused. I didn't know what to do," she said.
She explained that she was kicked out of her parents' house, so the social worker sent her to a shelter for mothers and children run by the charity Hope Worldwide. Loredana Bogdan, who helps run the 6-month-old center, where women lounge around the kitchen with their babies, said two women decided to keep their babies after the waiting period ended.
Anna has been there a little over a month, and from the way she can barely be bothered to prop the baby's head up, it's clear she's counting the days.