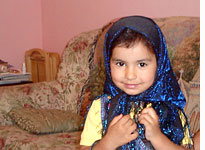 TIMISOARA—Larissa is a bossy, bewitching 3-year-old whose family hangs on her every word. Lari wants to watch Finding Nemo again. Lari had a dream about a "skalamander." Lari saw a truck today. Lari likes blue M&Ms. "What did she say?" they ask each other, with eager anticipation of bursting into laughter. It's not the novelty of having a young child in the home of a couple with older children. The Heisey family, from Lancaster County, Pa., is completely in love with this kid. And every day they wrestle with a sick anxiety in the pits of their stomachs that someone will knock at the door and take her away.
Peter and Julie Heisey have worked as missionaries for nearly six years in Timisoara, Romania, the epicenter of the 1989 revolution that ended the Ceausescu regime. Ever since Julie received a call from a friend telling her about an 8-day-old gypsy baby, whose teenage mother planned to take her to an orphanage, the Heiseys have tried to legally adopt her.
In November of 2003, after years of delays in the long, maddening process to make it official, their file was finally completed. The Heiseys had taken psychological tests. Julie had been re-fingerprinted, after the first set was unreadable. Their home had been inspected. They had included another copy of Lari's most recent medical exam.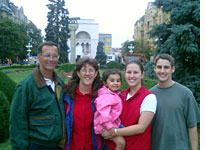 It's not easy to adopt a child in Romania, and at first, the Heiseys thought they were following the law by hiring lawyers to notarize the signing over the birth rights and applying for her birth certificate. That began a local legal brouhaha that involved more lawyers, social workers, abandonment proceedings, commission meetings, and mandated visits of the birth mother to the Heisey's home to make it clear that she indeed did not want this child.
There's an old joke that Romania is the land of possibility, where anything can happen—anything bad and anything worse. So, when Peter proudly plopped the file containing every single document carefully copied and collated on the desk of Larissa's assigned social worker at the local office of the National Authority for Child Protection, he wasn't surprised when the clerk told him she couldn't send it on to Bucharest. The Romanian government had passed an emergency ordinance forbidding international adoptions. For the previous three years, the government had imposed a moratorium stopping such adoptions after a report in 2001 on Romania's membership application to the European Union claimed that hundreds of children were sold into trafficking networks under false adoption claims. It also said that some were used for organ donation.
Hoping to join the union in 2007, the Romanian government said it would resume international adoptions once it had a chance to straighten out the corrupt child welfare system. In the meantime, there had always been a special clause allowing exceptional cases, such as those involving older or disabled children. The Heiseys filed to declare Larissa a special case. After all, she had joined their family as an infant, lived in Romania with them, and was a gypsy girl who few Romanian families would want to adopt. But Peter knew this latest decree was more serious. It banned all adoptions, except to relatives living abroad. Parliament approved the legislation this summer, President Ion Iliescu signed the ordinance into law, and it's scheduled to go into effect Jan. 1, 2005. Still, the Heiseys thought they were safe. They had a registration number.
In the latest disturbing development of the Romanian adoption saga, which began nearly a decade ago when the world learned of orphanages full of 100,000 malnourished, abused, and neglected children, approximately 2,000 pending international adoptions are currently in legal limbo. That figure includes nearly 300 American families who filed so-called exceptional cases after the first moratorium went into effect in June 2001. One group called For the Children SOS, which includes prospective adoptive parents, has been lobbying the U.S. government to pressure the Romanians to put through the cases that have matched children with American families and, in many cases, have been approved by local Romanian authorities.
Emotions have run high on both sides of the Atlantic. Romanians gossip about corrupt officials charging Americans $50,000 a child or approving adoptions to 60-year-old parents in Spain. Or they claim that Americans abandon or abuse their adopted children once they discover they have emotional or developmental problems. Then there are charges that Romania rebuffed American efforts to draft new legislation because of pressure from the European Union.
Romania heeded an EU warning this summer not to amend the law or yield to U.S. pressure to process the pending cases, even those involving sick babies. However, last month, France and Romania agreed to set up an international committee to sort through the so-called pipeline children, many of whom are disabled or older.
In the meantime, families and children are waiting for answers. Thomas and Margarida Harr of Gilford, Conn., already received theirs. After flying to Romania four times in two years to visit the two children they had been on track to adopt, the couple received an e-mail from the agency notifying them that the boy and girl had been adopted by Romanian families. "It was shattering," said Thomas. "We were so, so disappointed. We knew it could happen. But we never thought our two would be taken, especially both of them. Some woman decided she wanted to adopt the girl, and the boy was adopted by his grandparents."
The Heiseys wait, too. Peters schemes about his legal options and writes impassioned posts on a Yahoo group. Julie refuses to fantasize about Larissa's future. A couple of months ago, she had a dream in which she saw a baby crawling on a railing with two other babies on her back. She wanted to help them, but she couldn't leave Larissa behind.