SIBIU—Eni Gall has one of the most depressing jobs in Romania. Equipped with a minimal range of social services, a couple of loaves of bread, and an earnest idealism, 25-year-old Gall works as a case manager visiting poor, dysfunctional, and marginalized families. Her assignment is to keep families together so they won't abandon their children.
Gall is one of a slowly growing number of social workers in a country that, during communism, didn't recognize it had social problems. Today, Romanians know they have problems, but there is scarce public funding to even begin to address them. They can clean up the orphanage system in an attempt to become a EU–worthy country by 2007, but there's no mechanism in place to stem the supply of deserted children. "There are no public social services in Romania, only institutionalized ones for the disabled or orphans," explained Calin Blaga *, director of Gall's employer, Arapamesu, a nongovernmental agency founded in 1995 by an American nun and funded by U.S., European, and Romanian donors. It provides counseling, tutoring, support groups, and children's activities for around 330 at-risk families in the Transylvanian city of Sibiu. "We need services, services, services!" he said.
The little agency with an annual budget of $100,000 takes on the big demons of Romanian society: poverty, alcoholism, domestic violence, unemployment, and bad housing. "Families are in a difficult situation, and they have children, and they don't know what to do anymore," he said, explaining that older children, not just babies, were at risk of being abandoned. "We don't have shelters in Romania. This is a problem of abandoning 2- and 5-year-olds."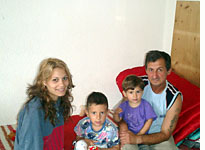 I accompanied Gall as she made a surprise visit to the Zeng family. Gall briefed me on their story in the car: The husband and wife both grew up in orphanages, where they met. He's 31 and asthmatic; she's 24 and anemic. They have two pre-schoolers. The wife recently returned home, after living with a new boyfriend, because she's sick. In the meantime, the husband let a homeless pregnant mother and her 16-year-old daughter move in. He once was so desperate for better housing that he doused himself with gasoline in front of the mayor's office and threatened to light a match. It didn't work.
On this rainy morning, all six were hanging out on two small beds and a couple of chairs in their spartan one-room studio. There was no television, and I couldn't imagine what they did all day. The smiley and precocious kids, ages 2 and 4, jumped on the beds, and the group seemed glad to see new faces. Gall delivered the bread she brings weekly. The husband supplements his meager pension of about $60 per month by doing odd jobs, such as repairing tables for the greengrocer in exchange for vegetables, or secretly selling used clothing donated by Gall's agency. "He came to us to see if we knew where he could work," she said. "We have a program to repair homes, but it was winter, and he's asthmatic."
Gall giggled after we left and rolled her eyes, as if to say, "What can you do?" The house was a circus, but Gall thought the kids were safe. "He loves them too much," she said.
More troubling was the next stop at the apartment of the Boier family, which consists of a tubercular uncle, an alcoholic grandmother, and her 5-year-old granddaughter, who she retrieved from an orphanage a year ago after the child's mother had deserted her. The man who answered the door refused to invite us in and barked that the grandmother was out. Gall thought it was her boyfriend. Even from the doorway, I could smell old garbage, and Gall took a deep breath before peering inside and waving at the timid, cross-eyed child. "I want to go to child protective services. The girl is living in a bad condition. But the state never checks up," she said bitterly. "Sometimes the grandmother is so drunk she can't speak to me." Gall once offered to take the girl to her agency's youth club, but the grandmother said she couldn't afford the bus fare. "This job is hard sometimes," Gall said, turning quiet on the ride home. "But it's necessary."
If social workers are trying to help people keep their children, public health officials are attempting to show women how to avoid having unwanted children in the first place. Contraceptives are taken for granted in most of the world, but in Romania, they've only recently become widespread. Many forms of birth control were banned or unavailable during communism in an effort to boost the birth rate. Doctors weren't trained to prescribe oral contraceptives, and many Romanians thought they were carcinogenic anyway.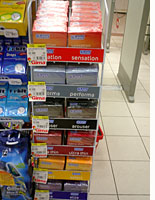 Now, condoms are discussed on the Romanian version of MTV, and doctors must join a waiting list to attend birth-control information seminars. Three years ago, the Romanian government—with help from John Snow Inc., an international health-care consultant, and funding from the U.S. Agency for International Development and the United Nations—started a campaign to offer free birth control to poor people. Recently, the healthy ministry and a Roma human rights group trained 200 Roma health coordinators to educate a community still stigmatized by the old joke, "A gypsy woman is washing her baby and drops him in the mud. She asks her husband, 'Should we pick him up or just have another one?' "
Two years ago, residents of a gypsy ghetto north of Bucharest didn't even know contraceptives existed. I met health coordinator Florica Petre, who blushed as she recalled showing a roomful of men how to put on condoms. She said that whenever she gets a new delivery of prophylactics, the men scoop them up for visits to local prostitutes. (Apparently, the equivalent of $6 buys a visit to a French or a Japanese hooker, the neighborhood favorites.)
Petre is responsible for teaching 2,300 people in her area about vaccination and family planning options. That includes trying to persuade women that the pill won't make them fat or that that missed periods from contraceptive injections, which are given every three weeks, won't cause blood to build up in their stomachs. It's been a slow sell.
She introduced me to Angela Bitbea, a 30-year-old woman with five children, who stopped using birth control pills after they gave her headache. Since she hasn't gotten pregnant in two years, she assumes she is no longer fertile. Her husband doesn't work, and the family lives off a monthly pension of about $100.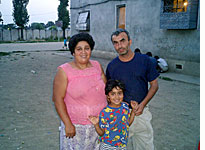 And Mariana Burdulea, 36, got hot flashes when she tried the pills, so she stopped using them. She is the mother of two children "who are enough because life is so hard." She thinks she is pregnant now and will look into an abortion, which would be her fifth. "She's pregnant all the time," interjected her husband. She thought the termination would cost her the equivalent of $30; she will borrow the money to pay for it. Petre added that the price didn't include the $10 consultation fee.
"Before, women were ignorant," Petre said, with a satisfied look on the face. "Now, I've helped to emancipate them."
Correction, Dec. 7, 2004: This entry originally misspelled the name of the Arapamesu director quoted in the second paragraph. He is Calin Blaga, not Braga. (Return to the corrected sentence.)