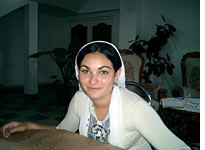 SIBIU—Mention the name Florin Cioaba to the average Romanian, and you usually get a laugh, followed by a head shake and a muttered, "That crazy guy!" In 1997, Cioaba inherited the title "King of Roma Everywhere" from his father, Ioan, who sort of invented it in 1992. There's at least one other royal, namely Cioaba's relative Emperor Iulian Radulescu, who also lives in the Transylvanian city of Sibiu. But Cioaba is the best-known, largely because of the publicity surrounding last year's lavish wedding for his then-14-year-old daughter, Ana Marie, to a 15-year-old. Reports claimed that the bride tried to escape but was forced to return, sparking headlines like "Gypsy child bride scandal" and prompting British Euro MP Baroness Emma Nicholson to threaten to remove her from harm. Romanian officials ordered the couple apart until she reaches 16, the legal marrying age.
Cioaba, 49, a Pentecostal minister, defended the practice by arguing that early marriage was an important part of Roma tradition that must be preserved. (Roma, rather than gypsy, is the preferred term for the poor migrants who arrived from India a thousand years ago and are scattered mostly in Central and Eastern Europe.) The dozen or so ethnic Romanians I spoke with were quick to dismiss Cioaba as an eccentric but then indulged in gossipy speculation about how much the bridal dress cost and what goes on in that gated compound with the Mercedes S320 parked inside.
I gained access to the king through his English-speaking sister Luminita, who publishes poetry, is making a film on the Roma survivors of the Transnistrian concentration camp during World War II, and likes to talk about her recent trip to New York City to buy a camera. After we waited an hour in the so-called "king room," which features a large fresco of Ioan mounted on a horse, wearing a cape, a gold crown, and a ridiculous grin, Luminita finally escorted me into the living room to meet his current majesty.
Another half-hour later, the king emerged. Clutching his back, he limped toward the glass-and-gold table and carefully set himself in a chair, allowing his open shirt to reveal the sleeveless undershirt covering his ample gut. "Sciatica," he explained. Cioaba is a member of the wealthy 300-strong Kalderash tribe, who are known as skilled coppersmiths. But his lifestyle is a far cry from that of the country's estimated 2 million to 3 million Roma, who are known mostly for being dirt poor. They're subject to rampant discrimination and are mistreated in police stations, prisons, and psychiatric hospitals. Roma children are segregated in many schools, and tales abound about job offers being rescinded once employers learn that applicants are Roma. The latest report from the European Union on Romania's progress toward meeting entry criteria pointed out that, despite some improvements, the legal system still has a long way to go in protecting Roma rights.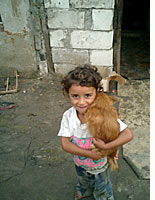 Cioaba is the Roma's spokesman and represented them at a meeting on Roma rights in Budapest last year sponsored by the World Bank, George Soros' Open Society Institute, and the European Commission, which is an arm of the European Union. The meeting's brainchild was the "Decade of Roma Inclusion" beginning in 2005. Nine countries committed to support programs targeting poverty, health, school enrollment, and employment to close the gap between Roma and non-Roma.
"There's a new beginning for the Roma," Cioaba said, insisting that integration does not mean assimilation. "We don't want to change our culture," he said, explaining why he defied the law to let his daughter marry young. "I was married at 14. This was our tradition 100 years ago. We have agreed to change, but not in one night."
Delia Grigore, head of the Roma human rights organization Aven Amentza, wants Roma to reclaim their heritage by taking advantage of new constitutional protections to learn the Romani language and wear traditional clothing. "They think their identity will stigmatize them, but this is a process of self-rejection," she said, smoothing out her long flowing skirt. "Our grandparents had to assimilate to survive. There is a cultural re-emergence happening. I came into the movement to really be a Roma."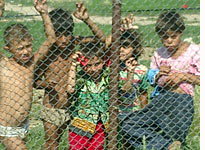 Despite all the heady talk of a "cultural nation," many Roma see little use for the movement, especially when they can't pay their bills. In fact, they say the Roma fared best during communism. They were forced to leave their nomadic lifestyle and permanently settle and faced deportation, but they were guaranteed housing and factory jobs.
"In Communist times, I worked 30 years in an iron factory," said Sandu Stana, who is 71 but looks 80. "In capitalism, it's hard to have a job. When the jobs are open, and they see our face, they say, 'Sorry, it's been taken.' "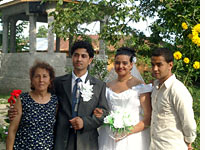 Activists insist that embracing the Roma identity is the only way to move the community forward. For example, the government recently hired 200 health-outreach workers and set aside 400 university spots for Roma in 2004 compared with 10 earmarked in 1994. About 2,000 have graduated, said Marius Taba of the human rights group Romani Cris. About 80 percent of Roma drop out of the system before high school. For those who do go, there are tales of bus drivers refusing to pick them up and school officials segregating them in separate buildings. Discrimination is everywhere. A French film crew followed Taba and several other clean-cut Roma young men on a night out around Bucharest. Five of eight bars they visited kicked them out.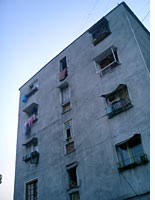 In an informal ghetto north of Bucharest, Roma residents had more immediate concerns. One woman showed me how they were stealing electricity by attaching wires from the power pole into their apartments because they couldn't pay their utility bills; they're worried the police will come soon.
Back at the king's house, Ana Marie just wanted the media to leave her alone. "They say that I left my wedding, but I just went to have a cigarette," she said, playing with the cell phone dangling from her neck. "I was angry about it, and it hurt my father's reputation. They wrote in the papers that I will go to an institution for kids. There are so many kids in the streets. Why me?"
Some press reports said she was 12 at the time of her wedding, but the king said she was 14, and given her curvy body, I believe him.
Ana Marie received a quick education in public relations. She went out of her way to let me know that, per the baroness's instructions, she was in school, and she and her "husband" are just "good friends." She didn't seem too stressed about her future. "The women stay home to raise kids. It's easy.'"
With that, the king went to lie down, and his wife sent the teen upstairs to bring down some scarves to sell me.