JC: Today we met the heroes of the new South Africa. At Zola Clinic, we had an opportunity to hear from leaders about their critical work to protect the lives of newborns from HIV. But the heroes I'm referring to were four mothers who had the courage to come to the clinic today and express their commitment for a program that seeks to save the lives of their babies.
Several months ago, as these women were preparing to bear children, they came to this clinic to be tested for HIV. When the test came back positive, as it did for all four of them, their first thought was the epitome of a mother's love: "How can I protect my baby?" As a father of four and grandfather of 11, I know this instinct. I had the opportunity to hold in my arms today the baby of one of these mothers, and it was an experience that I will never forget. I looked into the eyes of that baby and knew it would live because of the selfless act of its mother.
The determination of these mothers to save their own children and help save others can set a far-reaching example for the rest of us. Most important, I hope their stories can generate a greater acceptance of people living with HIV/AIDS, as well as greater support for programs that reduce mother-to-child-transmission. It's the only way to make sure programs like the one here at Zola Clinic will soon be available for every mother-to-be.
After our visit to the clinic, we visited with a large group of teen-agers at Eastbank High School in Alexandra to learn more about an effort called loveLife, an energetic awareness campaign promoting HIV/AIDS education and prevention for South Africa's young people. loveLife encourages young people to talk about HIV/AIDS—how it's transmitted, how to protect themselves, and how to talk with others.
If there is any leadership vacuum at the national level, it is more than offset by the leadership among young people. Today we saw the future of South Africa—bold teen-agers and courageous women unafraid to speak out about HIV/AIDS. These are the heroes of the new South Africa.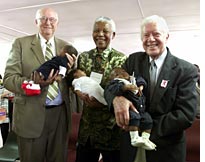 BG: Today was no ordinary day. We went to Zola Clinic, in the township of Soweto, with one of history's great civil rights leaders, a Nobel Prize winner, a moral leader of the caliber the world seldom sees.
Nelson Mandela, still a picture of strength and dignity at 83 years of age, was clearly excited today to learn about the work of a program—funded by the Elizabeth Glaser Pediatric AIDS Foundation—that saves thousands of children's lives every year.
The purpose is to prevent transmission of HIV from mothers to their newborns. Dozens of pregnant women arrive every day to be tested for HIV. But that's just the first step. If they test negative, they're given counseling about how to prevent infection. If they test positive, they are provided counseling, treatment, and instructions on how to reduce the risk of passing the virus on to their child. This program is compelling proof that we can make a dramatic difference in the course of this epidemic. The drug nevirapine for instance, when given once to mothers during labor and once to the newborn within 72 hours of birth, can cut the likelihood of transmission by 50 percent—at the cost of a few dollars a dose. When low-cost, life-saving interventions are available anywhere, they ought to be made available everywhere. There's no better way to spend money in the world today than to give these infants a chance to reach their potential.
Anyone who saw what we saw this morning would have to agree. It was so poignant to meet several young mothers, to see—and in my case bottle-feed—their newborns, and to know their future and the future of millions like them depends on whether the rest of the world knows and cares. Not everybody has had the transforming experience of holding these precious kids, but those who have need to bring the message to those who have not. People with the resources to solve the problem too often don't see the problem. Worse than that, they don't see the solutions.
The world needs to know people like Jim McIntyre. Dr. McIntyre, who showed us around the clinic today, directs the Perinatal HIV Research Unit at Soweto's Baragwanath Hospital, the largest hospital in the world. Jim and his team are smart, hard-working, and optimistic, even though they spend their days at the center of the storm. HIV/AIDS infects about 70,000 children in South Africa every year. Dr. McIntyre and his team wake up every morning determined to drive that number to zero. We'd have to be heartless not to help him.