"I Wish I'd Never Called the Police"
For years, the United States has given a safe path to citizenship for victims of abuse. Under Trump, they may face an impossible choice: silence or deportation.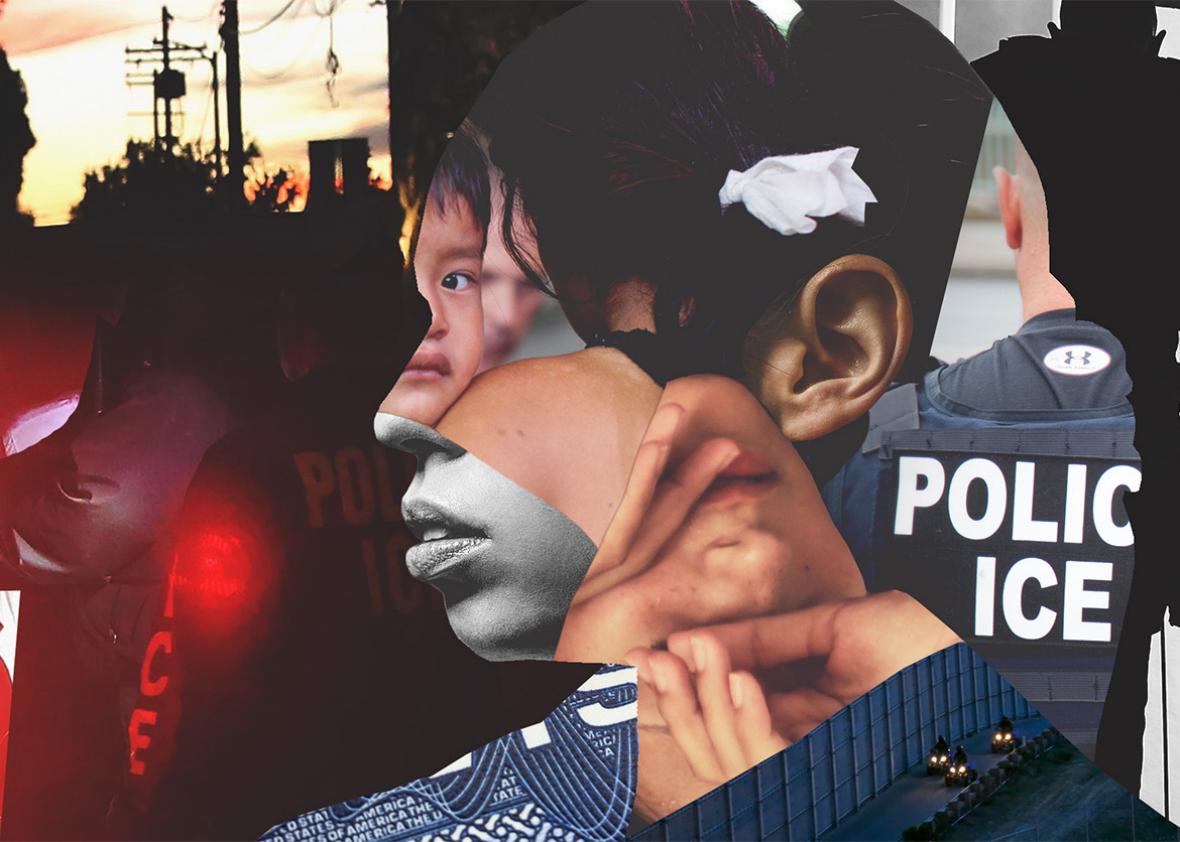 Anabel left her abusive partner more times than she could count, but it seemed she was always doomed to go back. He used to rape her, beat her, and do anything in his power to control her, she said. But he was a U.S. citizen, and Anabel, originally from Mexico, was undocumented; he spoke fluent English, and she spoke almost none. His name was on the lease, and her name was not, so when the police came to the door because the neighbors had called them, or because Anabel had dialed 911 in desperation, they told her that they could not legally ask him to leave. (Some last names have been omitted to protect victims' identities.)
Sometimes she would go to a shelter for victims of domestic violence, but after a month or two, they would tell her that she needed to find work and an apartment. Without a work permit or a Social Security number, this was nearly impossible. Sometimes she lived on the street for a while. Sometimes she slept in her car on chilly Minnesota nights. Sometimes she had her children with her; sometimes she was pregnant; sometimes they'd taken nothing from the apartment but the clothes they were wearing. Always, after a while, she would go back in despair. At least her partner could work legally and make money. At least he could put a roof over her children's heads.
In 2010, a woman at a shelter told her she might be eligible for a special visa for undocumented immigrants who were victims of violent crimes. "I didn't even know if I could have a visa for sure. I only knew that this might be a way out," she told me recently through a translator. It would take her almost a year to apply and another two years to receive a visa—and, having found an under-the-table job, she worked all that time to support herself and her three children. "Even having that hope, that little hope without even any certainty, gave me enough strength. I wanted it so badly that I never looked back."
In 2012, Anabel received what's known as a U visa; after three years, such visa holders are eligible to apply for green card status, and she became a permanent resident last June. The U visa, which was designed to encourage immigrants to report dangerous criminals to law enforcement, has been a point of relative consensus in the divisive world of immigration policy. It was created by the late Democratic Sen. Ted Kennedy and Republican Sen. Spencer Abraham and passed into law as part of the 2000 Violence Against Women Act. To qualify for a visa, a victim needs law enforcement to certify that he or she was "helpful" in the investigation or prosecution of a crime. "There was support for getting perpetrators out of communities, and you can't do that without witnesses," said American University law professor Leslye Orloff, who helped lobby for the visa's creation.
In particular, the visa was conceived as a lifeline for victims of repeated violence, at home or in the workplace, who, like Anabel, saw no way out. Orloff's research has shown that the majority of victims continue working for or living with their abusers until they get legal authorization to work, which makes it economically possible to leave. In more than a quarter of U visa cases, perpetrators attempt to get the victim deported, to silence someone who could speak against them.
But advocates no longer know how to square the visa's message that police can be a force to protect immigrants with Donald Trump's promise to deport as many of the undocumented as possible—and to enlist local law enforcement as part of that effort. On Jan. 25, Trump signed an executive order that vowed to do away with "classes or categories" and instead consider "all removable aliens" subject to deportation. To accomplish this, the order says, the Department of Homeland Security will partner with police departments, training them "to perform the functions of immigration officers in relation to the investigation, apprehension, or detention of aliens."
That policy represents a distinct shift in federal priorities. Though Barack Obama deported more immigrants than any previous president, in his second term, he directed DHS to prioritize the removal of gang members, convicted felons, and national security threats, as well as recent entrants into the country. Longtime residents—who worked, paid taxes, and, in many cases, had children who were U.S. citizens—would most likely be allowed to stay. In a 2011 memo, the administration added a special protective note about the class of people who seek U visas: "Absent special circumstances or aggravating factors, it is against ICE [Immigration and Customs Enforcement] policy to initiate removal proceedings against an individual known to be the immediate victim or witness to a crime."
ICE spokeswoman Danielle Bennett told me that the 2011 policy remains in effect and that ICE "will take into consideration if an individual is the immediate victim or witness to a crime, in determining whether to take enforcement action." But immigrants and their advocates see a changed picture. When law enforcement collaborates with ICE, this means that jails that book an undocumented person alert the immigration agency. In domestic violence cases, it's common for both abuser and victim to be picked up by police for disturbing the peace or for the man (and the batterer is usually a man) to accuse the woman of "starting it."
In addition to enlisting police as partners, Trump's executive order extends deportation priority to those who "have been charged with any criminal offense, where such charge has not been resolved." ICE defends that conflation of criminal charges and convictions: "The people being taken to jail by cops are criminals," an ICE official told me in defense of the program, on condition of anonymity. But attorneys around the country told me they believe this policy will sweep up victims of domestic violence, putting them on a fast track to deportation before they can seek legal status through U visas, or justice through the legal system.
In interviews this February and March, over three dozen lawyers, advocates, and immigrant survivors of abuse from every region of the U.S. told me that, now more than ever, victims are choosing the violence in their own homes over the unknown consequences of exposure. "I fear for their lives," Miriam Guillen, a U visa recipient who now counsels other survivors at the grass-roots organization Mujeres Unidas y Activas in the Bay Area, told me. But she also understands their choices: While most immigrants fear deportation and separation from loved ones, many of these women will do anything to avoid leaving their children in the sole custody of an abuser.
"The U visa has been this sort of safe avenue," said Katy Lewis, an immigration attorney in San Francisco, "and for good reason." By creating a relatively secure path to legal status, the system encourages fearful people to come forward and, by extension, protects whole communities. Now, Lewis said, "We just don't know what to expect … I can tell you I've told people, 'You should not go ahead with this right now.' "
On Feb. 9, a transgender woman named Irvin Gonzalez entered a courthouse in El Paso, Texas, seeking a protective order against her abusive ex-boyfriend, who she said had punched, kicked, and choked her and, in at least one episode, chased her with a knife. As she waited her turn to see the judge, she and her caseworker learned something shocking: ICE had received a tip about the hearing and had come to arrest her. Gonzalez believes the tip could only have come from her ex, who had been served with an order to appear there himself. When she walked out of the courtroom, protective order in hand, two plainclothes officers came forward and took her into custody.
Since then, Gonzalez, a citizen of Mexico, has been behind bars, awaiting deportation proceedings. In late February, her lawyer filed for a U visa, but it seems unlikely that she will be able to stay in the U.S. for the time it takes immigration services to process an application, which can be between two and three years.
Gonzalez's arrest made national headlines, and her case has sent ripples of fear through immigrant communities. Immigration agents are compelled by law to avoid using tips from abusers and to treat any arrest at a protective order court as a measure of last resort. El Paso County Attorney Jo Anne Bernal told me she can't remember such a thing happening in her city before—but no one can be sure it won't happen again. Trump's law-and-order rhetoric is emboldening the aggressive tendencies for which ICE and Customs and Border Protection, or CBP, are known. "For the first time in my 19 years, I feel like I can do the job I was hired to do, the job they tell you you'll be doing when you leave the academy," one border patrol agent recently told the New York Times.
Days after the Gonzalez arrest became public, Bernal's office received a call from an undocumented woman who was scheduled to appear in the very same court to receive a protective order against her abusive husband. She was now desperate to dismiss the case. "She was afraid her husband would call immigration authorities and she would be separated from her children," Bernal said. She wonders how many victims out there have made similar calculations: "We can keep track of how many people have changed their minds but can't keep track of the people who are victims in the community who won't come forward." A few days later, the city attorney in Denver told a local news station that four victims of domestic violence had backed out of cases after plainclothes ICE officers were filmed staking out that city's courthouse.
The U visa was developed precisely to help victims like Gonzalez. The original VAWA, passed in 1994, created a green card for sufferers of domestic violence whose abusive U.S. citizen or permanent resident spouses had refused to petition for their legal status, in order to control them. But the U visa is broader, covering people who aren't married to their abusers or whose abusers are also undocumented, as well as victims of other serious crimes. The government permits 10,000 of these visas to be issued each year; roughly 75 percent go to victims of domestic violence, sexual assault, and human trafficking.
To some extent, access to U visas has always been determined by a geographic lottery: Some police departments have refused to certify that applicants cooperated with law enforcement, barring the way forward. In some cases, that may be due to anti-immigrant sentiment; other times, small-town departments simply haven't gotten wind of the program. One attorney told me about a case in Georgia where the police chief agreed to certify her client's application only after she got a lawyer on his basketball team to explain to him what a U visa was. This imbalance has slowly been leveling out: After a Reuters report found that Oakland, California, for example, had certified almost 3,000 applications in a five-year period to Sacramento's 300, the state passed a law to ensure that equal procedures would be used across jurisdictions.
Now, the gap may widen again. Some police departments have vowed that they will continue protecting all victims, declaring their cities "sanctuaries" for immigrants. Other jurisdictions, such as Miami and Dayton, Ohio, have bowed to the new president's order—or at least to his threats to strip federal funding from whoever defies him.
The executive order Trump signed in January revives controversial programs—section 287(g) of the Immigration and Nationality Act and another called Secure Communities—that recruit local law enforcement to search for undocumented immigrants and hand them over to ICE. Both were rolled back under Obama when police departments complained that they were sapping limited resources and sowing mistrust in immigrant communities and when courts found they'd led to racial profiling.
When the national mandate to detain and deport is entangled with the local mission to protect and serve, advocates say, they don't know how to advise immigrants who face violence at home. "This is the question advocates are asking around the country," said Grace Huang, policy director at the Asian Pacific Institute on Gender-Based Violence. "How do we do safety planning with victims when we don't know if just having interaction with law enforcement will put them in danger before they can even get a U visa?"
Many immigrants have fled countries where the police are as dangerous as the gangs. "In my country, the police don't exist," Maria, a 44-year-old from Mexico who lives in the Boston area, told me. In the U.S., when her husband brutally abused her, she kept silent because she didn't feel entitled to protection: "When I had no papers, I felt like a nothing." Her husband promised that if she reported him, he would call immigration and have her deported. Or, he said, he would make her children "disappear"—she feared he would send her daughter and son to his extended family in Mexico, and she would never see them again. It was only when he attacked her with a knife in front of the children that she decided nothing could be worse for them than staying in that house.
She called 911. Her husband was eventually deported back to Mexico—where, she has heard, he is now in jail for killing his second wife. Maria is acutely aware that it could have been her. She applied for a U visa in 2010; she said that being able to do so not only saved her life—it told her that no one had the right to take her life in America. She has a green card now. "I feel like a human being," she told me. "I have a name in this country."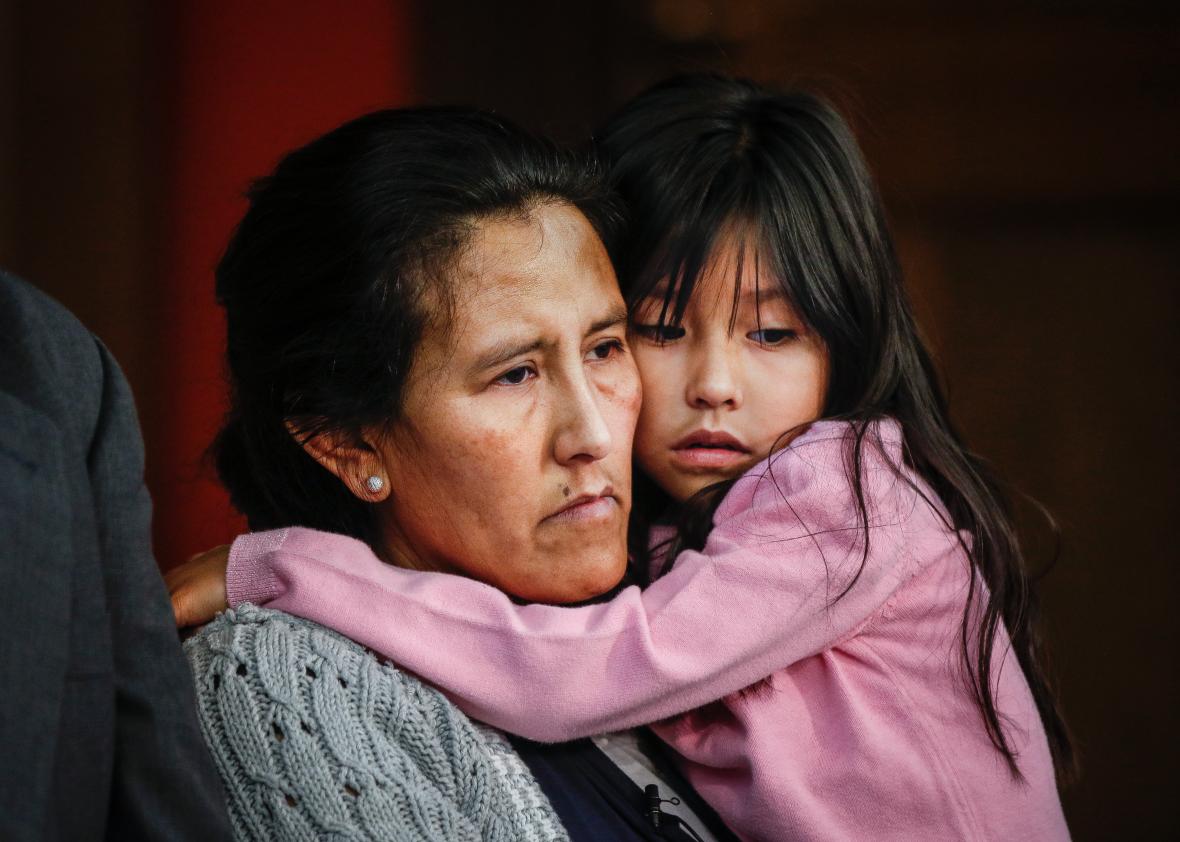 One of the hardest aspects of applying for a U visa is, notoriously, that it takes forever. For many people, the process caps an already lengthy immigration saga, as one Brazilian woman I interviewed made clear. When she first helped Boston-area police investigate a trafficking ring that had entrapped her, in 2005, she was pregnant with her son. None of the officers told her she was eligible for a visa, she said, and a few years after the investigation wrapped, she was detained and put on track for deportation. When her 4-year-old son visited her in detention, she told him the guards were "protecting Mommy." She didn't want him to see how desperate she was or to know that if she were sent to Brazil, his father would never let him be with her. If she'd lost her child, she told me, "I was ready to do something to myself."
It was in detention that she learned about the U visa, from lawyers who'd come to offer their services to the people awaiting deportation; a team from the Boston University Immigrants' Rights Clinic took her on as a client. She received the visa, for helping to prosecute an abusive ex-boyfriend, about a year later. Now she's finally applying for permanent resident status, and her child is 10—old enough to understand what's going on. He's always around her; he hears her on the phone with the lawyers, with the immigration office. "He picks up on things, and when he asks me, I'm not going to lie," she said. "He's like, 'How about your green card, Mom?' He's always asking, 'Did you get it?' "
At age 33, she's gone back for her GED diploma, and her son is excelling in fourth grade at a private religious school. He loves to build things and play Minecraft, and she thinks he has the spatial knack of a future engineer. Still, fear of deportation casts a shadow over the stable life they've achieved. "Immigration, this doesn't stop for me," she said. "I've been trying to keep my son, trying to just have peace of mind and live normal here."
For most people, it can take months to get a U visa application together, and two or two-and-a-half years for officers at the U.S. Citizenship and Immigration Service, or USCIS, office in Vermont to read it. If a visa is approved, most people wait another year or two to reach the front of the line for one of the 10,000 available annually. During the second waiting period, work authorization is granted and any deportation proceedings are generally frozen. But during the first, the aspirant—who might be assisting the police or testifying in court—has no legal protection from deportation. She or he has a single slip of paper, acknowledging that the application has been received.
Mo Goldman, an immigration attorney in Tucson, Arizona, told me that in the past, if his clients showed that receipt, ICE and CBP agents would generally let them go—not because that scant document conferred legal status but because it confirmed that the person was low-priority for deportation. Why go through the trouble of removing someone who could be eligible to stay, might soon have the right to come back, and might well be helping authorities in a criminal case? Now that all of the 11 million undocumented people in the country are apparently considered high-priority, however, it's hard to know where agents will devote their resources. "We talked to ICE and CBP officers to find out, if somebody is walking around with a receipt or something that shows they filed a U, will that protect them?" Goldman told me. "The answer is no."
Immigration authorities also used to put many deportation proceedings on hold while visa applications were wending through the system, as long as the person appeared for regular check-ins. ICE spokeswoman Bennett told me that, "absent additional factors," the agency will generally continue to extend stays of removal for U visa applicants who seem likely to be eligible for legal status. But Trump's executive order names people with old removal orders as among ICE's highest priorities, and immigration lawyers told me that—judging from the short stretch of time the new president has been in office—the agency seems to be denying more stays, including for immigrant victims of crime. One U visa applicant and mother of four, Jeanette Vizguerra, made headlines for skipping a check-in, after being told that her stay of removal had expired, and instead seeking sanctuary in a Denver church. The New York Times recently filmed her still living in the church basement a month later.
Judy Flanagan, an immigration attorney in Phoenix, told me ICE had recently notified her that one of her clients should "prepare to be removed" at her next check-in. "I've never heard that kind of thing before," she said. (When I asked an ICE official about this, she denied that the agency sends such notifications.) Ethically, Flanagan and others can't advise their clients to break the law, and, practically, they have no good options. As one attorney put it, "What are they going to do, live in a church for four years?" Flanagan's client "doesn't want to be a fugitive," the attorney told me. The woman hasn't yet decided what to do, but she's unwilling to hide inside the house while ICE agents camp out on her lawn.
For immigrants who manage to stay in the country long enough to apply for U visas, will the visa remain a "safe avenue"? The USCIS Vermont Service Center considers each case in light of any marks against the applicant, with the option to waive common "grounds for inadmissibility," such as the use of false documents to cross the border. "Are the standards of adjudicating that going to change?" said Hema Sarang-Sieminski, a senior staff attorney at the Victim Rights Law Center in Boston. "Only time is going to tell."
Attorneys fear a world in which visa applications themselves could increase a person's risk of detection by ICE. "There's been an understanding between USCIS and attorneys that they aren't going to implement policies that are going to prevent survivors from applying," said Sarang-Sieminski. Most important, "Even when an application is denied, they're not in the business of referring these denied cases for removal. That would certainly have an enormous chilling effect on survivors." The administration hasn't indicated that this will change, but "it's a worry," Sarang-Sieminski said. "I've heard over and over again from advocates, 'Should survivors be applying for any of this at all?' "
Since Trump's election, the National Immigration Law Center has advised immigrants who were brought to the U.S. as children to avoid applying for legal status through the Deferred Action for Childhood Arrivals program, or DACA, if they don't already have it—so as not to put their names in the system. Attorneys who work on U visas are now almost as cautious. Flanagan, in Arizona, is putting her own address in place of her clients' when she files information requests about cases. She's also, in her words, "advising clients that, if they haven't had previous contact [with immigration], this may bring attention to them"—which she said she wouldn't have worried about under Obama. Lewis is similarly concerned about filing applications. "If someone is already in ICE proceedings, I might say it's OK to take this avenue," she told me. "In the case of someone who's not on the government's radar at all, I might say let's wait a little longer and see how this administration is processing these."
"One of the hardest things to say to a client is, 'I don't know what would happen to you; I don't have an answer,' " said Melissa Untereker, the immigration attorney in El Paso who is representing Irvin Gonzalez. With clients who are still in the shadows, she fears that "it could really be a risk to put themselves out there … Will ICE access that information, and will they take an enforcement action because of it? I don't know what to tell them. It's really scary."
Of course, what's worrisome to advocates is terrifying to immigrants, who never know when ICE might show up at the door. "I had a client tell me, 'I wish I'd never called the police,' " Glenaan O'Neil, regional director of immigrant victim services with the Texas Civil Rights Project, told me. That woman's U visa application is already sitting in a pile at the Vermont Service Center. It's too late for her to seek safety in secrecy.
"I'm scared because immigration has my fingerprints, my address, my photo," Maria Cortes, a 29-year-old in Oakland who applied for a U visa in 2014, told me through an interpreter. "I'm scared to be at home because I'm worried they're going to come for me."
Most of all, Cortes worries about her daughter, who has special needs. The 6-year-old acts more like a child of 2 or 3; her speech is clear to her mother's ear but perplexing to strangers, and she's afraid of people she doesn't know. Cortes, a survivor of abuse and a native of Mexico, is a single parent, and she wants her daughter, a U.S. citizen, to stay in America and receive the care and education available here.
Cortes has imagined the life she will make for them if and when her visa is granted. She wants to get certified to work with computers—something she could do from home, which wouldn't take her away from her daughter. The child is always in motion, jumping around the small rented room they share, and getting her to eat can be difficult. Cortes wants a little more space—most of all, a kitchen that overlooks a small patio, "so I'd be able to make food for her any time I need to, and she'd be able to play, but I'd be able to see her," she said, "to know that she was safe."
For many women I interviewed, the fear of violence they once lived under was intertwined with the fear of discovery that kept them trapped in dangerous homes. Even for those whose legal status is now secure, the feeling that the U.S. has become hostile to immigrants is dragging entangled traumas to the surface.
For the last year, one Central American woman told me, she has been waking from nightmares of her ex-husband bursting through the door of her home. These dreams are as vivid as a movie that has jumped off the screen, "so real you can touch the image," she said. "I can smell him. I can feel his body, I can hear the door that is closing and opening, I can hear the yelling." The visions pursue her into daylight; riding the train or walking on the street, she fights back the feeling that he's right there behind her. He can't be, as she tells herself over and over: He died in jail, serving a 25-year sentence for trying to kill her. (She is still concerned about her immigration status and asked me not to identify her by name.)
Though this woman received a U visa in 2009, she will never be free from the scars of her abuse. She suffers from post-traumatic stress disorder, and she's HIV-positive—she told me her husband intentionally gave her the virus. A part of her wants to return to her country of origin, to be with her aging mother, who suffered a stroke last year. But the salary she makes in the U.S. is paying for her mother's care, and she fears the discrimination she would face back home as a transgender woman. Most frightening to her, she wouldn't be able to access the medications that are keeping her alive or the therapy that prevents old trauma from crushing her.
She will, in all likelihood, be able to stay in the country. She has a green card; she will become eligible for citizenship a year from this June. For a long time, having that in her sights brought her some peace.
But now, she said, "I have to worry about the policies changing and what I'm going to do." These days, she's barely sleeping. "One thing is linked to the other, is linked to the past," she said. She dates that shift to the time when Trump started gaining momentum in the primaries. Ever since then, she said, "I'm breaking down."