How Do You Inspire Women to Run for Office? Elect Trump.
When female candidates run, they win—and the organizations that recruit them are now seeing a huge surge in interest.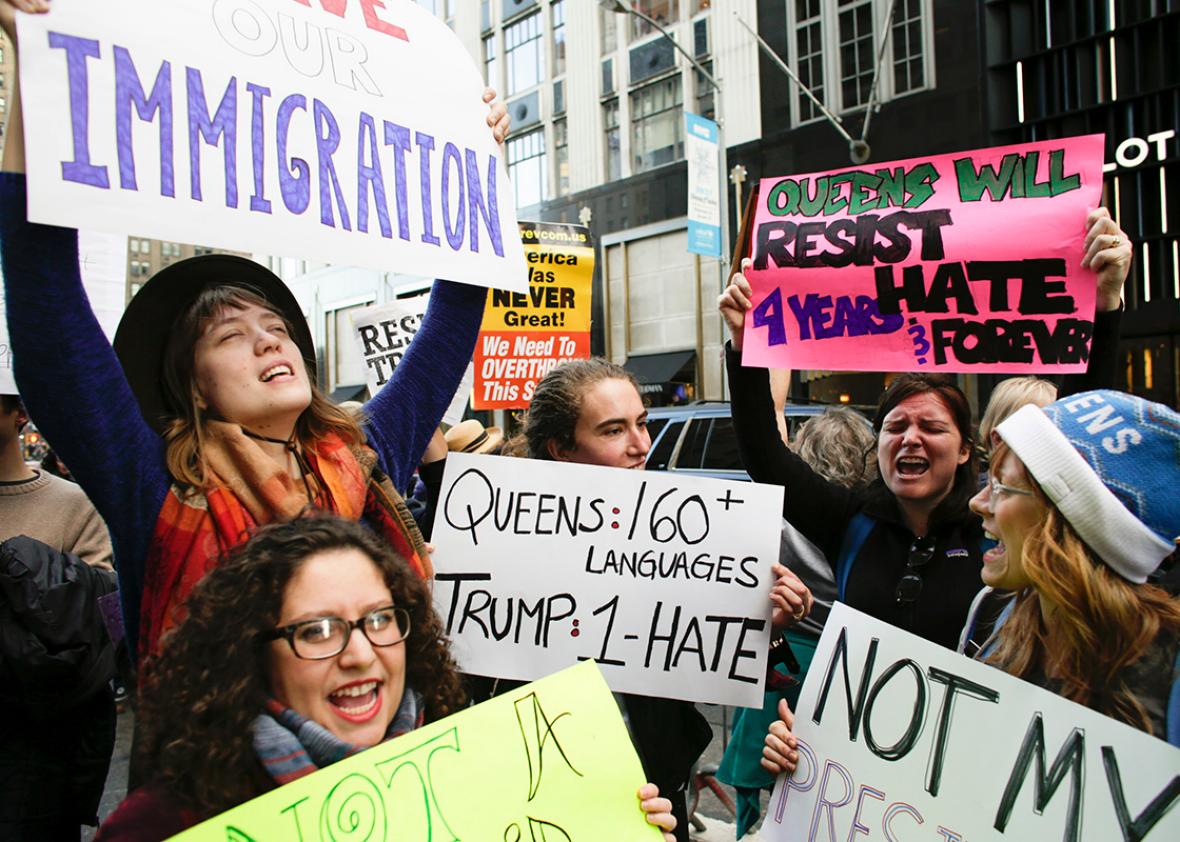 A couple of days after the 2016 election, New Jersey patent attorney Rabiya Kader met up with a few female friends to regroup. Devastated by Donald Trump's victory and the increasing conservatism of Congress, the women talked over what they could do to affect issues that mattered to them—reproductive rights, voting rights, climate change.
Kader, 42, describes herself as "probably a little bit more politically aware" than most; she'd thought about the possibility of a judgeship down the road but hated asking for money too much to ever get into the weeds of a political campaign. But when her friends' post-election debrief turned to seeking political office, something none of them had ever done, Kader had a sudden change of heart.
"We need regular people to run. We need people who care about these issues," she told Slate. "I just said, 'Yeah, you know what? Why shouldn't we run?' "
Conventional wisdom held that an expected Hillary Clinton victory in the 2016 presidential election would have spurred a colossal wave of women to run for office, inspired by Clinton's example. Instead, the Electoral College gave the presidency to an unrepentant misogynist who—by many accounts, including his own—makes a habit of grabbing women's genitals. But fear and anger, it turns out, can be as powerful a motivator as joy.
In the weeks since the election, organizations that recruit and train women to run for office have reported unprecedented interest in their programs, mainly from women disturbed by the strident misogyny of this election cycle or troubled by the threats Trump and his appointees pose to their rights. The upwelling recalls the Year of the Woman, 1992, when four new women were elected to the U.S. Senate, tripling the meager female population of the chamber. Many attributed the influx to the previous year's Supreme Court confirmation hearings for Clarence Thomas, during which an all-male Senate Judiciary Committee badgered and humiliated Anita Hill as she described Thomas' alleged sexual harassment.
The groups working to meet the surge of women considering candidacy have decades of accumulated knowledge about the gendered obstacles to women running for office, the specific challenges they face as candidates, and how to turn a concerned citizen into an effective public leader. EMILY's List, founded in 1985 to raise money for Democratic pro-choice women, has trained more than 9,000 female candidates and their staff members since launching efforts to recruit women into the political pipeline in 2001. "Being ready to lead does not have to do with your having been a seasoned elected official," said Muthoni Wambu Kraal, the organization's senior director for state and local campaigns. "We are in a moment, and it's a moment that EMILY's List is built for."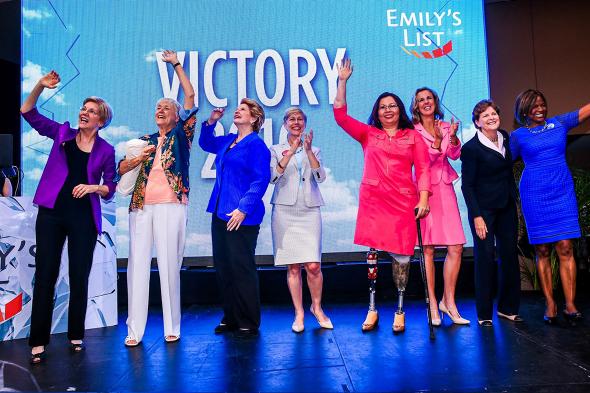 It's been nearly a quarter-century since the so-called Year of the Woman, but female representation in electoral politics has not progressed apace. Women make up less than one-fifth of both houses of Congress; they fill less than a quarter of state legislatures and statewide elected executive offices. A 2015 analysis of the most recent mayoral elections in the country's top 100 cities found that just 19.3 percent of the candidates were women. In some states, like Maryland, women make up a smaller proportion of the state Legislature than they did a decade ago. "In terms of the pipeline," former Maryland Rep. Connie Morella recently told the Washington Post, "it has been leaking."
Research has shown that, in comparable races, women are elected and re-elected at the same rates as men. The pipeline doesn't spring its leaks during campaigns, but in the off season, when women decide not to run in the first place. Some of the disincentive is logistical: Women often act as the heads of their households and primary caretakers of children or elderly parents. They have less disposable time and income to run a campaign than men. Some is psychological: Women are less likely to consider themselves qualified for any given job; years ago, an internal Hewlett-Packard study found that women applied for promotions when they thought they met 100 percent of the listed qualifications while men applied when they met 60 percent. The same pattern affects the political pipeline. And concerns about family privacy and sexist attacks further dissuade many potential female candidates from mounting campaigns.
Still, one of the biggest obstacles to women entering political races is simpler and more surmountable: They don't get asked. According to Jean Sinzdak, associate director of the nonpartisan Center for American Women and Politics, or CAWP, at Rutgers University, men are recruited for political office at higher rates than women at every level of government. And given that women are likely to step forward only when they have the right degree, a ready support network, and the backing of seasoned professionals, that recruitment is essential.
Political strategists have long noted this discrepancy, but efforts to recruit female candidates have really ramped up in the past two decades. EMILY's List began with a mandate to fund female candidates that shared its mission—EMILY is an acronym for "early money is like yeast"—and didn't begin recruiting and training in earnest until 2001. These days, there are organizations that recruit female candidates on the conservative end of the political spectrum; NOBEL Women, which focuses its efforts on black women; Elect Her, a political training program for college women; and too many state-specific efforts to count. The success of recruiting and training organizations for potential female candidates has inspired similar programs for other underrepresented demographics: The Victory Fund, which works to elect LGBTQ candidates, was launched in 1991 by founders who admired EMILY's List, and a male Marine Corps veteran launched Veterans Campaign after attending a formative CAWP program.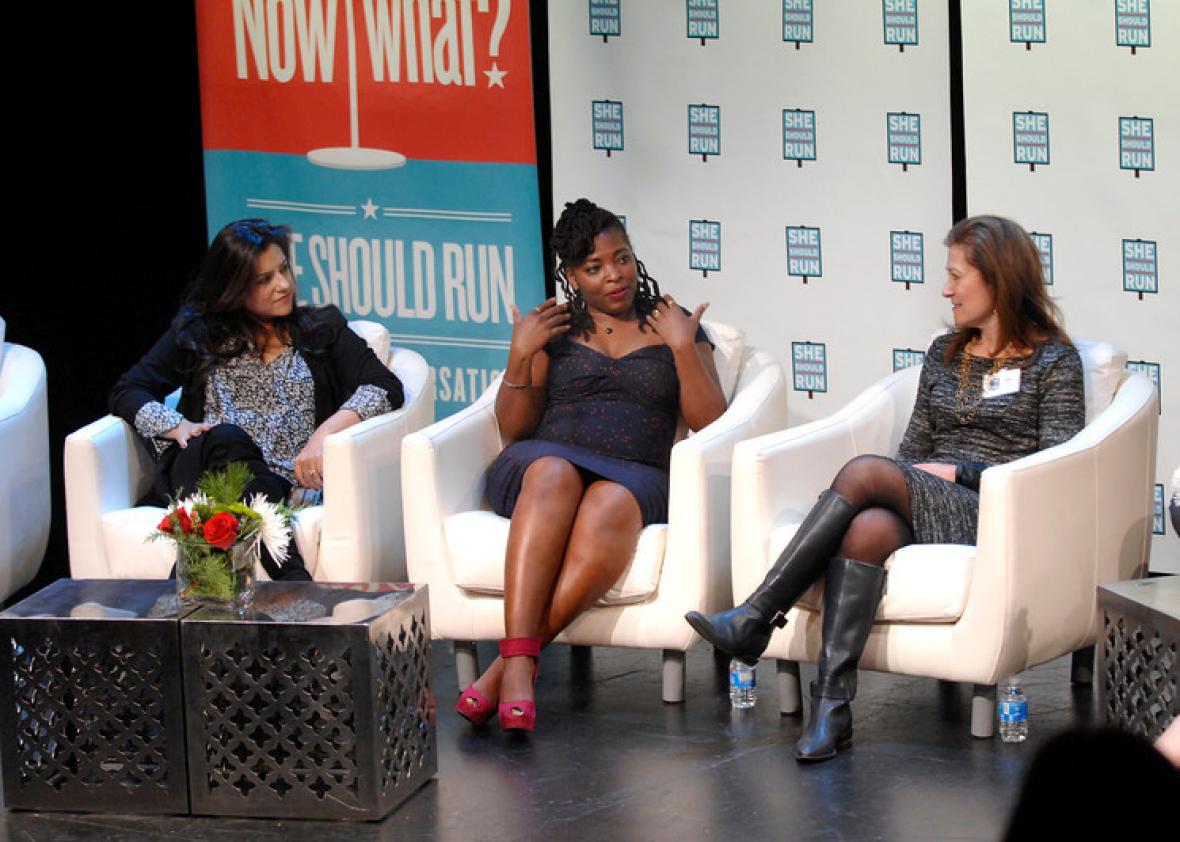 One of the best-known U.S. organizations funneling women to the political pipeline is She Should Run, a nonpartisan group founded in 2008 that serves women who are curious about running for elected office but not ready to build a campaign. Women can sign up for the organization's leadership incubator—a free series of online courses to help women prepare for a potential run—or send an encouraging nudge to a woman who might make a great candidate. Erin Loos Cutraro, She Should Run's co-founder and CEO, says women often feel a disconnect between the work they're already doing and the prospect of what they could accomplish as an elected official. "When women run for office, they run to get things done, not to get power," Cutraro told Slate. "Men run for office to get power." Part of She Should Run's mission is showing women that their community and workplace leadership experience counts, and that they can have a major impact on the issues they care about by entering politics.
Since 1998, CAWP has organized Ready to Run, an annual two-day workshop in New Jersey for women considering seeking political office. (Affiliated workshops take place in other cities throughout the year.) Sinzdak says women need more of a detailed road map than men who've been recruited by established political circles; Ready to Run seeks to lay it out for them. Soon after Kader and her friends had their post-election conversation, Kader saw a Facebook post for Ready to Run's 2017 event. "I thought, let me learn more about running for office," she said. "Where would I actually be useful, and what's something realistic?" Kader plans to attend the workshop in March.
Recruiting organizations say women who want to change something in their communities make the best candidates, but a political star isn't born—she's made. "You don't need a degree in poli-sci beforehand. We need people from all kinds of backgrounds representing us in government," Sinzdak said. "There are things you need to do to present yourself to the world that would make yourself more effective as a candidate—making yourself more visible, building your voter base—and we can help with that. All you need is a passion and a commitment to serve." EMILY's List works with state- and city-level groups to identify women who are ready to take the step from local activist to politician. "We are looking for candidates that are the best representation of their communities that need to be served," Kraal said. A knack for fundraising doesn't hurt, either.
Every leader I interviewed for this story named the same instrument as the single most effective tool for recruiting and training women to run for office: role models. This presents something of a chicken-and-egg paradox—we need more women in office so more women can imagine themselves in office so more women run for office. Kraal points to Sen. Elizabeth Warren and new U.S. Rep. Stephanie Murphy, a Florida Democrat and the first Vietnamese American woman elected to Congress, as two powerful examples for women considering a campaign. Murphy had never held elected office before beating a Republican incumbent who'd served for 24 years. Warren credits a 2011 kitchen-table recruitment conversation with EMILY's List president Stephanie Schriock with her late-career ascent. "We hope more women see themselves as the next Stephanie Murphy or the next Elizabeth Warren," Kraal said.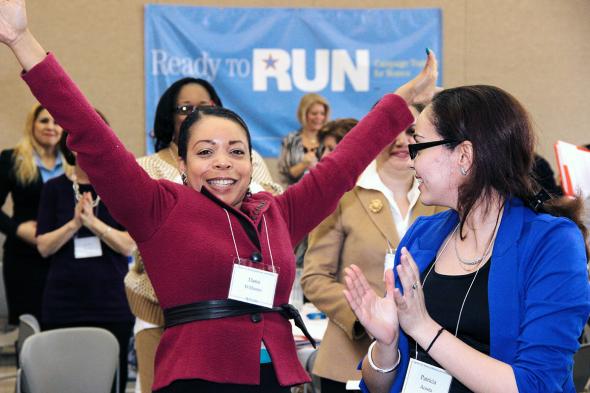 Even more helpful than theoretical advice from organizers and scholars can be wisdom from female candidates who have gone before. Former New Jersey state legislator Carol Murphy, who ran for municipal office in the late '70s, used to speak to Ready to Run participants about how to field questions like, "Who's home with the kids?" during a campaign. She advised them to prepare answers to possible sexist remarks but to avoid getting defensive.
Being braced for those scenarios is important. "It's not that women are crazy" to fear the sexism of a political campaign, Sinzdak told Slate—female candidates are judged far more harshly than men on pseudo-qualifications like "likability" by voters and the media. (See: the entirety of Hillary Clinton's career.) "What we try to say is, 'You have to push through that. You have to be aware of that double standard, but don't let it stop you. … It's not about you; it's about them.' "
The flip side of the challenges of running as a woman can be a sense of solidarity among female candidates, even across the aisle. Courtney Peters-Manning, a 39-year-old from New Jersey contemplating running for office for the first time, met a female Republican state legislator at a recent luncheon. Though Peters-Manning would likely run as a Democrat, the legislator offered to share advice over a meal this week.
Peters-Manning was moved to consider the possibility of a political career after a "divisive" and "nasty" election season that left her with a bad taste in her mouth. "The day after the election, I found that I had to do something concrete," she told Slate. "I work full time and I have two small kids, so daily life can get in the way of [political] ambitions sometimes. The election was a kick in the pants to make me realize I needed to do something. I don't know if the barriers have changed, but I think my will to overcome them has changed."
Peters-Manning, like Kader, will participate in CAWP's Ready to Run workshop in March. Usually, between 150 and 200 women attend, with most registrations coming in late January and February. "By December, if I had five registrations, it would be a lot," Sinzdak said. After the election, she saw a fortyfold increase in early sign-ups and might have to close registration to limit attendance for the first time in its two-decade history. There have been other swells in participation; after Barack Obama was elected, Sinzdak said, there was a smaller uptick in registrations for training as progressive women found renewed hope in the political process. And before New Jersey Gov. Chris Christie's approval ratings sank to the teens, CAWP saw more Republican women there consider running, excited by their party's leadership in the state. Still, neither wave compared to the recent increase in interest.
She Should Run has also seen a surge in participants. Normally, between 100 and 200 women sign up for a program or request more information after an election. Since the 2016 election, 6,000 women have contacted She Should Run or been nominated by other folks as potential candidates. "Perhaps the endgame would have been the same [if Clinton had won], but the level of urgency may have been different," Cutraro said.
Not all of that urgency is borne of distress. Carrie Almond, president of the National Federation of Republican Women, told Slate she's "blown away with the excitement and enthusiasm" among conservative women since Trump's victory. "I see it as a natural springboard for Republican women to get involved," she said. "President-elect Trump has appointed some fabulous women to his Cabinet, and when you look at those, those are the kinds of ladies who inspire other ladies and lead by example."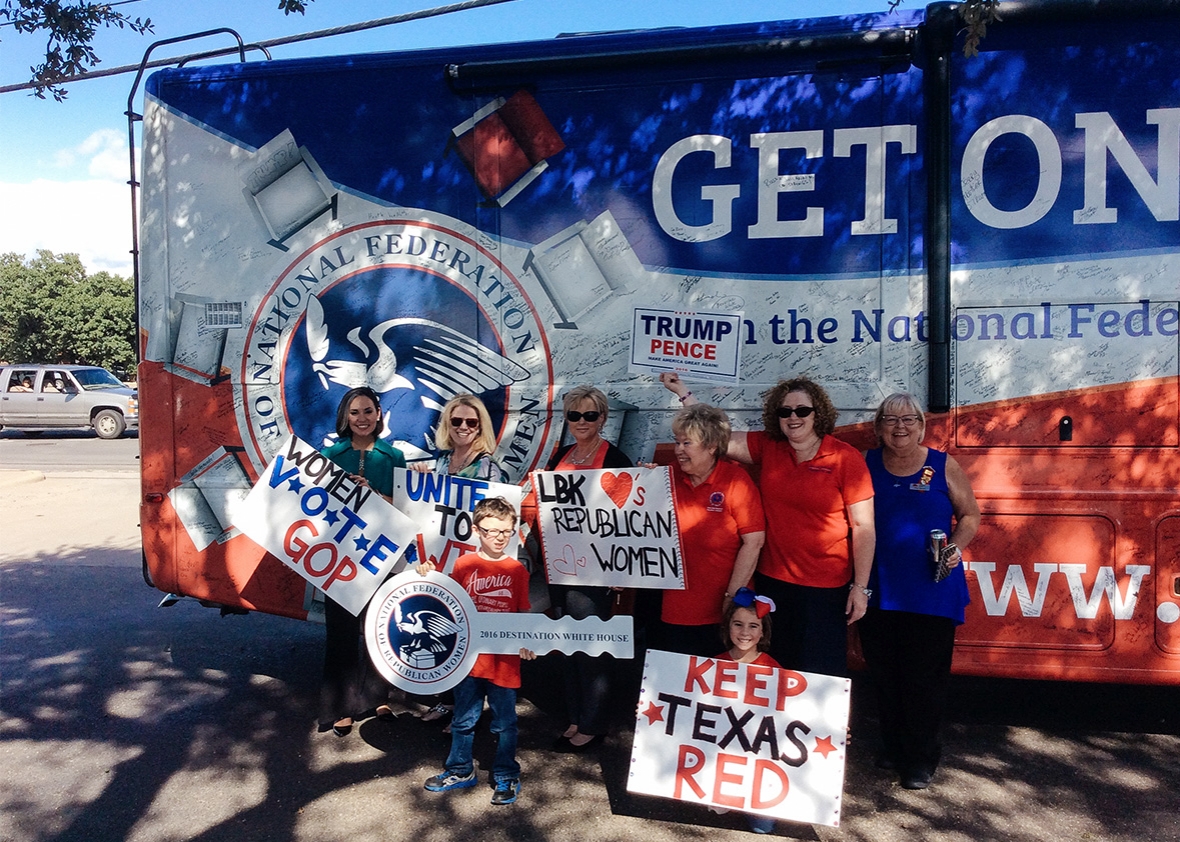 Riding its own wave of post-election support, EMILY's List is using the occasion of the upcoming Women's March on Washington to turn enthusiastic demonstrators into ready candidates. The organization will host a political training for 500 women on Jan. 22, the day after the march and two days after inauguration. "We have long coached at EMILY's List that women often run because they're angry or they want to fix something—and watch out for the one who is both," Kraal said. "That's who's coming to D.C."
The inauguration could prove an inspiring moment for all women, even if they don't end up at the training. Trump is a shining example of a candidate without any government experience or objective qualifications who nevertheless made it to the highest elected office in America. If a man with barely a passing familiarity with the U.S. Constitution has been chosen as the nation's leader, surely a politically active patent attorney is qualified to run her town council. It's an imperfect rallying cry for women, but it may be an effective one: If this guy can do it, so can you.