JFK to Washington, D.C., to Long Beach, Calif., to Las Vegas to JFK to Pittsburgh to Boston to Baltimore to Boston to JFK to Raleigh, N.C.
Before we embark, I should mention that for most of the trip I will have no idea where I'm going to be from one week to the next. JetBlue allows All You Can Jetters to book their flights up to three days before the day of departure. I'm interpreting that as an invitation to live an even more itinerant life than I had already planned.
What will shape my trip, then, is a manic obsession with efficiency. Being able to get to 30 airports in 30 days is far from a foregone conclusion. JetBlue's flight routes are a jumbled knot of lines going in and out of their hubs—John F. Kennedy airport in New York; Boston; Orlando, Fla.; Fort Lauderdale, Fla.; and Long Beach, Calif. Even though it seems like it should be easy to go from, say, San Diego, Calif., to Denver, Colo., it's not. You have to fly from San Diego to New York, and then from New York back to Denver. What should be an 834-mile shuttle becomes a 4,064-mile slog. If I indulge in those kinds of empty miles, the trip will get bloated.
Frugality is also a factor. I hope to go through 30 days without staying in a hotel. That means I'll be taking as many red-eyes as possible. Lying down will happen at an angle of 100, not 180, degrees. When a red-eye isn't possible, I'll be on friends' couches. I'd like to tell you that this is to prove a larger point about the way social networking allows us to stay in touch with a larger, more geographically diverse group of friends. But really it's because I'm cheap and unemployed.

Airports are not supposed to be places where strangers meet one another and say, "I feel like I should hug you!" And yet on a bright Tuesday morning in September, that's what's happening at JFK airport in New York.
It's Opening Day of All You Can Jet, and JetBlue is hosting a send-off for our traveling caravan. Some have flown in just to be at the launch party—and to glimpse Terminal 5, JetBlue's glamorous, $743 million monument to modern-day air travel. Opened in 2008, Terminal 5 lies in the shadow of TWA's old Terminal 5, a mausoleum of how we used to fly in the Mad Men-era. Tellingly, the old Terminal 5 evoked a bird's wings, while the new one is shaped like a martini glass. Passengers slosh around the center, and planes dock down the stem and along the sides. There are no fast food chains, no massage chairs, and no kitschy souvenir shops. Instead there's a sushi place with $16 fried rice, a spa with actual masseuses, and a boutique sports memorabilia shop. The tiles gleam, the Lacoste store bustles, and there's always someone drinking, even at 6 a.m. (Really.) The place is a testament to what happens when airport planners watch a marathon of Sex and the City.
Today the glamour is being tainted by a pep rally. Dunkin' Donuts is catering. A Gateway Arch of green and white balloons has been erected. (Perhaps an architectural allusion? The real Gateway Arch in St. Louis was designed by Eero Saarinen, the same guy who designed the original Terminal 5 in the '60s.) New York Jets cheerleaders are shimmying throughout the terminal, and passengers are gathering to get a picture with them. Travelers are writing on a giant canvas, scribbling what they're going to do with the pass. As one woman poses for a picture in front of her itinerary, I glimpse a familiar sentiment beside her entry: "No gig. No girl. Might as well jet."
All this is just a sideshow compared with the real attraction: the swag table. A half-dozen JetBlue employees—who clearly were not screened for a background in riot control—are coping with a hundred people swarming the table like it's a warehouse sale at Barneys. Everyone is after the same JetBlue track jacket.
It is, without a doubt, JFK's must-have item of the fall. Made by American Apparel, it's a deep navy blue with white piping down the arms and a cinched waist. A JetBlue logo is screen-printed to the left of the zipper. And on the back, there's an "All You Can Jet" patch that's the color of a bile-soaked tennis ball. Average retail price: $44.
The jacket is the smartest amenity JetBlue will offer all trip, because it's also the most anthropological. In the musty canon of anthropology, there's a theory that it's when people are separated from their old identities that they are most able to foster new communities. (This is the "liminal stage.") A key to creating the new group is that everyone views each other as equals—superficially or otherwise. The jacket effectively does just that. When I put it on, I become part of an exclusive club. An exclusive club of corporate shills, yes. But an exclusive club nonetheless.
Before we can depart, one bit of official party business remains. After giving a little speech, JetBlue's head of marketing asks us to line up beneath the Gateway Arch. Two employees unfurl a thick ribbon and hold it out in front of the two or three dozen people trusting enough to listen to JetBlue's orders. Then, everyone starts counting down. 3, 2, 1 … and people begin to run forward at the ribbon, snapping it in half.
I was under the impression that this is what you do when you finish a marathon, not when you start one. Nevertheless, it's finally time to fly.

A few hours later, I touch down at Dulles International Airport outside Washington, D.C. A Dutch woman named Karin quickly pulls me aside. She's friendly, wispy, and eager, the sort of woman whose Twitter profile is "Traveler, Photographer, Stylist, Manager, Consultant, Entrepreneur." She has intuited that I, like her, have the AYCJ pass.
She smiles. "The jacket."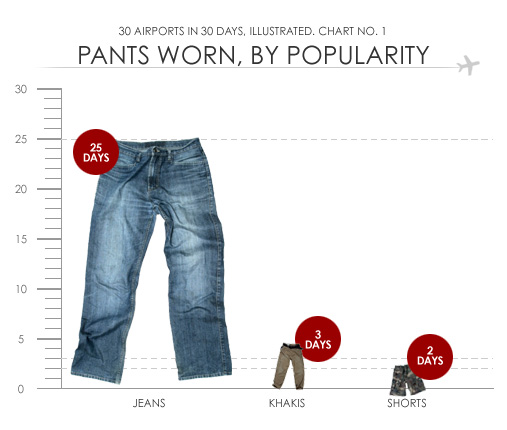 Two days and one Jewish holiday later, I land at JFK after a red-eye from Las Vegas. (Quick gambling tip for the Jews among us: Luck smiles on those who go to Sin City during the holy days. After a couple Avenu Malkeinus, I had tripled my money at the poker table.) The red-eye had disabled my senses; it needed only four hours to blear my vision, hearing, and balance. So I stumble into Terminal 5, drop my mouth into a yogurt parfait like I'm one of those bobbing drinking birds, and wait patiently for my next flight, to Pittsburgh. Which is to say I wait crankily for my next nap.
But then came Amber. Fresh off a red-eye from Burbank, Calif., and on her way to Pittsburgh to visit a friend in Ohio, she was 17A to my 17B. And she was in the mood to talk.
A month from now, I'll come to realize that no matter whom you sit next to, all airplane conversations follow the same path. It's just a question of how long it takes until they veer off into silence. It is, more or less, like talking to a stranger at a bar, with two exceptions: 1) People are even lonelier on a plane; 2) there is no escape. You're trapped inside a 500 mph tube, and your only company is this person next to you. This becomes an issue if: 1) They're insufferable; 2) they're unaware that they're insufferable.
Luckily, Amber is neither. As I sit down, Amber says, "I didn't realize they're giving out shirts now." I raise an eyebrow. "The jacket," she says.
She too is an AYCJ flyer, but she wasn't at JFK to get the swag. We talk about the normal things—where we live, where we work, the time her sister-in-law dragged her to see Twilight and told Amber that she had "married her Jacob" and that Amber should "wait for her Edward." We chatter like tweens all the way to Pittsburgh, striking up a friendship. Or at least as much of one as is possible at 30,000 feet.
When we touch down, she is under the mistaken impression that I'm interesting enough to ask to breakfast. Honored but harried, I decline. I don't have time to leave the airport; I have to catch another plane.
So we go our separate ways. Temporary friends forever.