Published by

Beatboxing Transforms Education at Lavelle School for the Blind
The B.E.A.T. NYC program teaches handicapped students how to discover confidence through music.
Walk into the music room at the Lavelle School for the Blind and Visually Impaired in the Bronx on a Wednesday morning, and you'll find a dozen or so students sitting in a circle creating music with nothing more than their mouths, hands and feet and bodies. Soon Ashley Morisseau, 16, is handed the microphone. She sits up straight, leans forward and begins to speak over the loop of sound that her classmates have already created.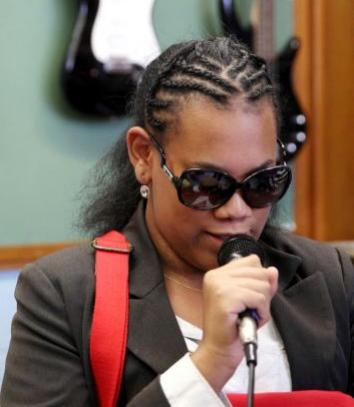 "Peanut butter jelly time! Peanut butter jelly time! Peanut butter jelly time," she says into the mic, loud and low, with a slight accent that is one part British, one part Dracula. "Mwahahahahhaha." The students laugh and continue jamming as they listen to Ashley slam whatever it is that comes into her head. Malcolm in the Middle, Stewie from Family Guy, and a happy birthday wish to her grandfather are a few of the topics that make cameos in her impromptu spoken-word piece.
When 15-year-old Carlos Zhagnay sits down at the piano soon after, his fingers fly across the keys with a virtuoso flair that makes his instructors beam. He smiles and hunches over and sways his head to the sounds he creates.
Carlos and Ashley are students at the Lavelle School, where children and adults ages 3 to 21 from across New York City and its suburbs attend classes every day. The students exhibit varying degrees of cognitive impairment, but nearly all are legally blind. Today they have assembled for their first music class of the semester with a special group of guest instructors and musicians: beatboxers.
Beatboxing is the center of BEAT Rockers, a course offered by B.E.A.T. NYC now in its fifth year at Lavelle that teaches handicapped students how to discover confidence—and themselves—through music. Most of the students in attendance are too nervous to speak, or are cognitively unable to do so, but in a circle of professional musicians and their peers they reveal musical personality and passion that ignites at the slightest touch of an instrument. Fortunately with beatboxing, all the students need is a microphone, but dozens of other instruments line the shelves and quickly make their way into the students' hands.
James Kim is the executive director and co-founder of B.E.A.T. (Bridging Education and Art Together), which came together thanks to Kim's experience in professional event marketing, particularly in the hip-hop space, along with his passion for arts education. He is also the co-producer for the R-16 World Bboy Master Championships, one of the largest hip hop and bboy events held annually in Seoul, Korea.
Kim's involvement with the Lavelle School had a serendipitous and organic start to it, when a friend who worked there invited him to DJ a school dance in 2009.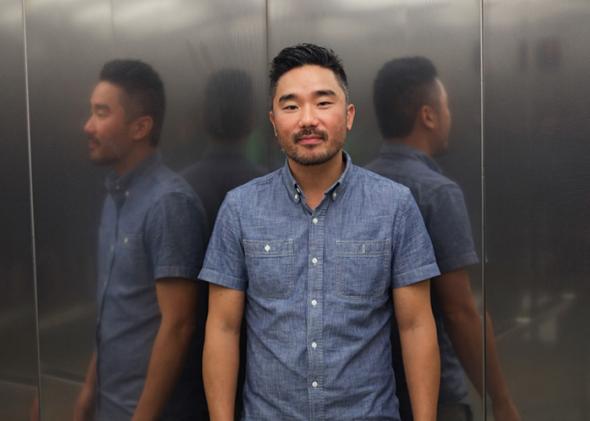 "What was really fascinating in that space of being there is how differently they take in music," said Kim. "There is no self-consciousness in terms of how it is they're reacting when the music hits them."
If they wanted to flail their body or head bang or dance or sing or scream, they did. The lack of sight, Kim said, allowed them to feel and hear and see the sound in a way that many sighted people do not.
With beatboxing, students don't need instruments and they don't need to take expensive music lessons. They don't need to understand music theory or how to read sheet music. "They're learning how to be music," said Kim.
BEAT Rockers is one of four Hip Hop programs within B.E.A.T. The others teach students how to produce music (BEAT Makers), how to write and perform poetry and rap (BEAT Rhymers) and how to break dance (BEAT breakers). When he started putting the BEAT Rockers program together five years ago, Kim said he found his head instructor right away.
Taylor McFerrin was on a rough schedule when he got the call. He and Kim were already friends through a previous gig, and at the time he was DJing all night, staying up until 6 a.m. every day. He said he had just been thinking, "I need to do something practical with my day."
"I just said 'yes' and didn't really think it through," McFerrin remembers after Kim reached out.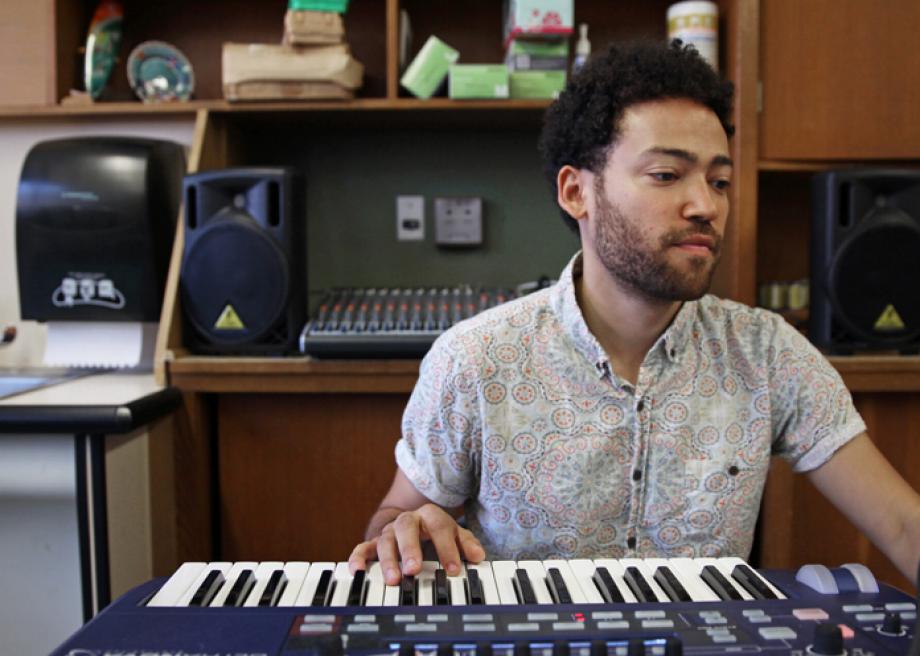 Sitting down for the day's BEAT Rockers lesson, McFerrin is perhaps the main attraction for everyone present. Now a Brooklyn-based producer, composer, pianist, DJ and live musician, he sits patiently in the classroom, slightly slouched with a short afro and a light paisley collared shirt. His desk is covered by a synth and a laptop, which McFerrin plugs into the PA system on the shelves behind him. As he greets everyone who walks in, the students smile back: "Hi, Mr. Taylor." In this classroom, McFerrin's rich baritone is unmistakable.
"All right, you guys, what kind of music are we making today?" McFerrin, 33, asks once the students settle in. Many have personal aides sitting beside them. Some smile and some rock back and forth, shyly waiting for one of their peers to suggest something, anything.
"Salsa?" McFerrin asks almost incredulously.
They all giggle. A few repeat the word: "Salsa!"
"Salsa it is," McFerrin says.
And then he drops the beat. The students start grooving as the mic is passed around the circle. Other students are handed tambourines, shakers or cowbells. Taylor makes a "tsee tsee tsee" sound with his mouth and soon the noise repeats. Assistant instructors gingerly relinquish and pass the microphone from student to student, and each time they add a sound to the mix, McFerrin loops it in real time and adds a new layer to the group recording.
"There's no wrong note or rap or sound here," says McFerrin. "It's about free-flowing self-expression and just having fun. There's something really pure about the whole process."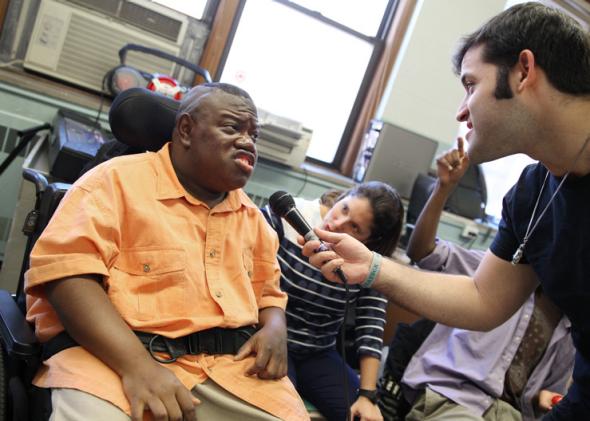 It only takes a few minutes for these quiet kids in the quiet classroom on the quiet suburb-like street in the Bronx to transform into an electric haze of music and sound. Students and instructors dance and tap their feet. Teachers stand back and proudly watch their students turn into the performers that have been waiting to get out. McFerrin sits unfazed by it all. He's seen all of this before, so he smiles and bobs his head to the music.
"The class seems to make their day easier," says McFerrin.
It's 11:00 a.m. on a Wednesday. Class has been underway for 15 minutes and the room has turned into a straight-up dance party and jam sesh.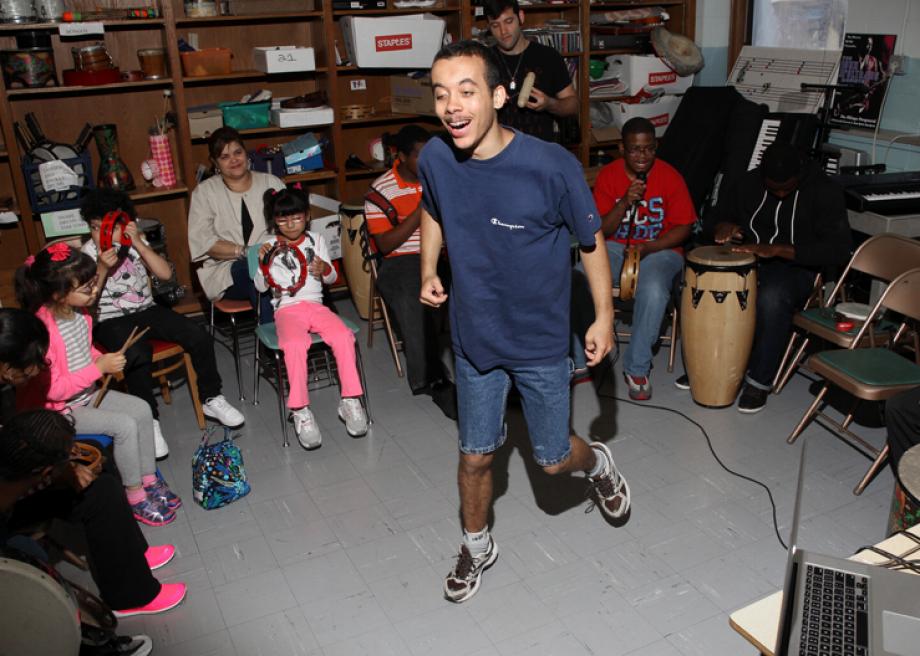 "BEAT Rockers helps me with feelings, helps me forget about stuff that's going on in my life, like, school, when I'm tired or when I want to go home," says Ashley.
"Music is important for people who are blind and visually impaired because it brings joy, but they feel it so deeply and they hear it so deeply," said Scott Diamond, music director at the Lavelle School, who said music has been directly a part of helping these kids transform, from shy students to assertive young adults.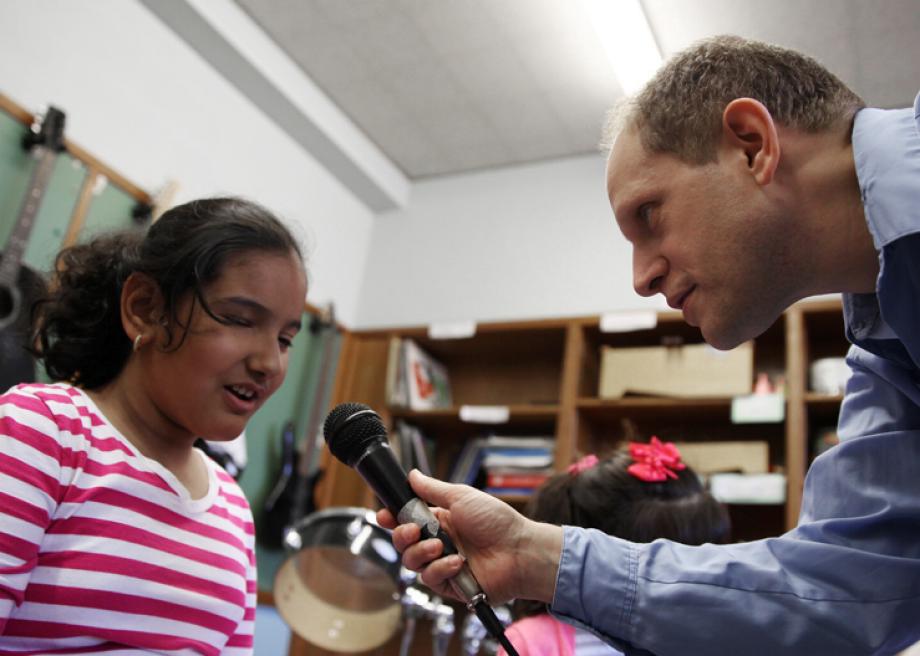 Lavelle School Principal, Diane Tucker, said she was a little hesitant about the program when Kim first came to her with the idea.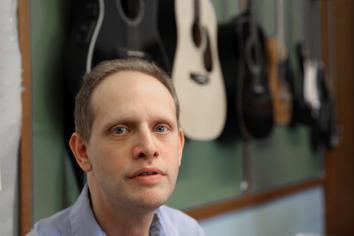 "When James came to me from BEAT Rockers, it did sound kind of crazy," she said, but she explained that the students' lives can be quite isolating because of their disabilities, and so she always tries to remain open to potential resources that can fulfill their lives.
Since the class' inception, Tucker said that she and the other faculty members have noticed not only the joy students get out of it, but also their increased ability to take ownership of their work, both in BEAT Rockers and in other classes. "It opened up a whole new world to them," she said. Students at the school tend to have a difficult time with collaboration but the class has intrinsically taught the kids about sharing and taking turns and working together to create something, she said.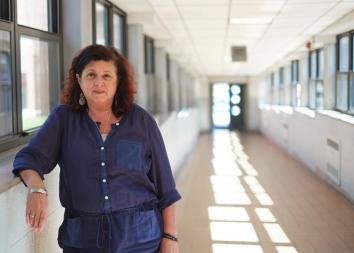 "It really is a special thing," said Tucker, who, on top of the practical benefits, added that the students getting to hang out with well-known New York musicians is a bonus. "They don't have the opportunity to often interact with this type of person. I was really really impressed with the way … they kind of can tap into their artistic ability and bring out a whole different side of [themselves]."
Beyond the art, students have improved upon self-expression, social skills and accountability, said Tucker. And because instructors have seen so much positive improvement throughout different facets of the students' school experience, Kim and Tucker and others are trying to figure out ways to formalize the beatboxing program and share it with other schools for students with visual impairment or other special needs.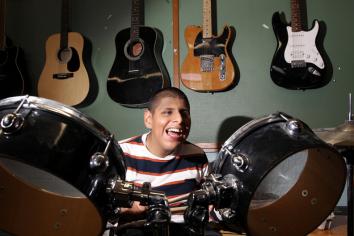 At this point in the program, Kim, McFerrin and the school faculty are seeing the possible applications of BEAT Rockers outside the Lavelle School's walls. Anecdotally, teachers have seen improvements in speech pathology, communication, social skills and self-expression from the students who participate in the class.
"This population of students in particular may get looked over a lot of times," said Kim, who is now joining forces with other teachers to create a system that can gather data on student improvements and share those results with other schools.
"We want to continue to create a broad curriculum that we can then share with other schools and other beatboxers" by capturing data and specific successes seen in other aspects of the school, said Kim. "Nothing is really powerful unless it's able to be shared."
But it's not just the students who have benefited from the class. McFerrin, who has been a working musician for decades, said the students themselves are the ones who help to remind him what his art is all about.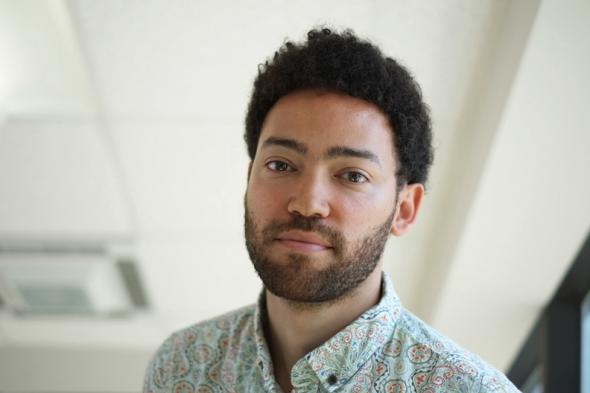 "Once you live in New York City for 10 plus years, the grind, the hustle of trying to make it can kind of dim your light that you came to the city with…You can lose your genuine enthusiasm for your craft, but being around these kids at BEAT Rockers, it's all about a really genuine joy for making music."
"Just having that type of energy in your life can be rejuvenating," McFerrin continued.
It's 11:15 a.m. on a Wednesday. This is when Carlos is invited to play "a little piano." He is shy and reluctant at first. "Carlos, do you want to show me how to do salsa?" McFerrin asks. Carlos smiles but continues to resist when people implore him to play. Finally, he agrees, perhaps a little begrudgingly, but he soon sits, hunched over at the bench, feeling his way around the keys and pedals for just a moment.
All it takes is the affirmation of a single keystroke, a single note, and in moments, Carlos is wailing on the keys. And he's smiling, forgetting that, moments before, he was reticent to play in front of others.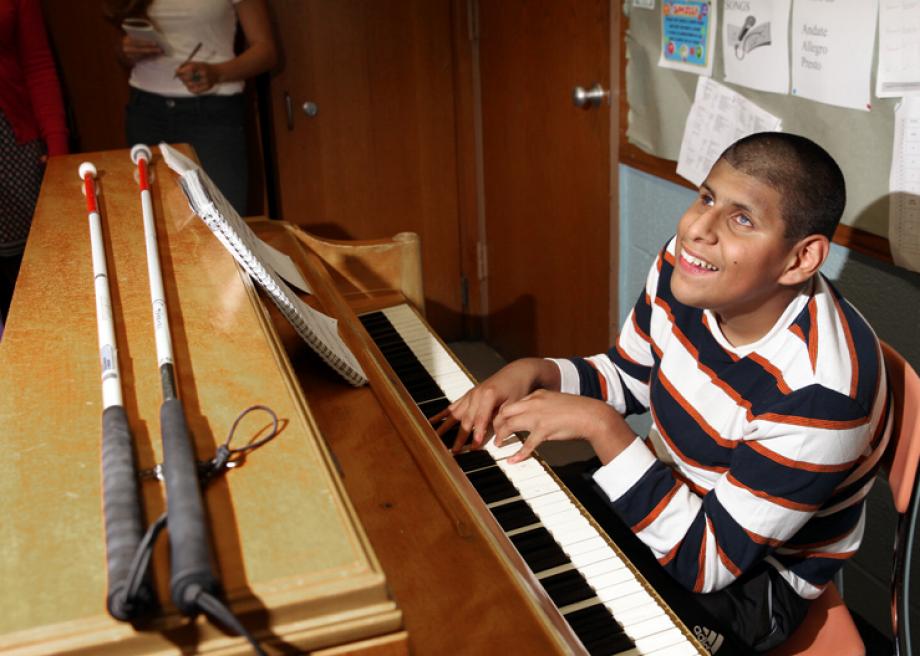 His aide stands in awe. McFerrin smiles and listens. The students smile and clap and tap and ding and "tsee" and dance and laugh and scream to the beat. It is organized rhythmic madness for the typically quiet kids in the quiet classroom on the quiet suburb-like street in the Bronx on a Wednesday.
It's 12:30pm. Both of BEAT Rockers' Wednesday sessions are over. Walking to the door of the music room you'll need to make your way through faded grey hallways, down from the second to the first floor and back onto the street. But it's worth pausing before you leave the room. Perhaps it is a little brighter than other parts of the school or maybe that's a subconscious response to the room itself. Positive affirmations and guitars line the walls. Bongos and tambourines and triangles and a piano are a few of the instruments throughout the small space. "Something good is about to happen," a poster reads.
For more sponsored content from Wells Fargo on Slate, click here.