Permanent Record
Rose Vrana is 95. She went to trade school in the 1930s. I found her report card. Then I found her.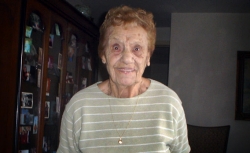 Back in 1996, I found a stash of Depression-era report cards in a discarded file cabinet. After spending more than a decade wondering what to do with them, I eventually decided to track down some of the students' descendants, which turned out to be a remarkable research adventure that I called the Permanent Record project. I ended up documenting my experiences in a series of five articles that were published in Slate last September. The articles provided a nice sense of closure for the project, so I figured that was that.
Not so fast. The response to the first five Permanent Record articles was tremendous, as dozens of Slate readers volunteered their own stories and insights about report cards, found objects, family histories, and the Manhattan Trade School for Girls (the school that my old report cards came from). Best of all, many of these readers generously offered to help me track down more students' families, and our combined efforts quickly bore fruit. It soon became apparent that Permanent Record wasn't finished. It was just getting started.
Welcome, then, to Permanent Record 2.0. In the seven months since the original articles ran, I've made contact with over a dozen additional families, discovered that several of the students went on to have brushes with fame, and filled in a few gaps regarding Manhattan Trade and some of its characters.
But there's also been a much bigger development. Back in September, I had written this:
I have yet to find a living student from my collection of report cards. The "youngest" one would now be 89 years old, and most would be well over 100. I assume the vast majority of them—maybe all of them—are deceased.
I'm happy to report that this assumption was incorrect. Over the past month I've had the pleasure of speaking several times with Rose Vrana, who attended Manhattan Trade back in the early 1930s, when she was Rose Baggini. She is the first—and so far only—living connection to Permanent Record, and I'm tremendously excited to have found her.
Rose, who's now 95, lives alone in Florida. Her eyesight and hearing aren't as good as they once were, and she doesn't quite understand why a journalist from New York is making such a fuss over her, but she graciously agreed to answer my questions. She doesn't think she's lived a particularly remarkable life, but as I discovered while talking with her, the arc of that life has intersected with some notable chapters in American history, dating all the way back to the Civil War.
Rose Baggini was born in New York City in 1916. Her parents made an unusual couple: Ernest Baggini had come to America from Italy, while his wife, Jeanne, who he met at a dance party, was from France. It all made for a linguistically lively household. "My mother spoke English so she could learn it better, but we had to answer her in French," Rose told me. "We spoke Italian too, but that's an easy language. I can still read and speak Italian today. But French was always hard, because you had to put a check here and dot there."
Ernest was a pastry cook for Maillard's, a popular restaurant and confectioner, and Jeanne did sewing, draping, and alterations for a wealthy family on Madison Avenue. "So after I finished eighth grade, my father says, 'Go pick a trade, see what you can do for yourself,' " said Rose. "He says, 'Look at your mother—she's made a good living.' I says, 'Yeah, but look at her back. She's all bent over from sewing.' "
Despite her reservations, Rose enrolled in the Manhattan Trade School for Girls, where she chose to study millinery. She laughed when she saw the photo of herself on her report card ("Holy mackerel, what a haircut—Buster Brown!") and laughed again at a teacher's note regarding her use of profanity ("I wasn't always a good girl, you know, I got in trouble sometimes"). Aside from that, however, her student record didn't spur any memories, and she couldn't recall many details about her time at Manhattan Trade. "Listen," she said, "I'm 95 years old and that was a long time ago."
Fair enough. After finishing her vocational training, Rose joined her mother working for the wealthy Madison Avenue family. This she remembers more clearly. "Mr. and Mrs. Slocum," she said. "They were millionaires, you know."
Slocum—this name matched the one shown in Rose's employment record. I'd seen it when looking through her file but hadn't thought anything of it. I didn't put two and two together until I deciphered an uncharacteristically hard-to-read note scribbled on the front of Rose's card: "Mother was personal maid originally for Gen'l Slocum's niece, Natalie Slocum."
General Slocum! This is a reference to Henry Warner Slocum, the Civil War general who later represented New York in Congress. I'm plenty familiar with him: There's a statue of him in Brooklyn's Grand Army Plaza, less than a mile east of my home (I pass it nearly every day on my way to bike in Prospect Park).
Slocum also gave his name to the steamboat General Slocum, which caught fire and sank between Queens and Manhattan on June 15, 1904, killing over 1,000 New Yorkers—the city's greatest single-day loss of life prior to the attacks of 9/11. Almost all the victims came from the city's German community, which was left with so many widows and orphans that it never recovered.
Rose didn't know anything about all of this when she and her mother were working for Slocum's niece, Natalie Slocum. "My mother, if a dress was a little too big or too small, she altered it," she explained. "I was what you call a runner, or a shopper. Say [Natalie] saw a dress and she liked it, but it was purple and she wanted it to be green. So I had to go out to the garment district, because they still made all kinds of fabrics right there in the city in those days, and I'd get all kinds of swatches or samples, from light green to the darkest. Then she'd pick out what she wanted and the manufacturer would make the dress based on that."
It was during Rose's time with the Slocums that she met Joseph Vrana, who she ended up marrying in 1941. His work involved another now-forgotten New York trade: "In those years, there were the furriers, and he used to stretch the fur and nail it down on a board." But he eventually left that job to join the city's sanitation department, where he worked for 33 years.
Rose and Joe made their home in Astoria, Queens, where they raised two children. After the kids left the nest, Rose worked for a few years as a wrapper and packer at Loft's Candies (yet another defunct New York institution). Then, when Joe retired, they moved to Florida, where she's remained ever since. "I've been here going on 41 years," she said.
Many Manhattan Trade graduates kept sewing and making clothing throughout their lives (as you may recall, some students even saved their Manhattan Trade sample books for future inspiration), but not Rose. "I never liked sewing," she said. "My mother made my wedding dress, my daughter's graduation dress, but I could never sit in a chair more than maybe three-quarters of an hour. I'd get up, I wanted to be goin', goin', you know?"
Rose has been goin' so long that she's now outlived most of her family. Joe died some years ago, their two children are also deceased, and she had a brother who died around 2000. She has four grandchildren but isn't in contact with them. "They know where I live, but I don't know where they live," she said. "It's sad, but what can you do. That's life."
Getting to know Rose has been interesting. On the one hand, I'm thrilled to have found a living Manhattan Trade alum, I'm fascinated by her connection to the Slocum episode, and I've grown personally fond of her. But she doesn't remember much about her time at Manhattan Trade and is somewhat reticent about discussing other aspects of her life, which she insists has been nothing special. Although I've explained the Permanent Record project to her, she doesn't fully understand what it's all about (she doesn't use a computer, so I made some print-outs for her, but she said those were too hard to read). So while she's never been anything less than gracious toward me, our interactions haven't been as fully satisfying as I imagined they would be.
Meanwhile, during the period when I was interviewing Rose, I was also connecting with descendants of other students. The contrast was striking: These families were happy to talk about their relatives (who they invariably extolled as having lived fascinating lives), excited to see the report cards, and eager to learn more about Permanent Record.
Part of this, of course, is simply a function of Rose's age and her fading memory. But I think it also says something about how we tend to view ourselves in the context of history. How would you feel if a biographer wanted discuss your life with you, as opposed to your mother's or grandmother's life? I suspect most of us would feel more comfortable with the latter—in part because most of us think of our lives as being relatively unremarkable, and in part because we tend to mythologize past generations. Talking about someone else's past often makes for better storytelling than talking about our own.
Happily, these families have shared some amazing stories about their loved ones, and I plan to tell those stories in subsequent Permanent Record installments. Here's some of what you can look forward to:
• Eva Greene, who attended Manhattan Trade nearly 100 years ago, parlayed her dressmaking training into a career in fashion. As I learned from her son and daughter-in-law, Bob and Margie Rosencrans, that career included designing Mamie Eisenhower's inaugural ball gowns in 1953 and 1957.
• Another Manhattan Trade student who went on to a fashion career was Beatrice Gross, who attended the school in the 1920s. She later became an instructor and placement counselor at the Fashion Institute of Technology, where one of her students was a young man named Calvin Klein.
• One of the most heartbreaking stories from the original Permanent Record series was that of Doris Abravaya, who appeared to have had an incredibly difficult childhood. I'm very happy to have found her daughters, Judy Helrich and Marilyn Saias, and even happier to have learned from them that Doris went on to have a much better life than her report card portended.
I'll be writing about these and other students here on Slate roughly every month or so. Meanwhile, you can follow the project's progress on the Permanent Record blog, where I've been posting shorter dispatches and exploring related issues pertaining to found objects. Want to learn more about the project or join the Permanent Record mailing list? Contact me.
(Special thanks to volunteer researchers Samantha Bulgerin and Catherine Bloomquist, whose investigative work led me to Rose Vrana.)