The Longform Guide to Modern Las Vegas
Fear, loathing, and Britney Spears.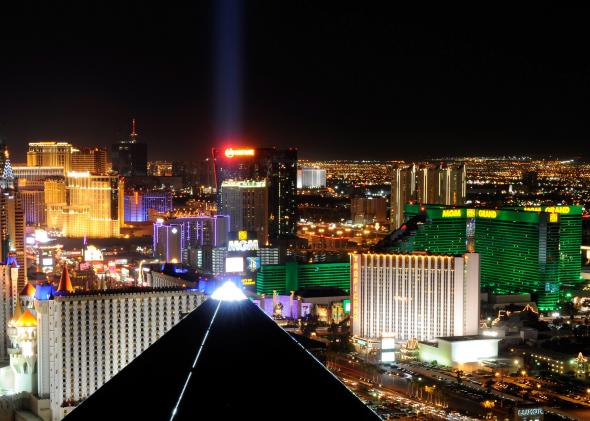 Every weekend, Longform shares a collection of great stories from its archive with Slate. For daily picks of new and classic nonfiction, check out Longform or follow @longform on Twitter. Have an iPad? Download Longform's app to read the latest picks, plus features from 70 of the world's best magazines, including Slate.
Retracing Hunter S. Thompson's steps 40 years later.
In late July, I flew to Las Vegas with a woman I will call Fleur, in service of a story idea so doomed and ill-conceived I hesitate to even tell you what it was. You will have your suspicions. Writers only go to Las Vegas for one reason, really. It is our World Series of Poker, except more pretentious. But the process is not dissimilar. You train, get your weight up. A semi-competent feature here, a not-totally-botched essay there, and then, one day, when your editor is particularly distracted, downtrodden, or simply in need of something to believe in, you push your meager pile of chips to the center of the table. You look your mark in the eyes and bluff. "It is the fortieth anniversary of Hunter S. Thompson's Fear and Loathing in Las Vegas," you say, your face calm, confident, "and I want to go there, to write a piece on the book, and the American Dream."
Britney Spears works Vegas, kind of.
So, just after 4:30 on that Tuesday, as the Las Vegas police were becoming irate in their insistence that the crowd not spill onto the street and someone behind me nervously mentioned the Walmart worker who had been trampled the week before at a doorbuster, Britney stepped out of the Impala. She walked past the crowd, up the stairs. She was blonde and shiny, and for a minute it was as if everyone in attendance faded to a muted dark and she was the only thing on the entire Strip that glowed. Her performance was not a singing performance, or even a vamping one. She received a bouquet of roses and thanked Planet Hollywood and the city of Las Vegas for Welcoming her so warmly, took a few pictures, and she was gone.
The Welcome, you see, is as false a construct as the word residency. Most residents save Celine Dion actually reside outside of Vegas, and the minute she was able to, Britney hightailed it back to her private plane and went back home to put her two kids to bed and then went to bed herself, because there were more rehearsals in Manhattan Beach tomorrow.
A profile of Tony Hsieh, who has invested heavily in downtown.
The 40-year-old Hsieh is legendary for building, in Zappos, a company that has managed to be both hugely successful—more than $2 billion in annual sales—and hugely high-spirited. One of Zappos' official corporate goals is to "create fun and a little weirdness." It is consistently ranked among the best US companies to work for.
Late in 2011, Hsieh became even more legendary by announcing almost larkishly that he'd be leading a $350 million effort to rejuvenate a blighted stretch of Las Vegas' downtown, home to some lower-end casinos and motels and not a whole lot else. His plan was to spend much of his own personal fortune to transform this lifeless area about a mile north of the neon blitz of the Strip into an entrepreneurial tech nirvana. He was hoping to lure a raft of startups to join him, offering $50 million in seed money, a supportive business community, and helpful infrastruc­ture. He wanted to do it all fast, recruiting 10,000 new residents within a span of five years while adding restaurants, bars, a members-only dog park, a climbing gym, coworking spaces, a medical center, and a highly enlightened preschool. He was simultaneously going to relocate more than a thousand Zappos employees to spiffy new headquarters in the middle of this spiffy new neighborhood. Never mind that neither Hsieh nor many of the people he'd hired had any experience in urban renewal or community development or the notorious grinding slowness of making change in a big city: The website for the Downtown Project, as Hsieh's enterprise was formally known, cheerfully declared its intention to transform downtown Las Vegas into "the most community-focused large city in the world."
A profile of Apollo Robbins, widely regarded as the world's best pickpocket, who performs on the Strip.
A few years ago, at a Las Vegas convention for magicians, Penn Jillette, of the act Penn and Teller, was introduced to a soft-spoken young man named Apollo Robbins, who has a reputation as a pickpocket of almost supernatural ability. Jillette, who ranks pickpockets, he says, "a few notches below hypnotists on the show-biz totem pole," was holding court at a table of colleagues, and he asked Robbins for a demonstration, ready to be unimpressed. Robbins demurred, claiming that he felt uncomfortable working in front of other magicians. He pointed out that, since Jillette was wearing only shorts and a sports shirt, he wouldn't have much to work with.
"Come on," Jillette said. "Steal something from me."
Again, Robbins begged off, but he offered to do a trick instead. He instructed Jillette to place a ring that he was wearing on a piece of paper and trace its outline with a pen. By now, a small crowd had gathered. Jillette removed his ring, put it down on the paper, unclipped a pen from his shirt, and leaned forward, preparing to draw. After a moment, he froze and looked up. His face was pale.
How the biggest club in Vegas does business.
Thirty-five hundred: That was the club's capacity. Over the course of the night, 6,000 souls would enter and exit Marquee. How exactly do you get 6,000 people to want to come to the same nightclub on any given night? How do you get 6,000 people, all from different places, who don't know one another, many of whom have never been to this nightclub, many of whom don't ever really even go to nightclubs, to decide communally that they're going to Marquee? Especially when there were twenty-five other nightclubs right here in Las Vegas that could have strobed them with the same seizure-inducing lights, where equally busty women in similar magician-assistant outfits could sell them the same Grey Goose and cranberry while exactly the same music played in rotation every single night (and by "exactly" I mean, like, more or less the same ten songs).
"That," the owners of Marquee told me, "that is our secret sauce."
The story of a very bad bet.
Before the market crashed and home prices tumbled, before federal investigators showed up and hauled away the community records, before her property managers pled guilty for conspiring to rig neighborhood elections, and before her real estate lawyer allegedly tried to commit suicide by overdosing on drugs and setting fire to her home, Wanda Murray thought that buying a condominium in Las Vegas was a pretty good idea.
On the city's street names.
When Tupac was riddled with bullets just off the Las Vegas Strip in 1996, yet another city was added to the long list of those that have claims on him: Baltimore, Oakland, New York, Los Angeles, Marin City.1 As the list's last entry, Las Vegas became the one people would least like to remember. Strangely, the city already had a street named after him—or so it would appear to us now. Developed in 1990 (according to the real-estate site Zillow), Tupac Lane was likely not named for the man who was then just another member of Digital Underground. (Though it seems almost as odd to suppose it was named for the last Inca king, Tupac Amaru.) Look at Tupac Lane on Google Streetview and all you'll notice is the flat blaze of Nevada daytime and the exurban sameness of the houses with their extruding two-car garages cutting into xeriscaped front yards. There's absolutely nothing out of the ordinary about the street aside from the fact that it's named for an Inca king, or maybe a soon-to-be-famous rapper.
On Las Vegas' next frontier: Macau.
The murder-for-hire case sheds light on the links between China's secretive triad societies and Macau's booming gambling industry. It also raises potentially troubling questions about one of the world's largest gaming companies, Las Vegas Sands, which plans to open a $5.5 billion Singapore casino resort in late April.
Cheung was not just named as a triad member but also, according to a regular casino patron testifying in the trial, "the person in charge" of one of the VIP rooms at the Sands Macau, the first of three casinos run here by Las Vegas Sands. In addition, Cheung has been a major investor in the Neptune Group, a publicly traded company involved in casino junkets -- the middlemen who bring wealthy clients to Macau's gambling halls. Documents show that his investment allowed him a share in the profits from a VIP gambling room at the casino.
An examination of Hong Kong court records, U.S. depositions from the former president of Sands, and interviews with law enforcement and security officials in both the U.S. and Macau, reveals a connection between Las Vegas Sands and Cheung—ties that could potentially put Sands in violation of Nevada gaming laws.