The Longform Guide to Internet Hoaxes
Hear that one about the Notre Dame football star? Here are some more.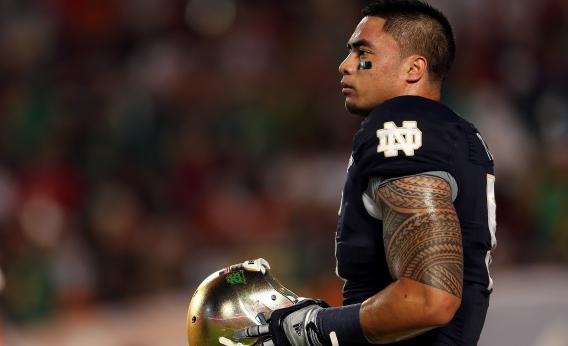 Every weekend, Longform shares a collection of great stories from its archive with Slate. For daily picks of new and classic nonfiction, check out Longform or follow @longform on Twitter. Have an iPad? Download Longform's app to read the latest picks, plus features from 70 of the world's best magazines, including Slate.
Deadspin didn't just scoop the known media universe this week with its story about Manti Te'o's fake dead girlfriend. Timothy Burke and Jack Dickey also told the story really well. Hoax tales are tricky, particularly ones this ambiguous and bizarre, but when done right they can be absolutely captivating. Here are five more from our archives:
He was an 18-year-old Marine bound for Iraq. She was a high school senior in West Virginia. They grew intimate over IM. His dad also started contacting her. No one was who they claimed to be and it led to a murder.

"Every morning of every weekday for 12 years, Thomas Montgomery punched in at the Dynabrade factory in Clarence, a small town in upstate New York. He strapped on his goggles and stood at his machine until the late afternoon, churning out components for power tools. After work, he walked the family dog, Shadow, and took his two daughters to swim practice. He became such a regular presence at the local swim club that he was named its vice president. He tried to be a good father and a decent husband to his wife of 16 years, Cindy. There were a few things he enjoyed—poker night on Fridays with the guys, playing Texas Hold 'Em on Pogo.com, and the Dynabrade euchre tournament, which he dominated for two years in a row. For the most part, though, life was uneventful.

"Which may be why Montgomery looked at himself—a 45-year-old former marine with a reddish mustache, bulging gut, and disappearing hair—and decided to become someone else. That person, he wrote on Dynabrade stationery that he stored in his toolbox at work, would be an 18-year-old marine named Tommy. He would be a black belt in karate, with bullet scars on his left shoulder and right leg, thick red hair, and impressive dimensions (6'2", 190 pounds, and a "9" dick"). Emboldened by his new identity, Montgomery logged onto Pogo in the spring of 2005 and met TalHotBlondbig50—a 17-year-old from West Virginia, whose name, he later learned, was Jessica."

The Long, Fake Life of J.S. Dirr
Adrian Chen • Gawker • June 2012
John Dirr's son Eli didn't really have cancer. In fact, neither Eli nor John Dirr ever existed. The story of a decade-long hoax.
"On the evening of May 13, Mother's Day, a Canadian woman named Dana Dirr was hit head-on while driving to the Saskatchewan hospital where she worked as a trauma surgeon. She was 35 weeks pregnant, but determined to work until the moment she gave birth. The morning after the crash, her husband John ("J.S.") Dirr posted a note on Warrior Eli, a Facebook page the Dirrs had created to document their 5-year-old son Eli's battle with cancer: 'Last night at 12:02am I lost the love of my life," J.S. wrote. "I lost my wife, the mother of my children, and my best friend.' Miraculously, Dana had held on in the hospital just long enough to have her baby—a daughter, and the Dirr's eleventh child.

"If any of it had been true, it would have made for a very sad story—the kind of story that would have taken over the news cycle on Mother's Day, even. But there was none of that, because the Dirrs are not real. They are, in some ways, just the latest example of the countless hoaxes perpetrated by bored, lonely people the world wide web over. But the Dirr hoax is singularly creepy in that the length of the con—11 years—meant J.S. evolved along with modern social networking. When he was born, in the time of Xangas and Tripod sites, J.S. Dirr was hardly more sketched out than a character in a novel. As the internet diversified and came to encompass every aspect of users' lives, so did J.S.

"By the time he was found out as a 22-year-old woman living in her father's house in Ohio, J.S. had embedded himself firmly in online the online lives of hundreds of people. Like a virus discovered deep in the guts of a nuclear plant, the Dirrs reveal startling vulnerabilities in the social web—how it masks lies, and boosts our ability to believe them."

The Lying Disease
Cienna Madrid • Stranger • November 2012
On an affliction for the digital age, "Munchausen by Internet."
"Some people even invent tertiary characters—friends, siblings, a concerned mother—to jump into internet threads and corroborate their stories.

"The lies slowly escalate, pile up, and create an improbable whole. Then one day, you realize you're friends with a 15-year-old chronic migraine sufferer online who also happens to be a fourth-year medical school student who plays drums in a band at night—despite those crippling migraines—to pay his med school tuition because his deaf mother and alcoholic stepfather have no interest in his baby-genius education. Oh, and since he's not yet old enough to drive, he skateboards three miles a day to get to class.

"And on that day, you feel like a total schmuck."

The Secret World of Lonelygirl
Joshua Davis • Wired • December 2006
How a 19-year-old actress and a few struggling Web filmmakers created a star.
"She is a high school girl with swooping eyebrows, boy problems, and a webcam willing to listen. The room behind her could be anywhere in America – there's a pink floral-print bedspread, a half-dozen stuffed animals, and a framed picture of a rose on the wall.

"But this isn't what it appears to be: Almost everything in the room was bought from Target on the same day, and the price tags are still hanging from some of her stuff. The closet is filled with men's clothing, and in the corner two guys huddle around a laptop and stare at the webcam feed.

"Welcome to the set of Lonelygirl15, the breakout Web hit that, in September, was unmasked by fans as a work of fiction. What nearly a million people thought was the room of a sweet, charismatic teen named Bree is actually the Beverly Hills bedroom of Lonelygirl15's cocreator Mesh Flinders, an unshaven 27-year-old who is fighting the flu and running a fever of 101. He hasn't left this room for more than 24 hours. 'I've got no reason to leave,' Flinders says, rubbing his bloodshot eyes and then blowing his nose. The room smells like sweat. 'I write the scripts here, we shoot them here, and I sleep here. Why leave?' "

The Perfect Mark
Michael Zuckoff • The New Yorker • October 1985
How a Massachusetts psychotherapist fell for a Nigerian e-mail scam.
"Worley told Mbote that he lived his life with the 'utmost integrity' and didn't want to jeopardize that. He also said that he couldn't fund the operation. (Though he would report nearly a hundred and forty thousand dollars in income in 2001, he had declared personal bankruptcy in the early nineties, had relatively little saved for retirement, and wanted to help his grandchildren through college.) No problem, Mbote answered; "investors" would provide up to a hundred and fifty thousand dollars for airfare and other expenses needed to move the money to the United States, while Worley would act as middleman and curator of the funds.

"As promised, in late August, 2001, Worley received a check for forty-seven thousand five hundred dollars, purportedly from one such investor. It was from an account belonging to the Syms Corporation, the discount-clothing chain whose slogan is 'An Educated Consumer Is Our Best Customer.' Worley was wary. He called the Fleet Bank in Portland, Maine, where the check had been drawn. The bank told him it was an altered duplicate of a check that Syms had paid to the Maryland office of an international luggage manufacturer."

Have a favorite piece that we missed? Leave the link in the comments or tweet it to @longform. For more great writing, check out Longform's complete archive.