Longform's Best Sex Stories of 2012
Sex on the Web, during the age of Grindr, and in the Olympic Village—the best sex writing of 2012.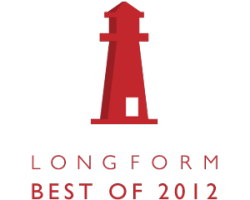 This week, we'll be sharing our favorite articles of the year on Slate. For our full list—including the top 10 of the year, plus picks in sports, politics, tech and more—check out Longform's Best of 2012.
Demystifying a ubiquitous Internet presence.
"If you think cam girls—those flirty naked characters that plague porn site pop-up ads—are raking in easy money, you're right. If you think cam girls are bleakly stripping online out of desperation, you're also right. Peel away the sex and pixels and money and you're left with the cloudy truth about the Internet's relationship status with these on-demand entertainers: it's complicated.
"You've looked at porn online, which means you've likely been propositioned by advertisements for cam girl networks. They invade your peripheral vision; they pop up behind your window. The women wait for you to start staring, and, just when you're interested, they hit you up for money. You've seen them sitting at their keyboards, wearing barely anything, winking at you, typing to nobody in particular with thin, lethargic arms: bored and conventionally beautiful. The ads, with flirty video that might be live or recorded years ago, shout at you with promises of 'Live Sex Chat' and 'Sex Shows,' with both amateurs and 'pornstars' alike. It's a web red light district, and unlike some gaudy Dutch strip or seedy sidewalk, you're completely anonymous. The sex comes to you."
Absolute Beginners
Bethany Cosentino, Krista Burton, Lena Dunham, Liz Phair, Miranda July, Pamela Des Barres, Sarah Silverman, Shannon Woodward • Rookie
Eight women remember their first time.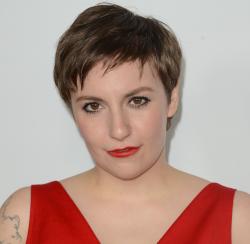 "Lena Dunham: When I was about nine I wrote a vow of celibacy on a piece of paper and ate it. I promised myself, in orange magic marker, that I would remain a virgin until I graduated from high school. This seemed important because I knew my mother had waited until the summer after she graduated and also Angela Chase seemed pretty messed up by her experience at that flophouse where high school kids went to copulate. If my relationship to liver paté was any indication, and I had recently eaten so much that I barfed, then my willpower was very bad, and I needed something stronger than resolve to prevent me from having intercourse too early in life.
"Turns out, this was an unnecessary precaution. The opportunity never arose in high school, nor even during the first year of college, save for a near-miss with a stocky kid I knew who was home visiting New York City from the Air Force Academy—that encounter went far enough that I had to fish a mint-colored, never-used condom out from behind my dormitory bunk bed the next day. I transferred to Oberlin my sophomore year, a small liberal arts school in Ohio that was known for having been the first college to admit both women and men, as well as for its polyamorous, bi-curious student body. I was neither, but it did seem like a good environment in which to finally get the ball rolling. I really felt like the oldest virgin in town, save for a busty riot grrrl from Olympia, Washington, who was equally frustrated; she and I would often meet up in our nightgowns to discuss.
"I was pretty sure I had already broken my hymen in high school, crawling over a fence in Brooklyn in hot pursuit of a cat that clearly didn't want to be rescued. So the event would only be psychologically painful."
Sex and status disclosure in the age of Grindr and undetectable HIV-levels.
"The first guy I ever turned down on Grindr for having HIV, my patient zero if you will, is all kinds of hot: hot in the face, hot in the body and hotheaded. In May, he asked me to come over and make out. We chatted a little bit more, he told me about his status and I slipped out of the conversation, just like that. Randomly in July, I noticed him at a movie theater: On Grindr and online, people lie with pictures all the time, choosing ones that distort their appearance in a captured second, but I was able to pick Miguel right out of a crowd. His picture is a symbol of habitual honesty, maybe, but also because he's so attractive, he has no reason to lie.
" 'This always happens: someone will feel bad and then they'll see me out and they'll be like, "Oh my god, you're so fucking hot," ' Miguel told me while we waited for our table outside of a Chelsea brunch spot one Saturday in early July after I reconnected and asked him to talk to me.
"Miguel told me that being turned down for sex because he's HIV-positive is something that happens 'all the time,' and that 'almost every time, the minute someone gets to know me, their mind changes.' Exposure to a gay friend often converts homophobes swiftly; the same can be said of an HIV-positive guy meeting others who are fearful. It's somewhat reassuring that that's all it takes in many cases, but it also underlines the exponential burden put upon positive guys. They are either in a constant state of proving themselves socially or they are sitting on a secret."
Politics, sex, and political sex in Iran.
"Perhaps it's not entirely surprising that Iran's Shiite fundamentalists—not unlike their evangelical Christian, Catholic, Orthodox Jewish, and Sunni Muslim counterparts—spend an inordinate amount of time pondering sexuality. They are human, after all. But the sexual manias of Iran's religious fundamentalists are worthy of greater scrutiny, all the more so because they control a state with nuclear ambitions, vast oil wealth, and a young, dynamic, stifled population. Yet for a variety of reasons—fear of becoming Salman Rushdie, of being labeled an Orientalist, of upsetting religious sensibilities—the remarkable hypocrisy of the Iranian regime is often studiously avoided.
"That's a mistake. Because religion is politics in a theocracy like Iran, uninformed or antiquated notions of sexuality aren't just confined to the bedroom—they pervade the country's seminaries, military barracks, boardrooms, courtrooms, and classrooms. A common aphorism among Iranians is that before the revolution, people partied outside the home and prayed inside, while today they pray outside and party inside. This reverse dichotomy is true of a lot of social behavior in Iran. For many Iranians, this perverse state of affairs is now so ingrained, such an inherent aspect of daily interactions with Iranian officialdom, that it is no longer noteworthy. For those in the West who seek to better understand what makes Tehran tick, though, the regime's curious fixation on sex cannot be ignored."
Sex in the Olympic Village.
"Home to more than 10,000 athletes at the Summer Games and 2,700 at the Winter, the Olympic Village is one of the world's most exclusive clubs. To join, prospective members need only have spectacular talent and —we long assumed—a chaste devotion to the most intense competition of their lives. But the image of a celibate Games began to flicker in '92 when it was reported that the Games' organizers had ordered in prophylactics like pizza. Then, at the 2000 Sydney Games, 70,000 condoms wasn't enough, prompting a second order of 20,000 and a new standing order of 100,000 condoms per Olympics.
"Many Olympians, past and present, abide by what Summer Sanders, a swimmer who won two gold medals, a silver and a bronze in Barcelona, calls the second Olympic motto: 'What happens in the village stays in the village.' Yet if you ask enough active and retired athletes often enough to spill their secrets, the village gates will fly open. It quickly becomes clear that, summer or winter, the games go on long after the medal ceremony. 'There's a lot of sex going on,' says women's soccer goalkeeper Hope Solo, a gold medalist in 2008. How much sex? 'I'd say it's 70 percent to 75 percent of Olympians,' offers world-record-holding swimmer Ryan Lochte, who will be in London for his third Games. 'Hey, sometimes you gotta do what you gotta do.' "