The Longform Guide to Pittsburgh
Yinz want to read some good articles?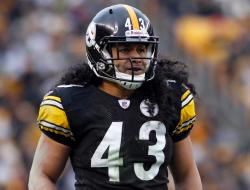 Every weekend, Longform shares a collection of great stories from its archive with Slate. For daily picks of new and classic nonfiction, check out Longform or follow @longform on Twitter. Have an iPad? Download Longform's app to read the latest picks, plus features from dozens of other magazines, including Slate.
To live in Pittsburgh is to move between highs and lows—prosperity and bust, wins and losses, trends and tradition--sometimes in a single day or in a single neighborhood. It also means putting french fries in sandwiches and salads. Who could resist that? Here are five stories about the 'Burgh.
The story of a small town just outside Pittsburgh that has suffered through a half-century of economic decline, racial tension, and endless crime. Despite that trajectory, or perhaps because of it, Aliquippa has also produced an astounding number of NFL players.
"Tonight, as always, they'll slap the plaque over the door that reads WE RULE OUR HOUSE as they spill out to the field. Then they'll destroy Shady Side 41--0. Next week it will be Beaver 34--0, then Ford City 26--7 before a 19--6 loss to South Fayette in Aliquippa's record 21st appearance in the Western Pennsylvania Interscholastic Athletic League final. Before all that, though, they will put on their pads and tape their wrists. Too many will take black markers and write carefully on the tape. rip, it will say, on wrist after wrist. RIP KLJ SR. BDB; RIP EAG; RIP WALL; RIP UNCLE CLYDE; RIP TDW; RIP TMG.
"Rest in Peace, Cousin. Brother. Friend. Father.
"Then they won't look like boys anymore. Because what remains in Aliquippa, too, is a kind of war."
On accent, culture, and a legendary football announcer:
"Every Sunday, we watched the Steelers on tiny dorm room TVs with the sound muted and the stereo cranked so we could underscore the picture with Cope's play-by-play. 'What the hell does 'Yoi' mean?' I asked. They died laughing. 'Whut the hail!' they parroted back to me. Whuut the Haaaaail?"
On the impact of steel giant, Andrew Carnegie.
"For decades, his name was inseparable from the two stock phrases (robber baron and Gilded Age) that were allowed to define late-nineteenth-century American industrialism. John Dos Passos makes him a no-less stock character in The 42nd Parallel, the first volume of the U.S.A. trilogy, in which someone has to embody—as in an E. L. Doctorow cameo—the figure of the incarnate acquisitionist. When I taught at the University of Pittsburgh, in the 1990s, the remains of the old Homestead steel plant were much visited by both locals and tourists, either as a museum of the American Rust Belt or as a shrine to the Gettysburg of the lutte de classe. Elsewhere in the city, if a gallery or museum or university was not named for Andrew Carnegie, it was named for one or another of his partners or rivals in the shape of either a Mellon or a Frick. This was widely viewed as the tribute, in the form of conscience money, that had been originally raised from the blood of the toilers. In cities with less radical traditions, Carnegie and his benefactions were regarded with equal simplicity as the living proof of the American dream and the Horatio Alger principle."
Mayor of Rust
Sue Halpern • New York Times Magazine • February 2011
The possible resurrection of a Pittsburgh borough.
"Urban decline has been around just about as long as there have been cities, but the degeneration of America's industrial heartland, because it cuts across a wide swath of the country and is as much about jobs as it is about habitation, has seemed both intractable and inevitable. Earlier efforts to address it involved razing whole neighborhoods and erecting Robert Moses-inspired projects. But in places like Youngstown, Detroit and Pittsburgh, as well as satellites like Braddock, where urban blight was not just a matter of run-down neighborhoods but of manufacturing plants packing up and moving away, even such radical solutions offered little hope. It's one thing to replace substandard housing stock, quite another to reinvent an economy."
A profile of one of Mr. Rogers, who got his start at Pittsburgh's WQED station and filmed there from 1968 until his final show.
"The old navy-blue sport jacket comes off first, then the dress shoes, except that now there is not the famous sweater or the famous sneakers to replace them, and so after the shoes he's on to the dark socks, peeling them off and showing the blanched skin of his narrow feet. The tie is next, the scanty black batwing of a bow tie hand-tied at his slender throat, and then the shirt, always white or light blue, whisked from his body button by button. He wears an undershirt, of course, but no matter--soon that's gone, too, as is the belt, as are the beige trousers, until his undershorts stand as the last impediment to his nakedness. They are boxers, egg-colored, and to rid himself of them he bends at the waist, and stands on one leg, and hops, and lifts one knee toward his chest and then the other and then … Mister Rogers has no clothes on.
"Nearly every morning of his life, Mister Rogers has gone swimming, and now, here he is, standing in a locker room, seventy years old and as white as the Easter Bunny, rimed with frost wherever he has hair, gnawed pink in the spots where his dry skin has gone to flaking, slightly wattled at the neck, slightly stooped at the shoulder, slightly sunken in the chest, slightly curvy at the hips, slightly pigeoned at the toes, slightly aswing at the fine bobbing nest of himself… and yet when he speaks, it is in that voice, his voice, the famous one, the unmistakable one, the televised one, the voice dressed in sweater and sneakers, the soft one, the reassuring one, the curious and expository one, the sly voice that sounds adult to the ears of children and childish to the ears of adults, and what he says, in the midst of all his bobbing nudity, is as understated as it is obvious: 'Well, Tom, I guess you've already gotten a deeper glimpse into my daily routine than most people have.' "