The Longform.org Guide to Fire
Great stories about arsonists, fire fighters, church burners, and, of course, Burning Man.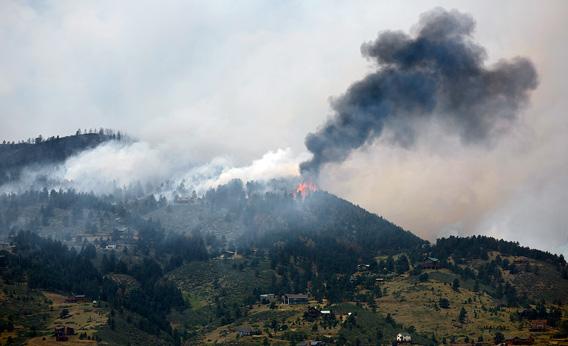 Every weekend, Longform shares a collection of great stories from its archive with Slate. For daily picks of new and classic nonfiction, check out Longform or follow @longform on Twitter. Have an iPad? Download Longform's app to read the latest picks, plus features from dozens of other magazines, including Slate.
Right now, a wildfire is burning its way through Colorado, destroying hundreds of homes, and forcing the evacuation of thousands. Fire is everywhere. Churches are burned; firefighters perform heroic acts; people get locked up for (allegedly) setting deadly blazes. And every September, a giant wooden effigy is torched in Nevada. A collection of fire stories from the Longform archive:
Matthew Teague • Philadelphia Magazine • Jan 2010
For 18 months, Coatesville, Penn., was besieged with an improbable number of arsons. But who started the fires—and why?
"As Tracey drove, he let his eyes flick across the sky, looking for the column of smoke. And he wondered: How many times had he done this in the past year? Whispers among firefighters had started as early as 2007, when they noticed an uptick in the number of arsons in town. Small stuff, at first. Trash fires, uninhabited buildings. Then, in 2008, the perpetrator moved on to garages, and finally the unthinkable: occupied homes. The fires also increased in frequency. In a year and a half, someone ignited about 80 fires in and around Coatesville, a town set on just one and a half square miles. Home to 11,000 people, plus the devil himself: Fires sprang up at night, set by an invisible hand that left no clues and followed no pattern. Black victims, white victims, Hispanic victims. Poor people and rich people. A pensioner. A city councilwoman. And the duty of saving each of them landed hard on the shoulders of men like Bob Tracey, a third-generation Coatesville firefighter."
David Grann • The New Yorker • September 2009
The arson case that led Texas to execute an almost certainly innocent man.
"By now, both investigators had a clear vision of what had happened. Someone had poured liquid accelerant throughout the children's room, even under their beds, then poured some more along the adjoining hallway and out the front door, creating a 'fire barrier' that prevented anyone from escaping; similarly, a prosecutor later suggested, the refrigerator in the kitchen had been moved to block the back-door exit. The house, in short, had been deliberately transformed into a death trap. The investigators collected samples of burned materials from the house and sent them to a laboratory that could detect the presence of a liquid accelerant. The lab's chemist reported that one of the samples contained evidence of 'mineral spirits,' a substance that is often found in charcoal-lighter fluid. The sample had been taken by the threshold of the front door. The fire was now considered a triple homicide, and Todd Willingham—the only person, besides the victims, known to have been in the house at the time of the blaze—became the prime suspect."
Robert Sanchez • 5280 • September 2011
Living through a Colorado fire that burned down 169 homes:
"As Rod worked on the hot tub, his emergency pager buzzed. He studied the text and thought he recognized the address: 100 Emerson Gulch Road. He walked to the garage and turned on his emergency radio. Rod recognized the call number—4672—and the voice on the other end. It belonged to another volunteer firefighter, an old-timer named George Fairer.
"I have a fully involved fire, Fairer said. Trees torching. Base of Emerson Gulch. Get Gold Hill Fire up now.
"Rod got some of the fire gear stored in his Toyota SUV. He shook off his khaki cargo shorts and dropped his T-shirt onto the floor, replacing them with fireproof pants and a long-sleeve shirt. He found his boots, his phone, and keys to the SUV. He left his wallet behind.
" 'Is everything OK?' Shari asked from the garden.
" 'Small fire,' Rod told his wife as he reached his vehicle. 'I'll be back in an hour.' "

Pamela Colloff • Texas Monthly • May 2011
Ten churches are torched in East Texas. The culprits? Two Baptist teens having a crisis of faith.
"On the grainy footage recorded by Atwoods' security cameras the previous day, one man seen entering the restroom was immediately recognizable to investigators: nineteen-year-old Jason Bourque. ATF agents had visited the chubby, curly-haired teenager just two days earlier, following up on a tip from a friend who believed he was involved in the fires. Bourque had been under surveillance ever since, though his graffiti had escaped the attention of the federal agents who were trailing him. A former honor student, Eagle Scout, and state debate champion, Bourque hardly fit the profile of a church burner—he had, in fact, been a devout Baptist for most of his life. But Davis and Smith were certain they had found who they were looking for."
Dave Jamieson • Washington City Paper • June 2007
Thomas Sweatt torched D.C. for decades and was finally jailed for killing one person. During a year-long correspondence from prison with a reporter, he confessed there were more [Sweatt's misspellings were preserved in the story].
"Why did I set the fires when I set them? That's an all too familiar question that can not be understood if you don't know the story. There were different reasons for most of the fires. It could be because of one feeling the need to have power about something or someone. ... I don't want you driving that car so the fire becomes a weapon to destroy it. Or in case of some house fires—I might like a particular style of a house and wish one day to own it (but it's only a dream). Fire is a tool to destroy and some house fires also becomes my phantasy of people scrambling to exit windows and sort-of feel like they need my help so I stay and watch. Then I'd masterbate over the fire while driving away from the schene."
Sean Flynn • Esquire • July 2001
It started with a candle in an abandoned warehouse. It ended with temperatures above 3,000 degrees and the men of the Worcester Fire Department in a fight for their lives.
"Two-sixty-six Franklin. Everyone in Worcester knew that building, if not by the address then by the shadow it had cast over downtown longer than anyone could remember. It was a hulk of brick and mortar rising eighty-five feet above an old industrial park immediately east of Interstate 290, eight elevated lanes that cut through the heart of the city. Civilians knew that building because of the giant words painted in white on the wall and underlined by the freeway: worcester cold storage and warehouse co. Firefighters knew that building, dreaded it, because it sat there like a colossal chimney. No windows interrupted the endless rows of brick, save for a few tiny panes on the second floor, which meant there were no easy vents to bleed out heat and smoke and, if things got really hairy, no obvious escape hatches for anyone trapped inside. Hardly any of the firefighters had ever been in it, except for a few old-timers who'd cleaned up gas leaks or doused spot fires before the warehouse was abandoned in 1987 and, later, a captain named Robert A. Johnson, who got lost in a maze of meat lockers during a routine inspection. 'Jesus,' he had whispered to himself then. 'We'd better never get a fire in here.'"
Nate Berg • Design Observer • January 2011
A short history of Burning Man.
"At its core, Burning Man is an artistic event. It takes its name from the main attraction: the Man, a large wooden structure that is burned ceremoniously on the penultimate night. But the week is about much more than just anticipation for the fire. Organized around ten principles that encourage creative expression, the exchange of ideas, self-reliance, community interaction and participation, Burning Man is part gallery and part studio. Huge and bizarre art projects are installed on the playa, the bed of a lake that dried up 9,000 years ago. School buses converted into pirate ships and seizure-inducing light displays are scattered throughout seven square miles, surrounded by a perimeter fence. At night the desert glows like a neon wonderland. Intricately decorated 'art cars' glide through the streets, and tricked-out bicycles bump along the uneven ground. I see blasts of kerosene-scented fire and hear dance music in every direction. Revelry flows through the night and into the next day. The vibe is a mix of a rave, a museum, and a drunken stroll on the Las Vegas Strip."