Remembering Sidd Finch
Longform's April Fools' Day guide to hoaxes, pranks, and outright fabrications.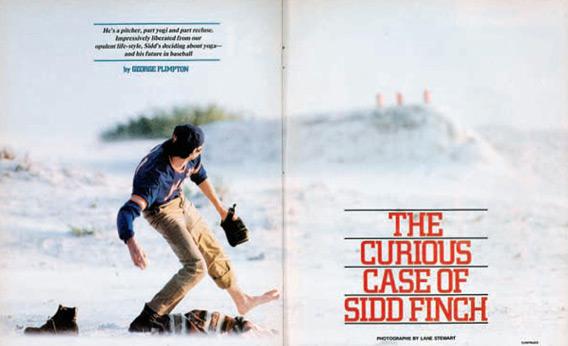 A caveat before we dive into this week's April Fools'-inspired collection: We're using the term "hoax" loosely here. Some of the stories below were published purely as pranks, some involve a conscious Mike Daisey-ing of the truth about a very real topic, and some were so completely conjured out of thin air that the lies feel almost pathological—out-of-body bullshitting, if you will. But they all share at least one trait: People read them and believed every word.
George Plimpton • Sports Illustrated • April 1, 1985
A profile of a previously unknown rookie pitcher for the Mets who dropped out of Harvard, made a spiritual quest to Tibet, and somewhere along the line figured out how to throw a baseball much, much faster than anyone else on Earth. Also, the greatest April Fools' Day prank in the history of journalism:
"The phenomenon the three young batters faced, and about whom only Reynolds, Stottlemyre and a few members of the Mets' front office know, is a 28-year-old, somewhat eccentric mystic named Hayden (Sidd) Finch. He may well change the course of baseball history. On St. Patrick's Day, to make sure they were not all victims of a crazy hallucination, the Mets brought in a radar gun to measure the speed of Finch's fastball. The model used was a JUGS Supergun II. It looks like a black space gun with a big snout, weighs about five pounds and is usually pointed at the pitcher from behind the catcher. A glass plate in the back of the gun shows the pitch's velocity—accurate, so the manufacturer claims, to within plus or minus 1 mph. The figure at the top of the gauge is 200 mph. The fastest projectile ever measured by the JUGS (which is named after the oldtimer's descriptive—the 'jug-handled' curveball) was a Roscoe Tanner serve that registered 153 mph. The highest number that the JUGS had ever turned for a baseball was 103 mph, which it did, curiously, twice on one day, July 11, at the 1978 All-Star game when both Goose Gossage and Nolan Ryan threw the ball at that speed. On March 17, the gun was handled by Stottlemyre. He heard the pop of the ball in Reynolds's mitt and the little squeak of pain from the catcher. Then the astonishing figure 168 appeared on the glass plate. Stottlemyre remembers whistling in amazement, and then he heard Reynolds say, 'Don't tell me, Mel, I don't want to know....'
"The Met front office is reluctant to talk about Finch. The fact is, they know very little about him. He has had no baseball career. Most of his life has been spent abroad, except for a short period at Harvard University."
Sir John Herschel • New York Sun • August 1835
Over six days in 1835, the New York Sun reported a stunning development—life had been found on the moon:
"To render our enthusiasm intelligible, we will state at once, that by means of a telescope of vast dimensions and an entirely new principle, the younger Herschel, at his observatory in the Southern Hemisphere, has already made the most extraordinary discoveries in every planet of our solar system; has discovered planets in other solar systems; has obtained a distinct view of objects in the moon, fully equal to that which the naked eye commands of terrestrial objects at the distance of a hundred yards; has affirmatively settled the question whether this satellite be inhabited, and by what order of things; has firmly established a new theory of cometary phenomena; and has solved or corrected nearly every leading problem of mathematical astronomy."
Janet Cooke • Washington Post • September 1980
One of the most famous fabrications in journalism history, Janet Cooke's invention of an 8-year-old boy with a heroin habit:
"Jimmy's is a world of hard drugs, fast money and the good life he believes both can bring. Every day, junkies casually buy herion from Ron, his mother's live-in-lover, in the dining room of Jimmy's home. They 'cook' it in the kitchen and 'fire up' in the bedrooms. And every day, Ron or someone else fires up Jimmy, plunging a needle into his bony arm, sending the fourth grader into a hypnotic nod.
"Jimmy prefers this atmosphere to school, where only one subject seems relevant to fulfilling his dreams. 'I want to have me a bad car and dress good and also have me a good place to live," he says. "So, I pretty much pay attention to math because I know I got to keep up when I finally get me something to sell.' "
Nik Cohn • New York • June 1976
Nearly 20 years after its publication, Cohn revealed that his story, which was the basis for Saturday Night Fever, was a fake—a fact that still isn't noted on New York's website:
The sixties, unlike previous decades, seemed full of teenage money. No recession, no sense of danger. The young could run free, indulge themselves in whatever treats they wished. But now there is shortage once more, just as there was in the fifties. Attrition, continual pressure. So the new generation takes few risks. It goes through high school, obedient; graduates, looks for a job, saves and plans. Endures. And once a week, on Saturday night, its one great moment of release, it explodes.
And, finally, two stories about fabricators that were far more compelling than anything they fabricated:
Buzz Bissinger • Vanity Fair • September 1998
The definitive profile of Stephen Glass, 25-year-old wunderkind reporter and serial fabricator:
"Beneath the inventions of Stephen Glass there is his own story. People try to explain it now by citing the pressure he faced to perform, and it is true that he came from an environment in which there was brutal pressure to excel. Some stress the fact that Glass was working too much. And he was illogically, and even crazily, overextended. More tempting is the idea of seeing each of Glass's articles, each act of manipulative, aggressive trickery, as a grander and more precariously improvised adventure of the mind."
Dan Barry, David Barstow, Jonathan D. Glater, Adam Liptak, and Jacques Steinberg • New York Times • May 2003
The New York Times comes clean about Jayson Blair:
"The reporter, Jayson Blair, 27, misled readers and Times colleagues with dispatches that purported to be from Maryland, Texas and other states, when often he was far away, in New York. He fabricated comments. He concocted scenes. He lifted material from other newspapers and wire services. He selected details from photographs to create the impression he had been somewhere or seen someone, when he had not.
"And he used these techniques to write falsely about emotionally charged moments in recent history, from the deadly sniper attacks in suburban Washington to the anguish of families grieving for loved ones killed in Iraq.
"In an inquiry focused on correcting the record and explaining how such fraud could have been sustained within the ranks of The Times, the Times journalists have so far uncovered new problems in at least 36 of the 73 articles Mr. Blair wrote since he started getting national reporting assignments late last October. In the final months the audacity of the deceptions grew by the week, suggesting the work of a troubled young man veering toward professional self-destruction."
Have a favorite piece that we missed? Leave the link in the comments or tweet it to @longform. For more great writing, check out Longform's complete archive.

Correction, April 2, 2012: The recommended link to the "Jimmy's World" post-mortem misstated the author's name and word count.