Oh, #Florida!
What's it like to grow up in Florida?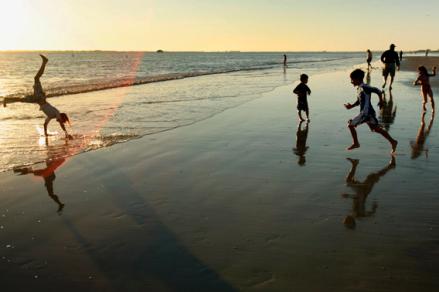 My wife and I were talking to the kids the other day about what it was like growing up in Florida way back in the longtimeago compared to what it's like for them now, and I said, "I remember back when there was no Disney World."

I have now seen what it looks like when a child's mind is blown.
Still, if your family can afford it, you can count on at least one vacation trip to a theme park—Disney World, SeaWorld, Busch Gardens, Legoland, you name it. They're all close by. There's even a theme park centered around recreating Jesus' crucifixion, open six days a week.
But when I was a kid growing up in Florida, Walt Disney was just some guy who had a Sunday night TV show. We lived on a red clay road on the edge of town. The sky was filled with Navy training planes by day and by fireflies at night—except when the mosquito control truck drove by spewing a billowing cloud of bug spray. Some kids pedaled their bikes along right behind it, taking in big lungfuls, hoping to get high. I believe they all grew up to become members of our state Legislature.
Summer vacation meant going to the beach, particularly Fort Pickens. Or we'd go fishing or camping. I remember one family camping trip where we were trying visit all the state parks we could drive to in a week or so. At one point we stopped by the famous Suwannee River. I tried to pick my way across the burbling water by stepping on some slippery stones and wound up getting accidentally baptized.
Back then I collected sunburns and skeeter bites the way I collected baseball cards. I learned that the best route to follow when walking anywhere wasn't the straightest one, but the one that afforded plenty of shade. And I learned to love dragonflies because they eat mosquitoes.
My wife, also a Florida native, remembers cross-state family car rides to visit her aunt, who had succulent mangoes growing in her backyard. She remembers her dad taking the family to Pittsburgh Pirates spring training games in Bradenton, where they'd get autographs from Willie Stargell and Manny Sanguillen. They'd wave at Roberto Clemente, but he was too shy to come over to talk to the fans.
My friend Cynthia Barnett said she grew up loving "the fairy tale experience of climbing a banyan tree in South Florida. The warm Atlantic Ocean. The cold springs. Braking for hot-boiled peanuts on the side of the road. And watermelon when it gets down to $2 on 4th of July week." (And no, it wasn't seedless.)

In those days when the only TV shows for kids were the Saturday morning cartoons, we often had to entertain ourselves. I spent a lot of time climbing trees or wandering around in the woods pretending to hunt squirrels.
"I made condominiums for the cockroaches," Cynthia said. "I put out cardboard boxes with wee doors and windows cut out and drew them little flower boxes. I think you can't be afraid of roaches and be a Florida kid." (My wife strongly disagrees with that last statement.)
William McKeen edited a superb book called Homegrown in Florida which features essays from Michael Connelly, Tom Petty, and a host of others writing about their childhood here and how it shaped their futures. Petty met Elvis while he was filming Follow That Dream, and Connelly got questioned by the cops about a robbery.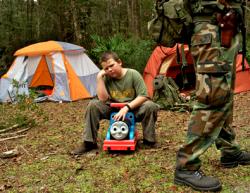 McKeen says childhood isn't as much fun these days, thanks to Little Leagues and other scheduled activities: "It seems that when I grew up in South Florida, all the stuff we did was organic. We could have a great day just messing around in the canals, riding our bikes around the fields, or going down to the upper Keys to fish with my dad on a whim." The tourist attractions everyone visited in those pre-Disney days "were mom-and-pop places by comparison. There was the Monkey Jungle, the Parrot Jungle, the Miami Seaquarium. Living there was an adventure. Now it seems more like an endurance test."
But when I asked my kids what they like about growing up in Florida now, the list they rattled off made me think maybe things haven't changed so much. Sure, they enjoy the theme parks and the roller coasters. But they also like camping out, tubing down a spring-fed river, or going to the beach, especially Fort DeSoto. They like collecting tangerines from our backyard tree and taking school field trips to Cape Canaveral and Sea Camp on Big Pine Key. They like having warm weather most of the year so they're not cooped up inside for months on end.
In fact, my teenager said that as far as he could tell, there's only one downside to growing up in Florida: "No snow days."
Florida has inspired a lot of music and musicians. Here's a playlist of songs about Florida or by Florida artists. Oxford American, we hope you'll take note.