Published by

Dairy Farms Yield More When Families Run Them Together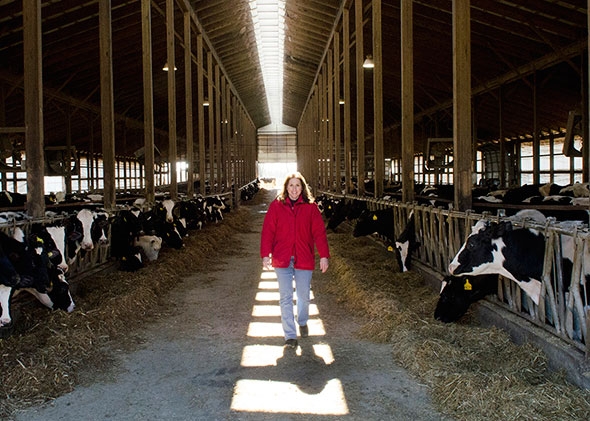 If Brenda Hastings stands perfectly still in her barn in Burton, Ohio, a group of cows will inevitably gather around her. They feel the energy of their caretaker as they stand around, calm and quiet. It's a small moment that has become a favorite of Hastings' life on the farm.
"It's very soothing," she said. "It makes me feel good to see how content they are and that we're meeting all their needs."
Hastings comes from a long line of dairy famers – her father owned a dairy farm, his father owned a dairy farm, and his father owned a farm (Brenda's great-grandfather). The mother of two is keeping that legacy intact on her own farm in Ohio, where she settled down with her husband after uprooting from her native land in central California.
That was almost 10 years ago.
For Hastings, there were no questions when deciding to continue her family's dairy legacy. "I think a lot of my parents, and even as a kid I always remember being very proud to be a part of a dairy family," said Hastings.
Her husband is from Ohio, and also comes from several generations of dairy farmers. And with two boys ages 12 and nine, the dairy farming legacy will likely continue.
"They're involved with 4H now and like to show animals at the farm," said their mother. "They're starting to ask questions about the big picture: 'How many cows are getting milked today?'
"They spend warm summer afternoons with the calves and heifers, tending to the barn cats, checking the progress of our crops, and keeping an eye on the maternity pen to see who's recently calved. They spend time working with animals they will show at the county fair in August."
The interest excites Hastings, she said, but she admits it's a tough lifestyle and not for everyone.
"We want to make the opportunity available so that if they want to pursue dairy, they have it. But it's challenging: It usually requires a whole family commitment to run a farm, and it's assuming a lot of risk."
Despite an age-old career path of farming, Hastings brings a modern touch to her family and the farm by being active on social media, and writing a blog called "The Dairy Mom," which is intended to pull back the curtain on the family's farm and give a mom's perspective of farm life.
For the past five years, Hastings' blog has come as an add-on to her weekly workload. While she said her father doesn't understand the need to divulge every detail of farm life on the Internet, she said the need for transparency on the farm has become more important in recent years. Information shared on her blog makes a difference in how locals perceive the family's dairy.
"While the Internet enables a lot of negative sharing about facts that aren't necessarily true, it also gives us a platform to show what really goes on at the farm," said Hastings. "Most people's main concerns are about the cows and whether they're being properly taken care of. We're happy to show them the truth."
Continuing her family's tradition also allows the Hastings to learn from past generations, and for today's farmers to share modern insights for past generations. While there is an ongoing need for younger people to become more active in the agriculture industry, there are teens and 20-somethings taking modern concepts and applying them to an age-old industry.
"I'm a mom in my 40s, so I know what people my age are interested in. I know little about what's important to a 20-year-old woman today," she said. "Having several generations in one place helps us speak to that, and understand a variety of different ages and people at different points in their lives."
Even while giving a tour, the group sees the several generations working together. Hastings' father drives the wagon ride to the barn to show people where the cows live, what they eat and how we keep them comfortable. Hastings brings tour-goers to the area where the cows get milked. Her mother helps keep the groups organized and directs them from one station to the next.
"Together, we try to give people a positive experience learning about dairy farming."
The U.S. dairy industry is vital. Industry analysts estimate that U.S. dairy contributes more than $140 billion in economic output, $29 billion in household earnings and is responsible for more than 900,000 jobs (based on economic analysis of direct and indirect economic impact of U.S. dairy from farm through processing).
But despite the lucrative and influential business opportunities, the industry faces major changes. Almost half of people in dairy farming management positions will be of retiring age over the next 15 years. So to keep up with demand for milk and dairy products, more farmers, including millennials, are needed to step up to the task.
This includes reaching people in new ways, like the Dairy Mom Blog, to impact the face of the industry.
"We just want to show the world our passion for our cows and our careers and our lifestyle," said Hastings. "I get a small following, but combined with the tours we give on our farm, it's making a difference in the way locals see our work and our livelihood."