Published by

Perishable: Putting Nutrition on the Table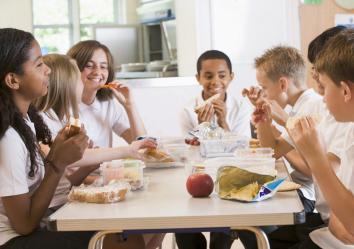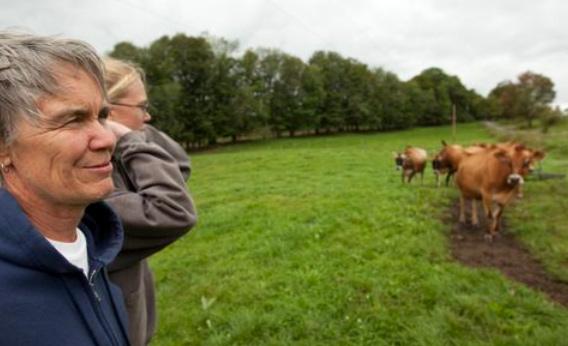 "Drink your milk...and eat your vegetables!"


This is the unyielding cry heard across generations of families in America, a childhood memory for many. But what happens when the closest thing to a fresh vegetable (or fruit) is a soggy tomato atop a sandwich and, instead of a cold glass of milk to drink, there is only a bottle of sugary soda or fruit punch? For individuals and families living under the persistent anxiety of food insecurity, low-nutrition food is often the only resource available. The non-profit Food Research and Action Center (FRAC) cites wide-ranging research showing that lower income neighborhoods often lack access to full-service grocery stores and farmers markets where dairy products and fresh produce are readily available, leaving fast food and convenience store fare as the main source of available foods – sources that often have limitations on nutritious options.
A report released in February entitled "Food Hardship in America" surveyed hundreds of thousands of American households with the question: "Have there been times in the past twelve months when you did not have enough money to buy food that you or your family needed?" More than one in six households, or 18.2 percent, answered yes. Alarmingly, over 50 million Americans suffer from chronic food insecurity.
Food banks, a new dietary staple
This evolving landscape of food insecurity has led to an "explosion" of food banks in the United States, says Ross Fraser of Feeding America, the nation's largest hunger-relief charity. Once primarily intended for urgent food needs, food banks are now becoming what Fraser describes as a "new staple" for those without a regular or reliable source of nutritious food.
"Once upon a time, people came to us once in a while for food," explains Fraser. "Now we are a staple in many people's lives. People who are in entrenched poverty, people who make low wages and will always make low wages, and especially seniors living on fixed incomes for whom their circumstances are not going to change. And it is also America's middle class who have lost jobs or are struggling with the economic downturn of the last few years."
"So what we realized is that if we are going to be feeding people on a regular basis, they're going to rely on us for a significant amount of their nutrition," he continues. "We then have a responsibility to make sure we are getting them the most nutritious food possible."
While local food banks have traditionally focused on dry goods, Fraser bristles slightly as he describes the common cliché that food banks are often left with the most unhealthy food: "...bags of potato chips, cookies, candy and blah, blah blah." The reality is that food banks are playing an increasingly central role in helping families get healthier, more nutritious food on their tables.
Children most vulnerable, need dairy
Children are particular vulnerable to food insecurity, and it affects their learning capability and behavior. Neuroscience research indicates the quality of foods children eat impacts cognition—with poor nutrition linked with absenteeism, hunger symptoms and psychosocial problems.
"Poverty is a real barrier to learning. Basically you cannot be successful if you're hungry on a daily basis," says Monica Thomas, Principal of the Greenleaf Elementary School in Oakland, California that has shown dramatic improvement in academic performance. According to Thomas, her students have benefitted tremendously from a food bank program at the school. School breakfasts and lunches, and weekend "backpack" programs are often the only nutritious meals some children get each day. And it's working.
"Our kids are succeeding now when five years ago they were not because of programs like this that attack the basic needs our kids have and allow them to really focus on academics—and will make them lifelong learners," she adds.
Milk is among the most requested items for food banks, and an essential ingredient for a healthy diet due to its nutrient package such as calcium, protein, potassium and vitamin D—especially for children. But the total dairy products distributed by Feeding America's network in FY 2012 was only a little over 5.3% of the food they distributed.
"Milk is really important for children," says Fraser. "Children in this country have a higher risk of food insecurity than adults."
While one in six Americans is at risk of hunger, for children it's more than one in five. "Milk and dairy products are extremely essential," Fraser says.
In a partnership among Feeding America, the Academy of Nutrition and Dietetics, and National Dairy Council, founded by America's dairy farmers nearly 100 years ago, work is underway to raise awareness of food insecurity and poor nutrition as a public health issue. This Future of Food partnership also helps identify innovative solutions to help secure resources for and access to a consistent supply of nutrient-rich foods such as low-fat dairy and produce through the nation's network of food banks.
The problem of perishables
The first challenge for providing nutritious dairy foods and produce is access to those foods. About six billion pounds of fresh produce goes to waste in America every year, and much of this is due to crops or produce the market is unable to absorb.
Feeding America's Fresh Produce Initiative works with all players in the food chain, from farmers to retailers, to promote and secure ongoing donations of this otherwise wasted produce. This year, Feeding America is on track to procure and distribute 800 million pounds of fresh produce.
The next challenge is distribution. As the ability to "rescue" food has increased, so has the need for refrigeration.
"[I]f we're rescuing food that's perishable, we need to have refrigerated trucks to do it," explains Fraser. "Many of our food banks don't have a lot of money, and a refrigerated truck can cost $100,000 to $150,000. In the last couple of years, we have aggressively sought funding for refrigerated trucks."
"I believe we have procured nearly $10 million worth of trucks for our network through grants, so that we can drive the truck to a grocery store, fill it with milk, meat, and other in demand, nutrient-rich perishable foods, get back to the food bank and secure it in the refrigerators there for distribution," continued Fraser.
Many community food banks are focusing their fundraising campaigns on expanding refrigerator space or creating their own unique solutions. Henry Rosenthal, the director of a small food bank in Point Roberts, Washington, explains how their local grocery store not only donates rescued "sell-by-date" produce, but freezer space as well.
And where there is just no freezer space available (or food bank at all), mobile food banks come to the rescue for many far-flung communities.
"We also have what we call 'mobile pantries,' " explains Fraser. "This is like a grocery store on wheels. The mobile pantries are two sided, so half is dry goods and the other half is refrigerated goods...We can bring milk and eggs that we couldn't do once upon a time."
Good nutrition is the foundation for human health. The new reality is that food banks now play a central role in providing quality nutrition for millions of Americans.
And they're able to play that role through a combination of national advocacy, collaboration and organization, local relationships and building awareness that food security affects us all.
Through key partnerships with industry, agriculture, business and local community groups, Feeding America is getting nutrition on the table, adding produce to meals and ensuring that nutrient-rich dairy products are available. Join the effort to keep 50 million Americans safe from hunger. For information on how you can get involved in your local food bank efforts, go to http://feedingamerica.org/get-involved.aspx.