Invent Your Future
Join Slate and leading entrepreneurs in Chicago on Jan. 11 for a conversation about how to start a business or reinvent a career.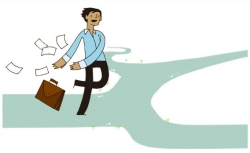 Slate invites you to join a group of entrepreneurs who are revolutionizing diverse sectors of the marketplace—from fine dining to advertising, and from search engines to romance novels—to brainstorm how individuals can create new opportunities in a post-corporate economy.

All across the country, and around the world, the news is clear: The economy has changed. The Great Recession may be technically over, but recent graduates and even professionals who thought they were established are facing the worst job prospects in 75 years. Job seekers are more compelled than ever to take matters into their own hands. While there was once a traditional way to "make it"—i.e., graduating, landing a job, and working one's way up the corporate ladder—increasingly workers are finding that they can no longer rely on corporations to carry them. Entrepreneurialism, once the enterprise of the risk-seekers and wünderkinds, has become a new norm. From new college grads to experienced professionals, people are creating new ways to survive and thrive, cobbling together part-time gigs with steadier work, following their passions, and capitalizing on the chaos of an economy in flux.

Join Slate and several leading entrepreneurs for a lively discussion about how individuals are making the new economy work for them, and contribute your ideas to one of the most urgent questions of our time: How can our society—in the classroom and beyond—help people succeed in this "Me, Inc." world.


Moderator: David Plotz, editor of Slate
Stephanie Izard, chef and co-owner of Girl and the Goat and winner of Bravo's Top Chef
Dominique Raccah, CEO and publisher of Sourcebooks, Inc.
Kevin Willer, co-founder of Google's Chicago office and president & CEO of the Chicago Entrepreneurial Center
Sherman Wright, co-founder and managing partner of Commonground Marketing