The Trump Chicken Is Coming to America
We needed a mascot for our march over Trump's taxes. This rooster commissioned by a Chinese real estate company was perfect.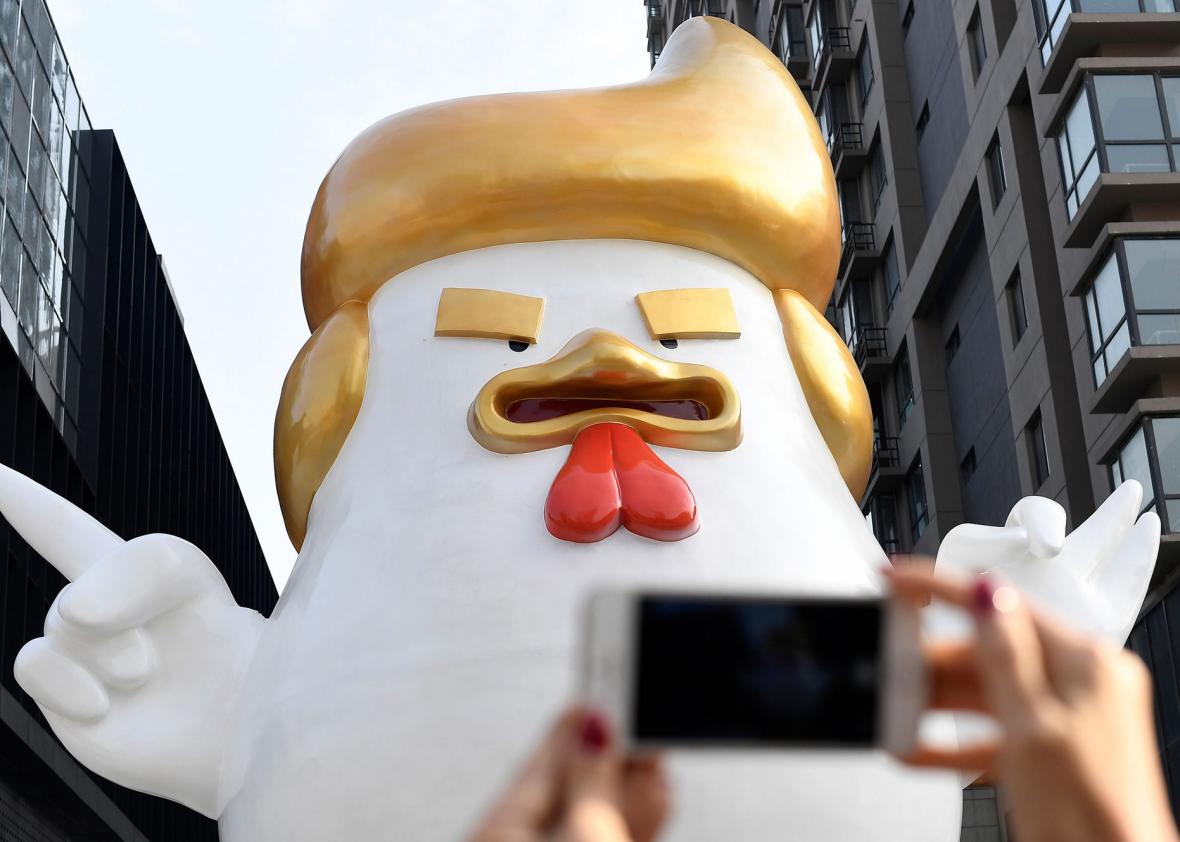 Like many people who have become active in politics for the first time thanks to the election of Donald Trump, I have no idea what I'm doing. I am one of the organizers of the Tax March, set for April 15, when concerned citizens around the country will demand that the president release a decade of tax returns. And I have spent much of the last two weeks preoccupied with a Donald Trump–shaped chicken.
On March 3, I was sitting in a San Francisco high school auditorium with 500 other political neophytes being trained by veteran organizers on how to talk to those who don't agree with us politically. A bit restless, I began Googling around for a symbol grotesque enough for our cause, something bloated that would block out the sky like a Macy's Thanksgiving Day balloon. I punched in "TRUMP BALLOON" into the search bar and discovered the Trump chicken: a huge inflatable rooster that bore an uncanny resemblance to Donald Trump.
For China's Lunar New Year celebration, which kicked off the Year of the Rooster, inflatable versions of the Trump rooster could be found all over China. The Chinese, of course, aren't very happy with Trump, who taunted China on the campaign trail and flirted with Taiwan during the transition. The inflatable "Trump Rooster Cock"—as a listing on Alibaba, China's equivalent of Amazon, calls it—mocked his bluster with its swooping butterscotch pompadour and tiny hands shaped to mimic the way the president pinches his fingers. I scrolled through images of Chinese citizens snapping selfies in front of this buffoon of a balloon. Some of the inflatables were gigantic, as tall as 60 feet.
I couldn't believe what I'd found. In China this may be the "Trump Rooster Cock," but in America it would be the Trump chicken. Donald Trump was a big chicken for not releasing his taxes. He was the biggest chicken in the world! I wanted to fill a 60-foot Chicken Don with helium so my fellow protesters and I could march it down San Francisco's Market Street on April 15, preceded by brass bands and followed by people in costume.
When I got home I texted the main organizer of the Tax March in San Francisco, Anne Pruett, who at first seemed a bit skeptical of the idea. Understandable. The only chicken I'd found was just 10 feet high, available on eBay for $649. The march hadn't paid for sound or a stage or port-a-potties yet. To realize my chicken dream, I needed to get the cost down.
I tracked down Casey Latiolais, the Seattle artist who designed the rooster that got significant coverage in December and January. At the time, Latiolais feigned surprise that people thought his creation looked like Trump. In the San Francisco Chronicle he admitted to two similarities, but no more: Both the "Trump Rooster Cock" and the president tweeted at sunrise, and "roosters were kind of loud and self-absorbed."
Over email, Latiolais denied knowing anyone who could help find me a cheaper price. He said he never spoke with his client, which the New York Times identified as Beijing Reliance Commercial Land, a real estate company. They negotiated by email, and he didn't know what forms his design would take in the hands of the Chinese manufacturers. He was surprised when he saw it as a huge fiberglass statue outside a mall in Shanxi Province—and quickly the design spread in the form of large inflatables. When international press took interest, Latiolais was wary. He consulted with his client before returning the calls. About the design, he'll only say, "Any resemblance to Trump is a coincidence."
Latiolais referred me to a man whom he thought was connected to his client. That man's email handle was HisCockiness.
So I wrote to HisCockiness, a mysterious entity who also was wary of giving away too much to a stranger. He sent me a link to a vendor on Alibaba, where a 13-foot balloon was on sale for $400. Bargain.
On Alibaba you can find a wide array of "Trump Rooster Cock" purveyors, including one whose instructions on how to inflate it were almost poetic:
First, the gas model afraid of scraping. As we wear the same clothes, even the best clothing is also afraid of scraping tear. Use arches, be sure to avoid the air branches, communication cables, hooks and other sharp objects.
Second, fear of delay. When you need to move the air mold, please lift and then move. If the ground drag, a long time, it is easy to fray.
Third, fear of soil guns. In the opening ceremony occasions, guns, fireworks are inseparable from the things. We must instruct the shop owner, some 6 meters away from the gas mode can point guns.
Fourth, if dirty how to do? If it is floating soil, with a broom and other tools can be tapped clean. If it is mud, please wipe with a wet cloth.
After a brief reverie about floating soil and how my same clothing is afraid of scraping tear, I decided $400 could not be beat. By then more people involved in the San Francisco march had begun to embrace the Trump chicken because thinking about it brought us joy. Instead of obsessing about every new error or edict emerging from the administration, after the rooster entered my life I thought not of Trump when I woke up but of Chicken Don.
Emerging from my night's sleep, I often found I had hatched all manner of groan-worthy puns. We suspect fowl play! Grab him by the poultry! New York comedian Frank Lesser, who thought up the idea for the march, also got in on it, suggesting Chicken Don may have joined the Coo Clucks Clan. We imagined Chicken Don came to the U.S. with a precarious immigration status. He stowed away on a cargo plane filled with Ivanka's shoes only to find his student visa was invalid once Trump University had shut down. He lusts after the Twitter bird. He hatched from a golden egg but claims he earned it. All chickens are flightless, but Chicken Don's wings are too small even to be an appetizer.
After the San Francisco Tax March adopted Chicken Don as its symbol, New York did too. New York artist Cassady Benson illustrated a new version of this fowl emperor that emasculates him by removing his rooster comb and turning him into a round hen guarding a mysterious egg.
The Trump chicken broke through my political gloom and did the same for many other involved in the march. On March 9, we found others felt the same. We put up a GoFundMe to raise $1,000 to buy the 13-foot chicken—and surpassed that total in less than an hour.
The magic of the Trump chicken is spreading. At this moment, 110 marches are organizing all around the country: Seventeen cities, from Nashville to Chicago, are buying various sizes of Chicken Don as tall as 33 feet to serve as focal points for fundraising for the marches, and even more are considering making the buy. The factory in Guangdong, China, that makes them is repurposing some of its machines this week to fill all the orders for Chicken Don.
In San Francisco, we received our first Trump chicken on March 13, airfreighted from China in two pieces: one box for the air pump, and another for the chicken and his carrying case.
We had a party to test inflate our chicken. We positioned the deflated bird on scaffolding in an old shipyard so the partygoers could get a full view of Chicken Don as he came to life. It only took two minutes for him to rise to his full magnificence, and it turned out he was a lot taller and broader than we had anticipated. The chicken was glorious when fully upright, inspiring shouts of derision and joy.
For San Francisco, one chicken now is not enough. We're fundraising for the 33-foot bird. If someone contributes $1,000, we will bring the 13-foot Trump chicken to the donor's party, and for $5,000, the 33-foot bird. And when thousands of people gather in San Francisco's City Hall Plaza for the march, they will be amused, delighted, or even disgusted by our Trump chicken. Whatever their opinion, they will remember our march and our cause and, we hope, pressure their representatives to act. That's exactly what I'd hoped when I started this search.