"Save Money. Live Better."
As real wages continue to decline, the food stamp economy is booming.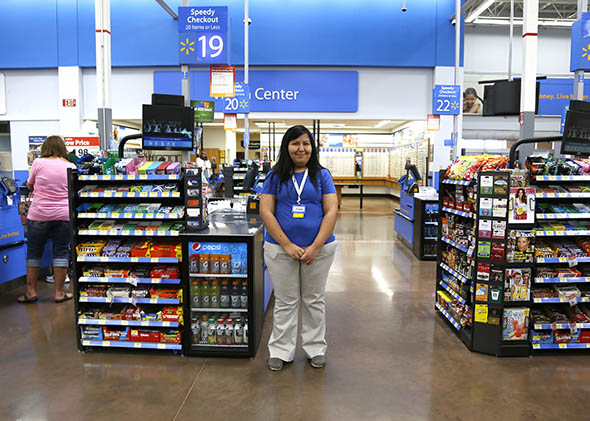 This is the second part of the Marketplace series "The Secret Life of a Food Stamp." You can listen to the series here.

When Stephanie Ballam finishes her shift at a Walmart Supercenter near Columbus, Ohio, she sometimes picks up a few groceries—items she might have put on the shelves herself hours before: a box of oatmeal, a can or two of mini ravioli.
At the checkout, first she swipes her Walmart employee card to get her store discount. Then, because she doesn't earn enough money at her job to make ends meet, she will often pay for the groceries with food stamps, using her Electronic Benefit Transfer card. Eventually, that money will show up in Walmart's annual earnings report as sales.
Ballam, 31, is glad to have her job at Walmart. She currently works there full-time and just recently got a raise to $9.10 an hour; she thinks the raise might be enough to disqualify her from the food stamp program, though the state hasn't processed the paperwork yet. For now—and for the last three years since she's worked at Walmart, plus a few months before that when she was unemployed—food stamps have helped her survive. Back when Walmart first hired her and she found out how much she would be making, hearing the number was "like being punched," Ballam says. Her starting hourly wage was $7.25. As for food stamps, "I knew that I would still need those services," Ballam says.
So how typical is Stephanie Ballam's situation? The federal government doesn't keep nationwide data on how many workers at Walmart—or any other company—are on food stamps, which are officially known as the Supplemental Nutrition Assistance Program. SNAP is available to people living at or near the poverty line; for a single person like Stephanie Ballam, that means an annual income of less than about $15,000 a year.
Although there are no federal numbers on where employed SNAP participants work, the state of Ohio, where Ballam lives, does keep a list of the top 50 companies with the most workers and their family members on food stamps. Ohio's list includes lots of fast food chains and discount and big-box stores: McDonald's, Target, Kroger supermarket, Dollar General. At the very top is Walmart, which had an average of more than 14,500 workers and family members on food stamps last year.* If you take into account the average size of a family on food stamps, as many as 7,000 individual Walmart employees were on food stamps last year—nearly 15 percent of the company's workforce across Ohio.
That means the same company that brings in the most food stamp dollars in revenue—an estimated $13 billion last year—also likely has the most employees using food stamps.
"I think it's troubling that any American has to turn to a program like that, but the fact is, they do," says David Tovar, Walmart's vice president of communications. I met him at the company headquarters in Bentonville, Ark., where the wall behind the front desk has giant painted letters that spell out the company motto: "Save money. Live better."
"We would love nothing more than a day when we didn't have to have programs like that," Tovar continues. "But for now, with the economy the way it is, with customers continuing to struggle the way they are, I think it's really important to be able to help people along the way."
When looking at the number of Walmart employees on food stamps in Ohio and elsewhere, Tovar stresses the importance of perspective: Walmart is the largest employer in Ohio, and the country, he points out, so its workforce is bound to reflect the country's current economic realities, including growing rates of food stamp use.
Tovar also quotes a line other Walmart executives have used before him: "It's really not where you start; it's where you end up."
But there was a time not so long ago when where you started—even in an entry-level job—could afford you a much different life right at the outset. And that brings us to the Hudson family.
Let's start with Adam Hudson, age 21. Last summer he got a job at a Walmart Supercenter in Dayton, Ohio, as a hardware associate—stocking shelves, organizing displays, and helping customers—making $8.25 an hour.
Until then, he had a pretty low opinion of the food stamp program. "I'd always considered people who use food stamps as just taking advantage of the government," Hudson says, because they "weren't working hard enough to be able to afford for themselves."
But at Walmart, Hudson saw lots of his co-workers working hard and still needing SNAP. One day after he returned home from work, he was talking with his fiancée, who was pregnant. "She had mentioned that she was hungry—hadn't been able to eat that day," he told me. "I kept trying to suggest things we could do, like calling my mom or my dad for a little bit of help. … It dawned on us that we can't afford to feed ourselves and make sure all of our bills are paid and have a car with gas to get to work every day." A few weeks after Walmart hired him, Hudson enrolled in the food stamp program.
Compare Hudson's situation to that of his father, Jim Hudson, who has never been on food stamps in his life. Back when Hudson was a young man, his life was in many ways very similar to his son's: He was starting a family and looking for a job he could get with no college degree. The plentiful work was not in retail, but manufacturing. Hudson got hired at what was, back then, the largest employer in Ohio and the country: not Walmart, but General Motors.
Hudson says his starting wage in 1991 at a GM factory near Dayton, building TrailBlazers, was $9.35 an hour, which in inflation-adjusted 2014 dollars comes out to $16.12 per hour—almost twice what his son makes now. Adam Hudson says he would love a job at the GM plant where his dad worked. It shut down in 2008.
Back when GM was still Ohio's largest employer, it would not have ranked as a top food stamp employer. It may not have had any workers—even entry-level workers—on food stamps at all.
"Those workers would have earned too much to qualify for the program," says James Ziliak, an economist at the University of Kentucky who has been looking at the way food stamp enrollment has changed in the last 30 years. One of the starkest changes is the increase in people who have steady jobs, either part time or full time, but still use food stamps because they earn so little. According to Ziliak's analysis of census data, these days about 24 percent of households on food stamps are headed by people working year-round. That's up from just 15 percent in 1980.
Put another way, one of the big drivers of food stamp growth in the last few decades is the difference between Jim Hudson's job at GM and his son's job at Walmart.
Back when manufacturing was still king, "wages would grow, prices would grow, but wages would grow faster than prices," Ziliak says. "So people were actually making real increases in their standard of living." Those increases drove the consumer economy.
Today, in an economy fueled by the retail and service industries, companies try to stay competitive by keeping prices down. "One way to do that is to make sure their wages are kept in control," Ziliak told me. "But that also has a feedback effect, because if wages aren't rising, that means many families have less spending money, which means they have less cash to spend, maybe even at their own employers' stores." Food stamps help fill that spending gap for Walmart and other companies.
But as helpful as food stamps may be—as an economic stimulus and a support for low-wage jobs—when you talk to workers who have used them to supplement their income, their feelings can be complicated.
"I'm not proud that I was on assistance, but I had to provide for my family—and I am so thankful for my job now, because I'm off of it" says Mary Burkett, 26, who until recently was a store manager at Dollar General. At that job, she made about $28,500 a year—little enough that she and her husband, who is unemployed, and their two children qualified for food stamps. (Based on state numbers from Ohio, nearly 40 percent of Dollar General workers there are enrolled in SNAP.) But then Burkett was hired as an assistant manager for a Walmart Supercenter in the Dayton suburb of Huber Heights, where she earns $43,000 a year. When she found out her new salary, Burkett says, she literally cut up her food stamp card.
"I was so happy," she told me. "I knew with the amount I was making that I would be able to provide insurance for my kids and put food on the table, and I wouldn't need everything I was on before."
But not everyone is able to work his or her way off food stamps. Tera, who asked not to use her last name for fear of risking her job, has been at an Ohio Walmart for four years and now makes $10 an hour. She lives with her son and his father, who was laid off from the industrial adhesives factory where he used to work and has not yet found a new job. Tera's family was on food stamps when she started at Walmart, and they are still are on food stamps now.
Tera has heard the criticisms of food stamps—that they're a drain on taxpayer dollars. "I don't really pay attention to them," she says, "because I work for my food stamps."
This is the second part in a three-part series. Read the entire series here.
Correction, April 2, 2014: This article originally stated that Walmart had more than 14,500 workers and family members on food stamps in any given month last year. Walmart actually had an average of more than 14,500 workers and family members on food stamps last year.