Starbucks Obituaries
Slate readers' responses to our call for Starbucks memories.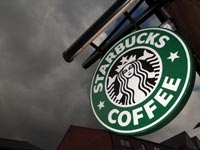 On Monday, we told you how the Starbucks franchise is downsizing from a grande to a tall. The ubiquitous coffee retailer announced it's closing about 600 of its U.S. stores, and we wanted to hear your anecdotes about the Starbucks branches soon to go under.
This week we'll also be featuring our favorite reader responses. Six for Friday:
5435 S. Cooper St., Arlington, Texas
Years ago, a small but rowdy group of us convinced the youth minister to move Sunday school to this Starbucks. At the beginning it was once a month, which eventually turned into every week. You could show up when you wanted, and there weren't really any lessons to speak of. Many of us are still in touch. We've met at this Starbucks during breaks home from college, between jobs and traveling, and I believe if we ever happened to go to church on Sunday morning, it would feel a little wrong to skip the 9/9:15ish/9:30ish caffeine communion.
2101 L St., Washington, D.C.
The Starbucks at 21st and L Streets just opened. It is the closest one to my office. And now, they're going to take it away from me. My Starbucks is the ONLY one that's being closed in D.C. Why not close one of the two that are mere blocks away from each other on K Street huh? Why must you take my store? I don't have long for my breaks, and the ability to walk across the street and get my java fix was pure heaven. Now, I'll have to walk to aforementioned K Street, or alllllll the way down to 19th and M. Which is seriously going to cut into my coffee drinking. Please, I've been faithful to you in these trying economic times, won't you do the same for me?
1505 Fifth Ave., Columbus, Ohio
This one is right next to a grocery store, in a teeny parking lot with a big hill. No drive-through, and they always flirt with my boyfriend. Most people would have to turn left into this one. There is another down the street on a good corner with a drive-through, and they are always pleasant but not TOO nice, if you know what I mean. The other one on this road is closer to downtown and you can turn right to get into it.
Intersection of Broadway Extension and Britton Rd., Oklahoma City, Okla.
I am really sad that this Starbucks is slated for closure—the folks that work here are truly great. This neighborhood did not have a coffee place prior to the opening of the Starbucks, and I will admit to being a little freaked out at first when the employees wanted to know my name and my regular drink. I was also pretty spooked the first time they recognized me at the drive-through and knew what I would order—but it has become such ritual in the morning! I can make my own coffee, or I can get it at work, but even if I am running late, I go through the drive-through at this Starbucks for my regular drink and a quick "hello" with the folks working there. I do not begrudge Starbucks wanting each location to be profitable, but I have a proposal: please move the entire crew of this Starbucks to May and Grand. You do not want to lose them!
2825 University Ave., Madison, Wis.
I stopped here almost every day for several months. It had the most amazing cross-section of the world's people moving through its doors, sitting on its sofas, discussing things around its tables. There were study groups, tutorial sessions, med school students cramming for exams, even art shows and birthday parties. There were odd folks, like the guy one day giggling uncontrollably for no apparent reason, just sitting by himself, laughing; the bearded lady who grumbled at me for being in her way when I was standing at the other end of the counter; or the pathetic older student, struggling with 3 math classes and harboring a painfully unrequited crush on one of the shift managers. It was very different from the average corporate coffee shop—it was much more like a community resource, often so crowded you simply couldn't stay. And that, in spite of what seemed like a terrible location, in the middle of a long block on a heavily-trafficked surface route through Madison, with very limited parking and a competing, local coffee shop right next door. Findlay Plaza. It seems impossible that it would close. All that time there, all those people. How strange.
900 N. Hampton Road, Desoto, Texas
I worked at this location for 2 years and I can say that it was one of the best experiences in my life; not only because Starbucks is a great company, but because I had the best experiences with the customers. I can name all of the customers that go there everyday and share the stories with the baristas. It is not only about the business, but people go there just to step out of the busy world and relax for a minute. I can name you more than a 100 customers that go there every single day, like John and his grande cappuccino with a banana loaf, cheryl and her grande mocha frapuccino (she's been going there since 2001 every single day). I really don't agree with the closing of this store, the manager and the workers are like my second family and the best friends anybody could ask for, they are hardworking people and it's not fair that some of them will loose their jobs. I know this might not change anything, but they are building a shopping center right next to Starbucks, and I'm pretty sure this would tremendously increase the sales. Thank you.
You'll find a map at the bottom of this page with some of the Starbucks closings. If you have anecdotes to share about any of the Starbucks branches going under, place your memories on the map. (Click here for instructions.)
2209 University Drive, Boise, Idaho
This one boggles my mind—it's right on the corner of a busy intersection in downtown Boise surrounded by Boise State University. There are dorms within a couple blocks of this and no known competitors nearby; i.e., it should be prime real estate. Admittedly the strip mall it's in is struggling (an adjacent Panda Express closed a couple years ago), but it should get good foot traffic—I say foot because it doesn't have a drive-through. ... Ahh, perhaps that's the reason.
13681 Newport Ave., Tustin, Calif.
This location used to be a Diedrich's Coffee. I had my first cup of coffee here and spent most of high school and time home from college in this coffee shop. When Starbucks bought out Diedrich's, they took the life out of the shop, and now they've shut it down. Truly, this location is a microcosm of all that's been wrong with Starbucks: Buy local competitor, take over location within half-mile of two other Starbucks, lower the quality of the product, and then fold the store because the company became overambitious. Bah humbug.
500 West Broadway Ave., Bloomfield, N.M.:
In a town of only 1,200 people, where the only place to get a cup was the local crappy diner, Starbucks was a godsend. It enlightened the everyday joes and opened their tastebuds to something that wasn't week-old, prepackaged swill. This location will be sorely missed, with the next closest being about 20 miles away. (In nowhere talk, 20 miles can be a good distance.) Some good news, though: It has been rumored that Durango Joe's may purchase the building and we might have good coffee again soon enough!
8414 Third Ave., Brooklyn, N.Y.:
I meet here every week with a group of 10 other knitters for a weekly Stitch 'N' Bitch. It's a really nice store: clean, well-managed, nice furniture. There are three other Starbucks locations within a 10-block radius, but this is the nicest store in the bunch. And the local coffee shop across the street has worse products, worse service, and is more expensive, so it's not as if we're being left with a better option. Very sad.