The Most Exclusive Circles
Sorting the world's top 50 billionaires by age, location, how they got their moolah, and more.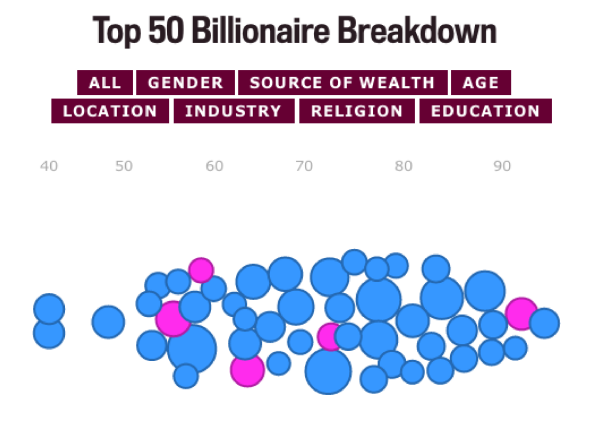 Top 50 Billionaire Breakdown
If you asked anyone to picture the wealthiest person in the world at any given time, you could bet on some common denominators: probably a man; probably somehow attached to the words "multinational" or "conglomerate"; probably on a yacht off a private island. With Slate's Top 50 Billionaire Breakdown, we attempt to visualize the richest of the rich by paring them into demographic categories: age, location, industry, source of wealth, education, and religious affiliation.
Some of the sortings are heartening: There are more self-made men than born-rich kids in the top 50, and the self-made billionaires' total wealth is bigger. Some are less so: The entire African continent has the same number of billionaires as Canada (one each), and there isn't a single woman in the top 50 who's self-made. (We're rooting for you, Wu Yajun!)
Correction, Nov. 18, 2013: The interactive originally mislabeled the Koch brothers as Jewish. Though they are reported to have Jewish roots, they are Christian. Luis Carlos Sarmiento's country of origin was also listed as Columbia. He is from Colombia. The article also incorrectly referred to Forbes' billionaires ranking as the Forbes 500.
Update, Nov. 19, 2013: This post has been updated to clarify that the billionaires are characterized by their religious background, meaning their family's heritage, not the current religion that they practice.