When you get Slate, you get to the point.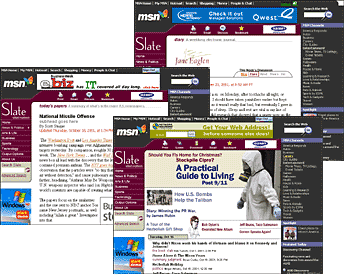 The Slate ® online magazine delivers concise, insightful, and sometimes uproarious content that gives readers an informed perspective on news, politics, and culture using the Internet. Former editor of the New Republic and co-host of CNN's Crossfire, Michael Kinsley leads a formidable editorial team of columnists and contributors, including media veterans and talented newcomers. Slate is favored by influential, affluent, and educated readers. In short, it's got a coveted Internet audience including business leaders and political decision-makers. Slate looks at what matters in the week's major events while unraveling the media's "spin."
Slate contains five unique sections.

News and Politics catches you up on the news of the week and offers longer, more in-depth coverage of current events.  This is where you'll find Slate's news and political contributors—including Jacob Weisberg, Slate's chief political correspondent; David Plotz, who writes a weekly assessment of people in the news; William Saletan, who writes a weekly "Frame Game" column; Tim Noah's "Chatterbox"; Michael Kinsley on issues of the day, and much more.
Art and Life includes "Dialogues" and "Dispatches," e-mail reports from debates on issues of the day and newsworthy locales, along with coverage and critiques of movies, books, sports, food and wine, and the arts.
Sports offers analysis with an attitude, written by fervent sports fans.  Whether you fancy yourself a "Tuesday Morning Quarterback" or an ardent baseball fan, Slate's clever sports commentary is unlike any you'll find in the usual magazines.
Business includes  analysis of the business world in "Moneybox," sharp-eyed reviews of  TV  advertisements in "Ad Report Card," and more.
Technology explains the world of high tech, from new Web sites to Internet technologies, gadgets, and more.
Slate's audience is educated,affluent, andinfluential. 61 percent of Slate readers have a college degree or higher. 69 percent of the audience is between the ages of 25-54. The mean income is $90,108 and the median income is $73,728.
For media inquiries only:

Kelly Collis of PRfirm.com will be able to help you. Please call with any questions: (703) 548-5553 X208. Send e-mail to:

press@slate.com

. 

For permission to reprint articles:

Contact Maura Peters at United Media, by e-mail at

mpeters@unitedmedia.com

or phone at (212) 293-8603. United Media's hours of operation are 8 a.m. to 6 p.m. ET. The main sales number is (212) 293-8500 or (800) 221-4816.
For more information about the Slate staff, see this page.
Online Adults
67 percent are men, and 33 percent are women
Gen-Xers to Baby Boomers
33 percent are 18–34, 71 percent are 25–54
Affluent and Well-Educated
48 percent have a household income (HHI) of $75K or higher
28 percent have a household income of $100K or higher
63 percent have graduated college or higher
57 percent are professional/managerial/self-employed
Seasoned Online Users
73 percent have been on the Web for longer than three years
84 percent are on the Web five times a week or more
Savvy Online Shoppers
94 percent have shopped online in the past six months
79 percent have transacted online in the past six months
Unique Users **
4.2 million unique users (May Media Metrix)