Heads Up!
Slate's 100 Top Headlines of the Century
Not to be left behind, we've plundered the extensive newspaper archives at the Columbia University School of Journalism, our Nexis account, and even Peter Jennings' new best-selling book to assemble a more compelling--and concise--look at the 100 high points of the century.
Your mileage may vary, so if you've come across an important headline that we've overlooked, please send it to 100TopHeds@slate.com.
Click to read the best of the nominations.
1901: Near-Sighted Teddy Roosevelt Bags President McKinley on Safari
1903: Wright Brothers Announce 3-Second Meal Service on All 12-Second Flights
1908: President Taft Calls for Federal Legislation To Enlarge Doorways, Railway Seats, Bathtubs
1912: Albania Lapses Into Anarchy 85 Years Too Soon
1912: Shipping Magnate Declares Titanic-Iceberg Merger Successful
1913: Congress Creates IRS "To Unite Nation Against Common Enemy"
1914: Panama Canal Opens New Era of Global Trade in Panama Hats
1914: Fighting Breaks Out Between War Correspondents
1915: German Submarine Fires Warning Torpedo Into Lusitania
1916: Army Physicians Laud Mustard Gas as First Inhalable Condiment
1917: President Wilson Vows To Make World Safe for Robber Barons
1918: Lenin Orders Pictures of Czar's Family Put on Milk Cartons
1918: Wife's Honeymoon Antics Give Gandhi Idea of Passive Resistance
1919: Congress Votes for Prohibition, Celebrates With First Toast in Congressional Speakeasy
1919: Senate Rejects Treaty of Versailles for Having Suspicious Foreign-Sounding Name
1920: Women Experience Futility of Voting Firsthand
1921: Humane Loophole in Immigration Quotas Lets Some Foreigners Enter U.S. as Livestock
1925: Heisenberg Says Uncertainty Principle May or May Not Be Greatest Discovery Ever
1927: Parisian Hijacker Forces Charles Lindbergh To Make Nonstop Transatlantic Flight at Gunpoint
1927: Supreme Court Rules Films Do Not Have Right To Remain Silent
1928: Babe Ruth Seldom Gets to First, Admits Wife
1929: Stock Market Crash Linked to Jews, Blacks, Catholics, Radicals, Foreigners, and Anyone Who Looks Funny
1929: Al Capone Denies Murder for Profit Allegations, Insists Gangland Slayings "Purely for Fun"
1933: U.S. Goes off Gold Standard, Adopts Moldy Crust of Bread Standard
1933: FDR's "The Only Thing We Have To Fear Is Eleanor" Speech Calms Nation
1933: New Deal, Same Deck
1933: First Woman Cabinet Member, Frances Perkins, Celebrates by Getting Coffee for Other Cabinet Members
1934: Newborn Ralph Nader Files Suit Against Mother for Ejecting Him Into Hostile, Unsafe Environment
1935: Alcoholics Anonymous Sells First Mailing List to Smirnoff
1935: National Labor Relations Act Recognizes Workers' Right To Be Fired Collectively
1935: Remaining Chinese Communists Receive "I Survived the Long March" T-Shirts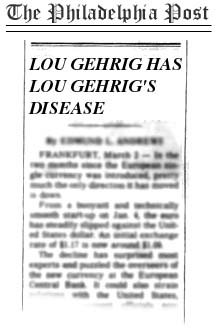 1936: Moscow Show Trials Notably Lacking in Good Show Tunes
1936: Spanish Civil War Erupts as Bullfighters, Flamenco Dancers Clash Over Limited Supply of Tights
1937: Jobless Rate Tops 110 Percent With Many Unemployed at More Than One Occupation
1937: Over-Excited Hindenburg Announcer Explodes
1938: Chamberlain Calls Hitler "The Nicest Totalitarian Maniac I've Ever Appeased"
1939: Poland Invades Itself
1939: Lou Gehrig Has Lou Gehrig's Disease; "With My Name, I Figured It Was Only a Matter of Time," Says Yankee First Baseman
1940: Millions of Women Enter Work Force for Lower Pay, Longer Hours; "It's the Greatest Thing Since Slavery!" Say Industry Leaders
1940: Leon Trotsky Dies in First Ice Pick-Assisted Suicide
1941: "Neither a Borrower Nor a Lender Be" Clause Added to Lend-Lease Act
1941: Japanese Stir-Fry Pearl Harbor
1942: French Resistance Waiters Bravely Refuse to Refill Nazi Officers' Coffee Cups
1943: Oklahoma! Admitted to Union; Sprightly Musical To Replace Boring Actual State
1944: Allied Soldiers Hear of Nude French Sunbathing, Storm Normandy Beaches
1945: Stalin "Genuinely Touched" by Gift of Eastern Europe at Potsdam Surprise Party
1947: FAA Charges Drunken UFO Pilot in Roswell Crash
1948: Truman Defeats Dewey; Huey and Louie Have Yet To Concede
1950: U.S. Blamed for Starting Hopeless Asian Land War 15 Years Too Soon
1954: Some TV Couples May Be Sleeping Together, Say Insiders
1956: U.S.S.R. Asks Hungary if It Has Parking Spaces for 10,000 Tanks
1956: Thousands of Innocent Soviet Corpses Thrilled by Posthumous Rehabilitation
1958: First Hospice Allows Patients To Die in Homelike Setting--Surrounded by Greedy, Hateful Relatives
1959: Congressional Quiz Show Investigators Stunned by Revelation That Not Everything on TV Is Real
1960: U-2 Shot Down Over U.S.S.R.; Infant Bono Unhurt
1961: CIA Markets Bay of Pigs Blooper Reel
1962: Thousands of Innocent Trees Die To Make Silent Spring a Best Seller
1963: JFK Accidentally Struck Down by Flying Zapruder Lens Cap
1964: Rockefellers, Kennedys Conscientiously Object to War on Poverty
1966: Marshall McLuhan Caught Reading
1966: Robert McNamara Commended by PTA for Applying New Math to U.S. Casualty Figures
1968: Martin Luther King Jr., RFK Assassinated Separately but Equally
1968: Hippies, Beatniks Sign Historic Personal Hygiene Ban
1968: Nonproliferation Treaty Strictly Limits Nuclear Weapons to Nations That Can Afford Them
1969: Teddy Kennedy Charged With "Leaving the Scene of a Successful Cover-Up"
1970: Near-Perfect Neil Young Guitar Solo Ruined by Addition of Second Note
1972: J. Edgar Hoover Buried in Simple but Elegant Black Dress
1973: Liz Taylor Will Use New Bar Code Technology To Track Husbands
1973: Entire Consumer Product Safety Commission Dies in Pinto Explosion
1974: Ford Pardons Nixon for Plaid Trousers
1974: Good News: Smelly Ozone Layer Disappearing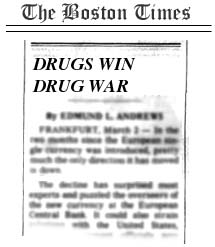 1977: IBM Monopoly Threatens Free Market, Warns Head of Tiny Start-Up Microsoft
1979: U.S. Embassy in Iran Under New Management
1981: MTV Brings Western Civilization to Official Halt
1981: Reagan Shot En Route to NRA Fund-Raiser
1981: Sandra Day O'Connor Receives Congratulatory Pat on the Behind From Fellow Justices
1984: "Mondale Fever" Sweeps Minnesota, District of Columbia
1985: "We Are the World" Gives Hope to Rock Has-Beens Starving for a Hit
1987: Ollie North Wins Daytime Emmy
1988: Democratic Platform Not High Enough To Make Dukakis Visible
1989: Chinese Authorities Kick Off "Keep Tiananmen Square Clean" Week With Special Tank Sweepers
1989: Scientist Achieves Cold Fusion on Honeymoon
1991: Iraqi Army Stages Spirited 3/8-of-a-Second Counteroffensive
1993: "For God's Sake, Use a Decent Camera!" Pleads Extraterrestrial
1994: Abstinence TV Spots Boost Teen Celibacy to a Record 0.0002 percent
1996: Desperate Postmaster General Tries To Hand Deliver E-Mail
1997: AOL Offers 50 Hours of Free Downtime
1998: Wave of 1970s Nostalgia Drives up Oil Prices
1998: Primitive Amazon Tribe Still Using Apple IIs
1998: Visa To Assume National Debt for 5.9 percent, No Annual Fee
1998: Hair Club for Men Must Admit Women, High Court Rules
1998: "Bad Luck Gene" Identified
1998: China's Abacuses Still Reeling From Year 2000 B.C. Problem
1999: Internet Fills up Last 3 percent of Terrifying Void of Existence
1999: ACLU Targets Lactose Intolerance
1999: Harvard To Accept Mortal Kombat Scores in Place of SATs
1999: Western Union Introduces Singing Mammogram
1999: FDA Approves Nicotine Eye Patch
1999: Turnout for Apocalypse Lighter Than Expected; Most Prefer To Be Elsewhere When World Ends
Is there an important headline that we've overlooked? Please send your nominations to 100TopHeds@slate.com.
Click to read the best of the nominations.