Hollywood's First Gay Marriage
Did William Haines really choose his husband over stardom at MGM?
You Must Remember This, the podcast that tells the secret and forgotten history of 20th-century Hollywood, has joined Panoply. And when each episode airs, creator and host Karina Longworth will share some of the research that went into the episode in a transcript excerpt here on Slate. Listen to the complete Episode 5 below, and subscribe to You Must Remember This on iTunes.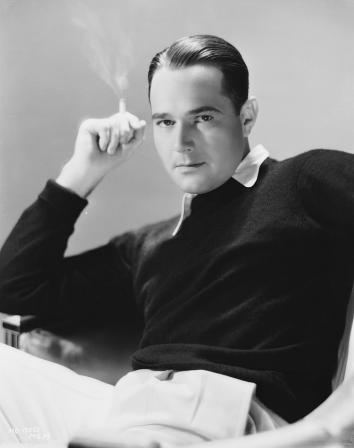 The story of William Haines is remembered, if it's remembered at all, as the story of the first openly gay Hollywood star. The legend holds that Haines was a major box office draw who was fired by Louis B. Mayer for refusing to drop his live-in boyfriend and marry a woman. This isn't totally inaccurate, but the truth of Billy Haines' life in Hollywood is a little more complicated. Haines was born on the eve of the first day of 1900, and his biographer William J. Mann stresses that he was the ultimate child of the 20th century. And as such, he thrived during the Roaring '20s, and struggled to adapt to the limited opportunities of the following decade, and then he reinvented himself in time to take advantage of the prosperity and consumerism of the midcentury. And through it all he was, proudly, one-half of Hollywood's first openly gay marriage.
From 1926 to 1931, thanks to hits like Brown of Harvard and Tell It to the Marines, Billy Haines was ranked as one of the Top 10 box office stars in Hollywood. By 1929, his studio boss, MGM's Irving Thalberg, was holding up Haines as both the prototypical symbol of male youth of his day, and also the new model of a male romantic star. "The idealistic love of a decade ago is not true today," Thalberg said. "William Haines, with his modern salesman attitude to go and get it, is more typical."
By the time Thalberg made that speech, he and everyone else in the Hollywood community knew that Haines was, for all intents and purposes, married to a man. In 1926, on a trip to New York while on the cusp of his superstardom, Haines had a whirlwind fling with a 21-year-old former sailor names Jimmy Shields. When Haines returned to L.A., he brought Shields with him, and moved his new boyfriend into his house and got him work as an extra at MGM. Following the example of his friends from his days in New York's Greenwich Village, Billy was intent on living with Jimmy without embarrassment or apology.
That Haines was living openly with another man, thereby destroying any possibility that he might not be gay, initially did absolutely nothing to impact Haines' popularity around town or at his home studio. They were one of the few couples to make it into Marion Davies and William Randolph Hearst's inner circle, meriting invitations to San Simeon nearly weekly. And the local movie press knew, too, but nobody had any incentive to publish an exposé about it or anything. If any journalist had, he would have been frozen out of MGM for the rest of time. And at this point in time, as long as they weren't hurting anybody, which they weren't, nobody cared. Sometimes Billy would get asked a softball question about his love life, which he was always able to deflect with a wisecrack. Journalist and subject would wink at each other, the actor would be classified in print as an eligible or confirmed bachelor, and everyone would move on. When an earnest journalist from out of town asked him when are you going to get married, Haines would announce he was engaged to an imminently ineligible lady—usually frumpy slapstick comedienne Polly Moran.
During the 1920s, Haines always found ways to answer questions about his personal life without either lying or telling the truth. It wasn't evident to every reader at the time, but reading some of the quips today, his use of sarcasm and irony speak volumes in their own way. If nothing else, Haines was always looking for an opening for a bawdy wisecrack or double-entendre. When an MGM voice couch informed Haines that his vocal technique was "lip lazy," Haines fired back, "I've never had any complaints before."
In fact, William Haines was actually better set up for the transition than many stars. His voice was robust and not thickly accented. Also, unlike stars like John Gilbert whose essential thing was made obsolete by sound film, Billy's signature in silent films had been wisecracks, inserted as intertitles to make it seem like Billy was a master of wit and timing. In fact, he was, and Haines was easily able to perform the same trick accomplished by the intertitles as a talking comedian. Haines made the transition to talkies seamlessly, and 1929 would be the peak of his box office stardom. The trouble was still to come.
In 1930, every studio in Hollywood agreed to follow the moral guidelines laid out by the Hays Production Code, but it was an empty promise: Everyone knew the Hays Office had no ability to punish violators of the code. If anything, while producers were waiting for the censors to come up with a way to enforce their puritan code, movies got racier. But the existence of the code made studios more apt to use the morals clauses that were now standard elements of almost every performer's contract to scare stars into improving their public behavior.
Most stars signed the contract, and then either tried to stay out of trouble, or assumed that the studio wouldn't use the clause against them. At the peak of his stardom in the late 1920s, Billy Haines reportedly managed to get the morals clause removed from his contract entirely, by refusing to sign until it was. As a trade-off, MGM would only sign him to two-year extensions at a time, rather than the five-year contracts that were more standard.
His films began to slide at the box office over the course of 1930, and in 1931, Haines' MGM contract was canceled, only for Haines to be brought back to the studio as a featured player at a far reduced salary and billing. In 1931, in an attempt to rebrand Haines from the wisecracking post-college boy into a more adult romantic lead, Haines was cast in a movie called Just a Gigolo, in which he played a trust-fund playboy who makes a bawdy bet with his uncle that if he could get a society princess to give up her virtue within a month, then he wouldn't have to get married. Haines was told going in that he was to abandon his usual winking, wisecracking persona for this film, but it seems like he ignored that edict. Just a Gigolo, which debuted the song later covered by David Lee Roth, did OK, but it failed to turn around the impression that William Haines' star was slipping. Haines was informed that his contract wouldn't be renewed, and the trade papers said it was because the star was angling for more money. Then MGM agreed to take Billy back, but at a much-reduced salary, and with his name demoted to below the titles of his films. He was forced to go on a dreaded personal appearance tour. He took up a strenuous diet and exercise regime, rationalizing that losing weight might help him appear younger and fresher.
Many versions of Haines' story say that at this point, in early 1933, Louis B. Mayer called Haines into his office and told him that it was time for Billy to get serious, drop Jimmy and get married. In this version of the story, Billy says, "I am married." He chooses Jimmy over Mayer, walks out the door, and becomes Hollywood's most in-demand interior designer.
William Haines did become Hollywood's most in-demand interior designer after his career at MGM ended, but the rest of the story is up for debate. For years, everyone at MGM had known that William Haines was gay and living with a man he loved. So why would Mayer make an ultimatum now?
Members of the Hollywood gay scene of the time believe that Billy had taken the hit for Jimmy, who had been arrested in a bar or a park, where he was known to cruise. But if that happened, it was covered up. What we do know is that Billy's star had dimmed. We know he was getting older, and he hadn't successfully transitioned out of his Harvard-boy persona. We know the depression had everyone scared about profit margins, and most studios were cutting salaries, if not straight up canceling the pricy contracts of aging stars. We know that many other stars in Hollywood had gay relationships, but most presented themselves as straight when told to. Billy's old friend Archie Leach, for instance, is acknowledged now by many biographers to have lived as a gay man before he came to Hollywood and to have continued relationships with men after he became Cary Grant. But Cary Grant, and just about everyone else, was willing to play by the rules of the game that Louis B. Mayer and the other studio moguls set. They were willing to marry women—in Cary Grant's case, several women—and keep their true private lives private. And we know that with the impending enforcement of the Production Code, which would happen in 1934, every studio was under pressure to make it seem like their houses were clean. And so, William Haines, the top box office star in all of Hollywood in 1929, found himself, four years later, out of a job.
Or, at least, out the job that had made him famous. William Haines had never aspired to be an actor, and once the rug was pulled from under him at MGM, he got right back on his feet. In 1930, Billy had become part owner of an antiques shop on La Brea Avenue. By that point he had already turned his own home into a showroom for his exquisite taste, and his guests were always asking where they could buy things like the ones he had, so he gave them a place to do it. He'd go into a starlet's house and toss out the gaudy animal prints and gilded ornaments that she bought with her first flush of cash because she thought that was fancy, and replace everything with genuinely fancy stuff, high-quality, sophisticated simplicity, with elect pops of color or flashy accents. Hand-painted wallpaper became one of his signatures, as did low-to-the ground sitting rooms, outfitted with ottoman tables perfect for casual entertaining. Occasionally his antiques and art were borrowed for use in movies—paintings personally owned by William Haines lined the walls of Tara in Gone With the Wind.
Above all else, Billy understood how people liked to live, and he was able to create spaces in which they could do it. Billy and Jimmy enjoyed a high position in Hollywood for decades. Some members of the Hollywood community shunned them for living openly, but their true friends stayed loyal. They continued to attend parties at San Simeon, and at Joan Crawford's house. And they stayed together until Billy's death, in 1973. In fact, when his lover of nearly 50 years was gone, Jimmy Shields didn't know what to do with himself.
Joan Crawford tried to help, but it was no use. He soon killed himself. He left behind a note that said, "It's no good without Billy."