The Audio Book Club on Wolf Hall
Our critics discuss Hilary Mantel's Man Booker Prize-winning novel.
To listen to the Slate Audio Book Club discussion of Hilary Mantel's Wolf Hall, click the arrow on the player below.
You can also download the audio file here, or you can subscribe to the Slate Audio Book Club feed via iTunes or directly with our RSS feed.
Get your 14-day free trial of Audio Book Club sponsor Audible.com, which includes a credit for one free audiobook, here.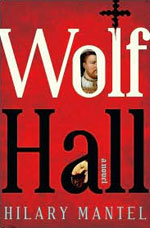 This month, the Audio Book Club discusses Hilary Mantel's Wolf Hall, a historical novel told from the perspective of Thomas Cromwell that tracks his role in the creation of the Church of England. Cromwell is usually portrayed as a villainous cutthroat, the procurer of Henry VIII's wives. But Mantel depicts him far more sympathetically—an aggressive type, sure, but one who acts aggressively in the service of a larger cause: Britain's independence and modernization.
John Swansburg wonders if Cromwell is too easy to like: He's a fan of little dogs, and his heart's always in the right place. Jacob Weisberg agrees, but Troy Patterson thinks rooting for Cromwell is a little like backing The Godfather's Michael Corleone—you know he's not a great person. On the whole, all the book club participants enjoyed the book and recommend it enthusiastically.
Slate's Audio Book Club now comes to you on the third Monday of every month. We don't yet have a book picked out for April, but there's a good chance we'll discuss Michael Lewis's latest, The Big Short. Look for our discussion on iTunes or on the Slatehome page on Monday, April 19. Also, become a fan of the Audio Book Club on Facebook.
You can also listen to any of our previous club meetings through our iTunes feed or by clicking on the links below. To download the MP3 file, right-click (Windows) or hold down the Control key while you click (Mac), and then use the "save" or "download" command to save the audio file to your hard drive.
Questions? Comments? Write to us at podcasts@slate.com . (E-mailers may be quoted by name unless they request otherwise.)