The Audio Book Club on American Wife
Our critics discuss Curtis Sittenfeld's new novel.
To listen to the Slate Audio Book Club discussion of Curtis Sittenfeld's American Wife, click the arrow on the player below.
You can also download the audio file here, or click here to subscribe to the Slate Audio Book Club feed in iTunes.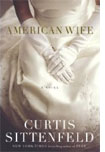 The Audio Book Club kicks off the fall books season with a discussion of Curtis Sittenfeld's American Wife, a sprawling novel based largely on Laura Bush's life. The story of a shy, book-loving girl from Wisconsin who winds up as the president's spouse, American Wife asks what it might be like to have married a man who doesn't share your political values. Slate culture critic Meghan O'Rourke, Slate contributor and NYU professor Katie Roiphe, and Slate Deputy Editor Julia Turner debate the merits of Sittenfeld's novel. Does Sittenfeld, author of best-seller Prep, illuminate anything about Laura Bush's life? Does the novel have any power as fiction, or is it interesting only insofar as it has factual relevance? The 45-minute conversation explores these and many other questions.
If you'd like to get an early start on the next book-club selection, we've chosen David Carr's The Night of the Gun, a reported memoir about being an addict. Watch for—and listen to—our Audio Book Club about The Night of the Gun in early October.
You can also listen to any of our previous club meetings by clicking on the links below *:
Questions? Comments? Write to us at podcasts@slate.com. (E-mailers may be quoted by name unless they request otherwise.)
*  To download the MP3 file,right-click (Windows) or hold down the Control key while you click (Mac), and then use the "save" or "download" command to save the audio file to your hard drive.