The Audio Book Club on Netherland
Our critics discuss Joseph O'Neill's novel.
To listen to the Slate Audio Book Club discussion of Joseph O'Neill's Netherland, click the arrow on the player below.
You can also download the audio file here, or click here to subscribe to the Slate Audio Book Club feed in iTunes.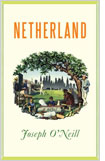 This month, Stephen Metcalf, Meghan O'Rourke, and Katie Roiphe discuss Joseph O'Neill's Netherland, which New York Times reviewer Dwight Garner described as "the wittiest, angriest, most exacting and most desolate work of fiction we've yet had about life in New York and London after the World Trade Center fell." The discussion lasts around 45 minutes.
If you'd like to get an early start on the next book-club selection, we've chosen Evelyn Waugh's classic novel of friendship and family Brideshead Revisited. We'll post that discussion in August.
You can also listen to any of our previous club meetings by clicking on the links below *:
Questions? Comments? Write to us at podcasts@slate.com. (E-mailers may be quoted by name unless they request otherwise.)
*  To download the MP3 file,right-click (Windows) or hold down the Control key while you click (Mac), and then use the "save" or "download" command to save the audio file to your hard drive.