Podcasting at 10
The executive producer of Slate's podcasts on the "podcast renaissance" and the future of the medium.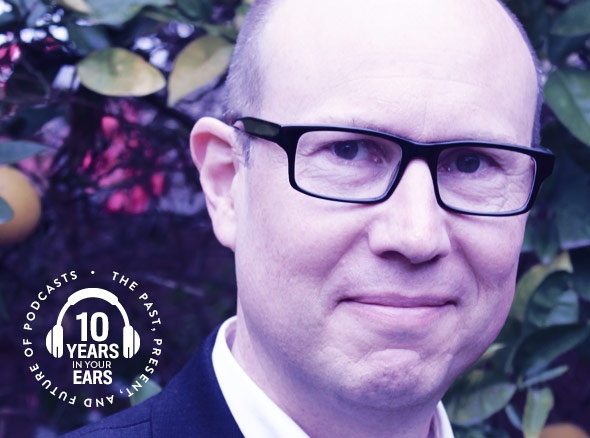 Podcasting is having its Holland Taylor moment. For those who don't recall, Taylor is the actress who, after 35 years in the business, finally won her first Emmy in 1999. As she grasped the gold statuette in one hand and raised the other in a gesture of poised nonchalance, she began her speech with a single, ironic word: "Overnight!"
Podcasting, too, is an overnight success after years of work. Not 35 years; only a single decade has passed since this Guardian story used the new term podcasting. The medium was briefly the hot new Internet star (Word of the Year 2005!) and was then quickly eclipsed by YouTube, social media, Farmville, and a thousand other new new things. Now we're told podcasting is back, a resurgence complete with a flurry of press attention, new companies jumping into the space, and that precious commodity the Internet bestows and rescinds in mysterious ways—buzz.
A big reason for all the attention, of course, is the wild success of Serial, the wonderfully addictive true-crime show from This American Life that finally convinced a good number of fence-sitters to take the plunge and try on-demand audio. But the narrative began changing well over a year ago—away from the widespread "podcasting is dead" trope of the late aughts and early teens, to today's "podcast renaissance," as reporters who ask me to comment on the phenomenon invariably call it.
I'll let you in on a secret. Podcasting is the Internet's most unsexy success story, the tortoise in a never-ending race with fresh waves of hares. In fact, by common online measures, podcasting shouldn't work at all. Consider:
Internet audio is famously resistant to going viral.
Podcasts are often long, requiring a time commitment far greater than cat videos or listicles.
A hit podcast episode racks up downloads in the hundreds of thousands, while a viral video can get hundreds of millions of views.
Podcasting's growth has been slow, without the crazy spikes in popularity favored by Silicon Valley investors.
Despite all this, or in some cases because of it, growing numbers of podcasters and podcast networks, including Slate, have been able to make a good businesses out of on-demand audio. Here's why growth, though slow, has also been steady:
Those people who do listen to podcasts listen to a lot of them.
Podcasts are ridiculously sticky. Listeners come back week after week, month after month, year after year when they like a particular show.
Podcasts are like clubs. Whether you're a fan of Serial, 99% Invisible, Hardcore History, WTF, Comedy Bang Bang, or the Political Gabfest, you can be pretty sure if you meet a fellow listener, you two will have a lot in common (including the knowledge that most of the world has no idea what you're talking about).
Because of this intense audience engagement, podcast advertising commands some of the highest ad rates anywhere (higher on a per-thousand-viewer/listener basis than Super Bowl ads, although football has us soundly beat on audience size).
And it's addictive. Once you start time-shifting your radio, you never want to give up that control. Just as DVRs and Netflix have changed our relationship to the television, podcasting has done the same for the spoken word. So why isn't podcasting as ubiquitous as DVRs? To me the answer is simple. Podcast technology sucks. It was abysmal 10 years ago, and has evolved to barely adequate today. In those early years, you had to download podcasts to your computer and then sync them through a cable onto your iPod or other MP3 player. It was slow, tedious, and often didn't work. Only the most stouthearted technophile downloaded Slate's first podcast on July 15, 2005.
The debut of the iPhone in 2007 promised to improve things, but it still took years of app development and faster data networks to get us where we are today: Anyone with a smartphone and the willingness to try can probably, with some help, play a podcast. But if you've ever attempted to connect a podcast app to your car's sound system via Bluetooth, I suspect you'll agree with me that we aren't there yet. Podcasting continues to fail my basic technological test—it's still a lot harder than turning on a radio.
Nonetheless, the future has been clear to me since the day in 2004 I excitedly downloaded a podcast for the first time. (I think it was an episode of Tony Kahn's Morning Stories.) Someday, I knew, cars would be connected to the Internet, they'd present on-demand audio in a simple interface next to the radio, and we'd all curate our own listening as seamlessly as we now watch last week's recorded Black-ish. Frankly, I thought we'd be there already by 2014, but it's definitely coming.
And Slate plans to contribute by investing even more in the medium in the coming year. In our earliest podcasting days, we had lots of fun playing around with this new corner of the Internet—mostly because I, a 20-year NPR veteran and audio nerd, was elated that I could suddenly upload from my desktop what it previously took a small army of producers, engineers, satellite technicians, and radio stations to distribute. After starting modestly with me reading Slate articles aloud, we began throwing new ideas at the wall, specifically things that wouldn't work on the radio. A political talk show designed to recreate how journalists really talk to each other at the bar after work, drinking and swearing included. Discussions of movies, TV shows, and books meant to be heard after the listener had consumed the work in question. A guerrilla audio tour of the Met's modern art collection. On my own time, I even created a short, highly produced children's podcast with my young daughter, which delighted her by bringing in emails from kids all over the world. It felt like the shaggy what-the-hell ethos of a basement college radio station had suddenly commandeered the BBC's global network.
We've expanded so much for two main reasons. The biggest is that Slate's podcast listeners are the most loyal, passionate, and engaged audience we have. They turn out by the hundreds for live tapings all over North America, they debate intelligently with us on social media about what we say, and many have joined Slate Plus, our membership program, which offers podcast extras. The other reason, closely related to the quality of the audience, is that our hosts simply love doing podcasts. When David Plotz and Emily Bazelon recently moved on to other publications, they both insisted on continuing to host the Political Gabfest. I sometimes feel as though the only way to dislodge one of our hosts (if I even wanted to) would be to pry the microphone from their cold, dead hands.
That's why I can tell you that in 2015, Slate will launch our biggest podcast expansion ever. We're still working out the specifics, but it will involve new topics, new formats, new partners, and new ways to listen that we hope will bring the medium closer to the simplicity of radio. So I'll borrow a radio anachronism and say stay tuned for more details.
This will be our contribution to the "podcast renaissance," which despite being somewhat overhyped I'm still enjoying immensely. If nothing else, it means that when I tell people at parties I work in podcasting, they no longer give me that pitying look that buggy-makers probably got at their parties after cars came on the scene. For the moment, podcasts are cool. I suspect the hype will die down again, but podcasting won't go anywhere. We'll continue our slow and steady march toward becoming the norm, building on our 10-years-and-counting overnight success.