The Calm and the Restless
The plainness of Edward Thomas' "The Owl" vs. the struggle of Gerard Manley Hopkins' "Carrion Comfort."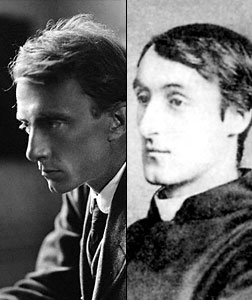 Different works of art convey feeling in different ways. Paint may be troweled or knifed onto the canvas in thick strokes or dribbled or splashed. In other works, the painter's strokes might be delicate, the surface nearly flat. Sometimes orchestration is elaborate or dense. Sometimes it is minimal and plain.
In a comparable way, one poem might generate its emotion with eloquent plainness, the force of directness. Another poem might work by turbulent or ecstatic or violent elaboration, the force of eruption. The two classic poems for this week illustrate what I mean.
"The Owl" by Edward Thomas (1878-1917) presents its narrative with a mild, somewhat conversational simplicity: Downhill I came, the speaker explains; then I was at the inn; then I heard the owl; and what the owl's cry brought to mind made me regard my comfort as "salted and sobered." The poem gets its power from fine, crucial variations from ordinary speech. For instance, both "salted" and "sobered" fit the vocabulary of an inn—a place where salt is consumed and where people are sobered or not. The moral meanings of the phrase—comfort is both relished and tempered by a reminder of its opposite—grow out of that plain vocabulary. In the line after he uses the word "plain," Thomas deploys some effective, precise words of one syllable; while he "escaped," others in his predicament "could not, that night, as in I went." Thomas' penetrating but apparently simple language—like a fine, scentless oil—goes deep into its subject.His moral reflection is tentative rather than assertive, minimal rather than sweeping, quiet rather than loud, and candid about appreciating his own good fortune. The poem respects the mysterious nature of fortune, and expresses that respect with its even, temperate voice. (There's an irony to the word "soldiers" in the final line. Thomas died as a soldier in World War I. He is the subject of the elegy "To E.T." by his friend Robert Frost.)
Also moving, and quite different in feeling and manner, is the poem now generally called "Carrion Comfort" by Gerard Manley Hopkins (1844-89). Hopkins' agitated, restless language makes clear the tangled force of his spiritual struggle against despair—a feeling that his engagements with God seem to make worse, as God bruises, steps on, and flings him. He resists suicide, and expresses that resistance in the tormented form of double negatives: "not choose not to be." Compounded or compacted terms like "darksome" and "lionlimb" are expressive in a way that seems the opposite of Thomas' "unable to rejoice" and "others could not": the power of explosive compression, forcing meanings together, rather than the unfolding power of directness.  Hyper-concentrated phrases, strong words and accents forced together, convey struggle and tension, as of mighty industrial springs and chemical reactions barely contained. 
Each poem, in its way, demonstrates poetry's power to undermine the numb complacency of merely customary, unreflecting life and language.
Downhill I came, hungry, and yet not starved;
Cold, yet had heat within me that was proof
Against the North wind; tired, yet so that rest
Had seemed the sweetest thing under a roof.
Then at the inn I had food, fire, and rest,
Knowing how hungry, cold, and tired was I.
All of the night was quite barred out except
An owl's cry, a most melancholy cry.
Shaken out long and clear upon the hill
No merry note, nor cause of merriment,
But one telling me plain what I escaped
And others could not, that night, as in I went.
And salted was my food, and my repose,
Salted and soberedtoo, by the bird's voice
Speaking for all who lay under the stars,
Soldiers and poor, unable to rejoice.
...............................................—Edward Thomas
Click the arrow on the audio player to hear Robert Pinsky read "The Owl." You can also download the recording or subscribe to Slate's Poetry Podcast on iTunes.
Not, I'll not, carrion comfort, Despair, not feast on thee;
Not untwist—slack they may be—these last strands of man I
n me ór, most weary, cry I can no more. I can;
Can something, hope, wish day come, not choose not to be.
But ah, but O thou terrible, why wouldst thou rude on me
Thy wring-world right foot rock? lay a lionlimb against me? scan
With darksome devouring eyes my bruisèd bones? and fan,
O in turns of tempest, me heaped there; me frantic to avoid thee and flee?
Why? That my chaff might fly; my grain lie, sheer and clear.
Nay in all that toil, that coil, since (seems) I kissed the rod,
Hand rather, my heart lo! lapped strength, stole joy, would laugh, chéer.
Cheer whom though? The hero whose heaven-handling flung me, fóot trod
Me? or me that fought him? O which one? is it each one? That night, that year
Of now done darkness I wretch lay wrestling with (my God!) my God.
......................................... .....—Gerard Manley Hopkins
Click the arrow on the audio player to hear Robert Pinsky read "Carrion Comfort." You can also download the recording or subscribe to Slate's Poetry Podcast on iTunes.