"The Darkling Thrush"
Thomas Hardy's timely meditation on the turning of an era.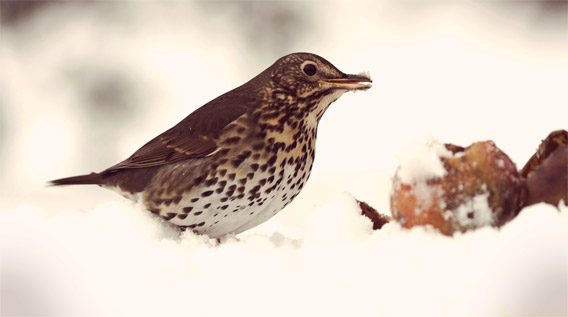 Hope is not an easy word to use well, in poetry or out of it. Evoking hope too easily can feel kind of glib or damp; saying there is none, though the opposite, can feel sentimental in a similar way. The right shade of belief and doubt can seem impossible to express.
In his great poem for a new year, "The Darkling Thrush," Thomas Hardy gets that kind of meaning right, I think. Hardy says he "could think" of a "blessed hope" of which he is "unaware."
The moving precision of those qualifications would not be enough in itself: The formulations gain conviction from the presence of the thrush—possibly the most charming bird ever described in words.
As with Hardy's "The Oxen" for Christmas, in a Slate tradition here is Hardy's poem—which he dated Dec. 31, 1900—reflecting on the turning of a century, as well as a year.
Click the arrow on the audio player to hear Robert Pinsky read this poem. You can also download the recording or subscribe to Slate's Poetry Podcast on iTunes.
I leant upon a coppice gate
When Frost was spectre-gray,
And Winter's dregs made desolate
The weakening eye of day.
The tangled bine-stems scored the sky
Like strings of broken lyres,
And all mankind that haunted nigh
Had sought their household fires.
The land's sharp features seemed to be
The Century's corpse outleant,
His crypt the cloudy canopy,
The wind his death-lament.
The ancient pulse of germ and birth
Was shrunken hard and dry,
And every spirit upon earth
Seemed fervorless as I.
At once a voice arose among
The bleak twigs overhead
In a full-hearted evensong
Of joy illimited;
An aged thrush, frail, gaunt, and small
In blast-beruffled plume,
Had chosen thus to fling his soul
Upon the growing gloom.
So little cause for carolings
Of such ecstatic sound
Was written on terrestrial things
Afar or nigh around,
That I could think there trembled through
His happy good-night air
Some blessed Hope, whereof he knew
And I was unaware.