The Curious History of "Tribal" Prints
How the Dutch peddle Indonesian-inspired designs to West Africa.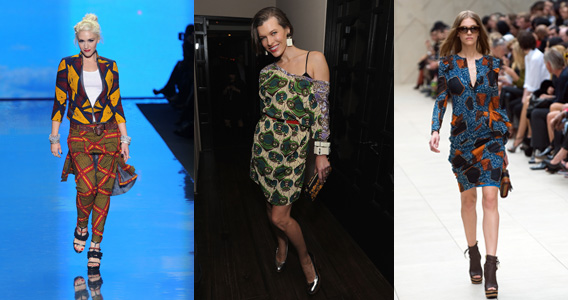 They've got palettes so bright and clashing that they threaten to sear the eye and patterns so loud they make Hawaiian prints look demure—yet they are slowly becoming as commonplace as plaid. The media (both fashion and mainstream) tend to refer to them as "African prints" (when not referring to them more vaguely, and cringe-inducingly, as "tribal"). But the term African print should give us pause—Africa, after all, is a pretty big place. So when we talk about these African prints, what are we really talking about?
The patterns found on Dutch wax prints. Dutch wax is a kind of resin-printed fabric that has long been manufactured in the Netherlands for a West African market. But to call these fabrics either Dutch or West African is to ignore a far more complicated set of origins. Yinka Shonibare, the well-known Nigerian artist whose work often features these prints, has made a career out of exploring the history of the designs. "The fabrics are not really authentically African the way people think," Shonibare has said. "They prove to have a crossbred cultural background quite of their own."
The story begins in the Dutch East Indies (now Indonesia), where locals have long used the technique of wax-resist dying—basically applying wax to a cloth, and then dying over that wax to create a pattern—to make batik. These elaborately patterned handmade textiles bear some similarities to the prints we've been noticing on the runways: bold, repeating, intricate motifs set against backgrounds of varying hues. So what accounts for the overlap? One prevailing theory is this: In the mid-19th century, the Dutch enlisted a bunch of West African men—both slaves and mercenaries—to beef up their army in Indonesia. While there, these men took a liking to the local handicrafts and brought batik back to their home countries. And voila: A taste emerged in West Africa for these Indonesian designs.
In the meantime, Europeans were hard at work figuring out how to manufacture their own versions of batik, with the intention of flooding the market in Indonesia with cheaper, machine-made versions of the cloths (the handmade versions were labor-intensive and expensive). Finally, at the end of the 19th century, a Belgian printer developed a method for applying resin to both sides of a cotton cloth, and the machine-made wax-print fabric was born.
But there was a problem: The machine-made version of these cloths developed a crackling effect—a series of small lines, dots, and imperfections where the resin cracked and dye seeped through—that didn't appeal to Indonesian batik purists. In need of a market for the new textiles, the Dutch turned to West Africa. As it turned out, West Africans were actually partial to these imperfections: They appreciated the fact that no two bolts of cloth were identical. The West African fondness for this effect was so pronounced that Dutch wax manufacturers still program those imperfections into the printing process today, long after the actual mechanical limitation has been resolved.
As Europeans began to sell this cloth, in West Africa—largely to women, both rich and poor, who regarded it as a marker of status—West African tastes shaped the evolving designs. The local women traders who distributed the fabrics favored brighter palettes, tighter patterns, and geometric shapes. New patterns were designed to reflect significant events and local proverbs. Though European manufacturers identified the fabrics by number, West African traders often named them, and those names became widely known. One famous pattern that shows a bird cage with an open door and a little bird escaping from it is called "You fly, I fly." It is generally worn by newlywed women, as a bit of a threat to their husbands. "The minute they are named, they are also used to communicate," says Jessica Helbach, a Dutch curator whose design studio worked extensively with Vlisco, one of the main Dutch wax manufacturers, to launch an exhibit now up at the Museum of Modern Art in Arnhem about the company's history. Helbach says that naming the fabrics, and using them to express certain ideas, is a way for West Africans to claim the foreign-made cloth as their own. And so the machine-made Indonesian-inspired patterned fabrics became indelibly associated with Africa—and with a particular notion of African tribalness, of which Western fashion cannot get enough.
But what's interesting about these fabrics, says Nina Sylvanus, an anthropologist who has made a career of studying the function of wax cloth in West Africa, is not how "African" or traditional they are, but that they are regarded by wearers in places like Togo, Ivory Coast, and Ghana as international and cosmopolitan. When Western designers call collections that use wax prints "tribal," Sylvanus says, "it harks back to a sort of evolutionist, colonial perspective which attempts to freeze Africa as a place where 'tradition' is still happening." But West Africans who buy bolts of the fabric, generally to be tailored into dresses and suits, are fully aware of the fabric's complicated origins; they often pay a premium for European-made cloth, even though West African-made and, increasingly, Chinese-made iterations are available for considerably cheaper. And despite those origins, Sylvanus notes, wax prints have become an integral part of West African life: Having the latest designs, and wearing carefully chosen, meaningful patterns, communicates social status. Wax prints are also used as courting gifts, they're usually included in a woman's dowry, and they are even essential garb at funerals. At Vlisco, one of the last European producers of this cloth, the fashion world's rising interest in their product has not gone unnoticed. The company does collaborate with fashion designers, but it also moves swiftly when a designer lifts one of its patterns without permission. This happens a lot: "When people think things come out of Africa," Helbach remarked, "they don't worry about copyright." For example: When Japanese designer Junya Watanabe printed silk garments for his 2009 runway show with Vlisco designs, Helbach says the Dutch company quietly ordered him to stop; they ended up settling with the designer out of court. But Vlisco hasn't held Watanabe's infractions against him; the company even brags about the Watanabe collaboration in press releases. Watanabe, when asked for comment, did not confirm or deny, but said: "all was settled amicably."

But who can really claim a copyright to a design that is itself the product of so much cultural appropriation and re-appropriation? In attempting to call these designs their own, Vlisco highlights its own fraught history. Not only were the original industrially produced Dutch wax prints copies of Indonesian designs, they also were influenced by Indian-inspired British designs. Vlisco's website proclaims that it has been making wax fabrics for West Africans since 1846. The irony, says Sylvanus, is that in 1846, Vlisco wasn't making wax fabrics for the African market; they were designing them for Indonesians. Nor were they the first to hone the wax-printing technique: It wasn't until the early 1920s that Vlisco became expert wax printers, when it obtained the rollers of another Dutch manufacturer who had mastered the process.
The biggest threat to Vlisco's hold on the market today comes not from high-fashion designers, but from Chinese copycats, who since the '90s have been using digital photographs to produce cheap copies of European designs to sell in West Africa. West Africans often consider the Chinese imitation wax cloth down-market and inferior to the European standard; the Chinese cloth, crucially, is frequently printed only on one side. But for those who have been priced out of the Vlisco market, the Chinese offer a welcome alternative.
In response to the prevalence of these Chinese imitations, Vlisco recently changed its marketing plan. Its new strategy is to brand itself as a fashion house, releasing 20 to 30 designs every few months. The logic of this strategy, in part, is that the Chinese imitations usually take about two to three months to come to market, so Vlisco can stay ahead of them with fresh patterns. Vlisco has also launched a line of wax-fabric-covered accessories. Sylvanus suspects that West African consumers will eventually embrace these (relatively) new Chinese wax cloths in some form. Already there are Chinese designers who have been collaborating on designs with local women in Togo—replicating, in fact, the same process that helped companies like Vlisco come up with such popular patterns.
Which means the Dutch company that peddles Indonesian-inspired designs to West Africa may be edged out by the Chinese—and in search of a new market. But if Vlisco's branding efforts succeed—if the world begins to perceive these designs as belonging to a major European manufacturer and not an African cottage industry—will the fashion world remain interested in this hybrid fabric? That's Vlisco's catch-22.
Correction, March 2, 2012: This article incorrectly stated that Marni had designed a collection for Target. In fact, Marni designed a collection for H&M. (Return to the corrected sentence.)