You Won't Think the Platypus Is So Cute if You Feel the Excruciating Pain of Its Venom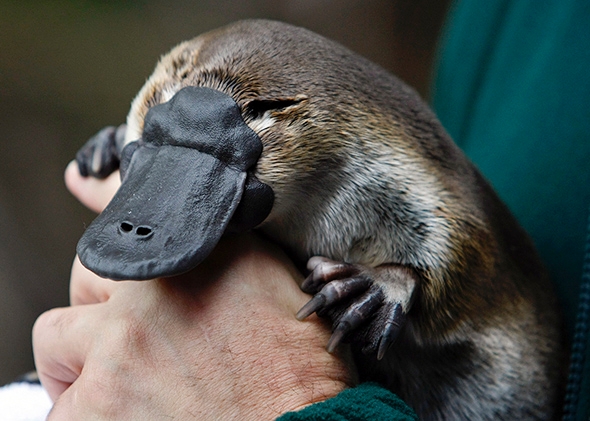 But that changes in late winter: The males' testes swell, they start fighting over the females, and when they fight, they wrap their legs around their opponent and viciously stab with those sharp spurs. With all the action, Home probably wouldn't be able to see that the males are also injecting each other with venom. Venom made by their crural glands—a sweat gland co-opted by evolution that swells with about a teaspoon's volume of venom during mating seasons. But even if he didn't know about the venom, Home would still see the loser collapse, its limbs paralyzed, while the winner went off to be a lover. To Home's relief, the loser would eventually recover and stagger (or more likely swim) off. And once mating season's over, the lovers would go back to being eaters: Their testes go back to normal size, and their crural glands go dormant.
But what would happen if you provoked a randy male's ire during mating season?
So what's in platypus venom that makes it so painful?
But figuring out what's in platypus venom is more than just biology navel-gazing. For one thing, we don't have an antivenom for platypus venom—something that the occasional platypus victim would certainly appreciate. And for another, by studying painful platypus venom, scientists could figure out how it overcomes morphine, which could help them design better painkillers.
So unless you're a brave scientist trying to get some venom to figure out a better painkiller, you shouldn't pet the platypus. No matter how excruciatingly cute they are.
Read more of Slate's stories on poisonous animals: