What It's Like to Nearly Die From the Venom of a Blue-Ringed Octopus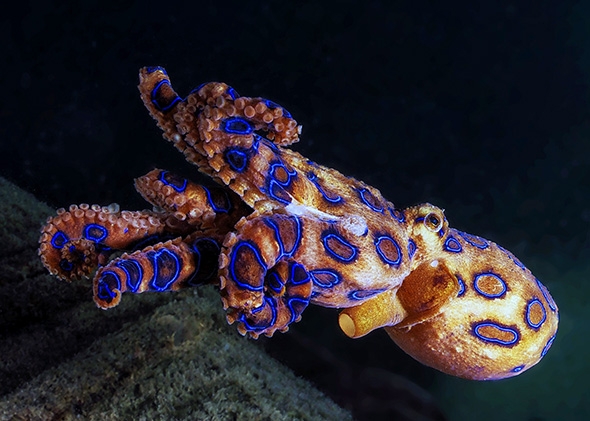 Then you picked her up. You were probably paying so much attention to the wiggle of her tentacles and the texture of her tiny suckers that you didn't notice the painless nip from her parrotlike beak.
Somebody calls an ambulance. It's getting tough to stand. It's getting tough to breathe. The numbness is spreading to your hands, feet, and chest. And you continue to be aware for every agonizing moment of it.
So what the hell just happened?
When that frightened little octopus bites, the tetrodotoxin in her saliva quickly enters your bloodstream. With lethal biochemical precision, it blocks the tiny channels that let sodium ions enter your nerves—sodium ions that are necessary for your nerves to tell muscles like your diaphragm to move. It doesn't take much tetrodotoxin to paralyze your diaphragm. A single 25-gram octopus—not quite the weight of one slice of bread—has enough tetrodotoxin to suffocate 10 men.
But don't villainize the blue-ringed octopus. She was just hanging out, hoping for a crab snack, when you went all Curious George on her. Of course it's part of our nature to gawk at cool animals we find on the beach. But it's part of her nature to defend herself.
After all, she did try to warn you.
Read more of Slate's stories on poisonous animals: