Donald Trump Will Win, and Four Other Predictions for the CNN Debate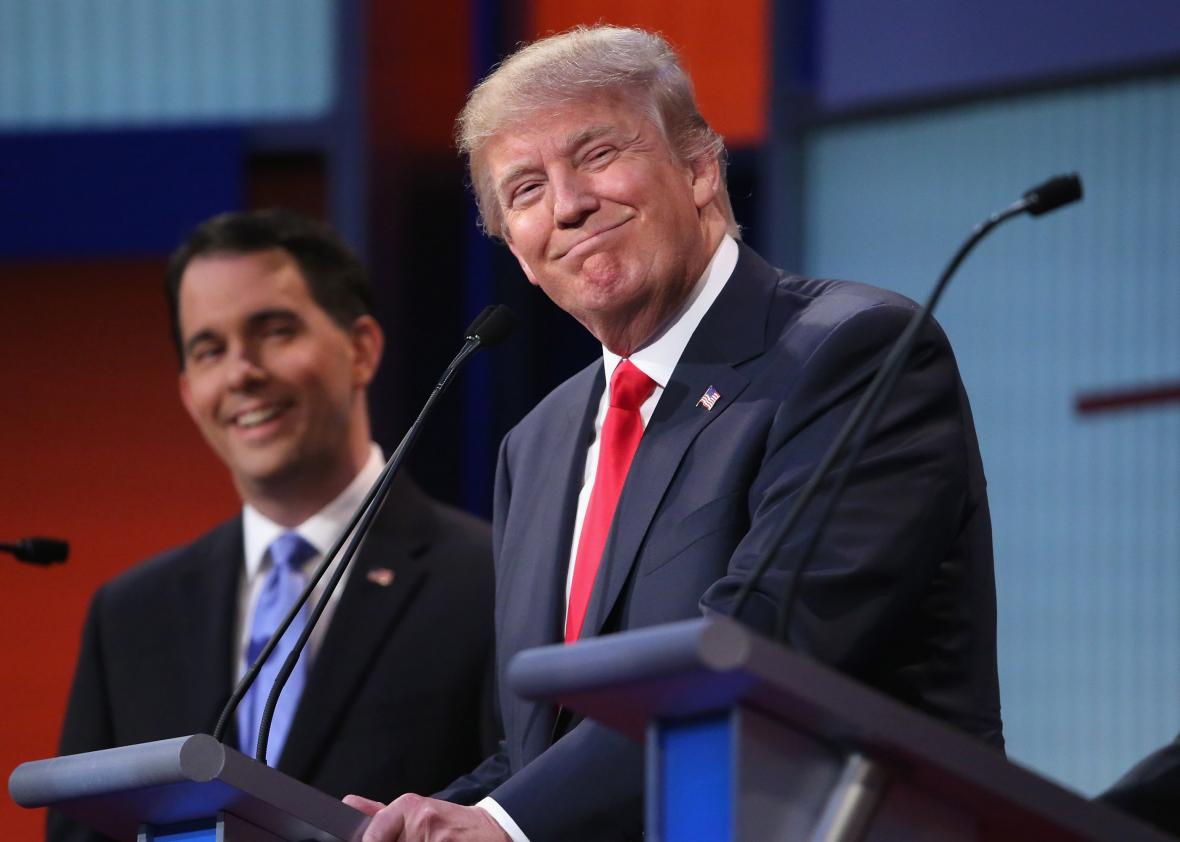 Ding, ding: Round 2. The Republican presidential contenders are in Southern California on Wednesday for the second pair of primary debates. CNN's four-man undercard will kickoff at 6 p.m. ET at the Ronald Reagan Presidential Library in Simi Valley—complete with an Air Force One backdrop—followed by the network's 11-candidate main event on the same stage at 8 p.m.
A quick rundown of what to watch for and what to expect:
The Inevitable Victor
Yes, anything can happen, but this is the safest bet on the board: Donald Trump will say something absurd and/or offensive, the professional pundits will roll their eyes and sigh, and the man who has been topping the national GOP polls for more than two months will still be the Republican front-runner when the post-debate dust settles.
The Other Outsiders
Trump's not the only White House hopeful currently riding a wave of anti-establishment support. Ben Carson has surged to second place in national polls, while Carly Fiorina has posted smaller—but perhaps more surprising—gains to climb from the bottom of the GOP heap to the middle of the pack in the month since her dominating performance at the Fox News undercard debate.
Both Fiorina and Carson will be looking to keep their own momentum going—but expect each to try to do it in his or her own way. Fiorina has been the rare GOP hopeful to tangle with Trump and emerge stronger for it; Carson's the equally rare candidate who's managed to turn the other cheek and (mostly) keep it turned. Both would be wise to play to type on Wednesday night.
As interesting as how Ben and Carly position themselves in relation to Trump, though, will be how they position themselves in relation to each other. While getting the best of the reigning king of confrontation in primetime—regardless of how they do it—would be a political coup, both Fiorina and Carson also know they're in indirect competition with each other for those conservatives who are fed up with Washington—but not necessarily fed up enough to cast their lot with a former reality TV star.
The Insiders
The summer of Trump has made insider a dirty word on the campaign trail, but the GOP's more establishment-friendly candidates know that their party's power brokers are eager to rally around someone they like—or at least someone they can live with. That means Jeb Bush, Scott Walker, and Marco Rubio will need to keep one eye on Trump and the other on one another. Each of the GOP's once-and-maybe-future Big Three still has the fundraising and organizational advantages to survive a lackluster performance on Wednesday, but a strong showing by one of them could provide a crucial edge with the establishment heading into the fall.
Meanwhile, with Bush slipping, Walker stumbling, and Rubio taking things slow, now's a good time for John Kasich to try to make his move. The Ohio governor provided two of the more memorable moments of the first Republican debate—sound bites that not even Trump could dismiss as "low-energy"—and a repeat performance in California would likely pique the interest of a political press corps that will be looking for something shiny and new come Thursday morning.*
The Underwhelming Undercard
Fox News' JV debate was a humbling affair for all seven participants. Expect CNN's version to be even more so. With Fiorina getting the call-up, Rick Perry calling it quits, and candidate-in-name-only Jim Gilmore being forced to sit this one out, there will be only four Republicans on stage during the dinner hour: Rick Santorum, Bobby Jindal, Lindsey Graham, and George Pataki. The good news for the also-rans: Fewer candidates means more air time. The bad news: Fewer candidates also means less attention. If Santorum et al couldn't reverse their respective fortunes in Cleveland when the kids' table was still a novel idea, there's no reason to expect they'll be able to in Simi Valley now that it's not.
The Rest of the Pack
With the third GOP debate scheduled for Oct. 28, those candidates stuck in no man's land know that after Wednesday they'll most likely have to wait six long weeks until they have another chance on the national stage—assuming they're still standing then, that is. Given that, expect the attacks to come early and often from the edges of the debate stage. I'm looking at you guys, Chris Christie and Rand Paul.
*Correction, Sept. 16, 2015: An earlier version of this post mistakenly referred to John Kasich as Ohio's former governor.