NASA: Earth Just Experienced the Warmest Six-Month Stretch Ever Recorded
Our planet is on a hot streak.
Over the weekend, NASA announced that last month was the warmest September since global records have been kept. What's more, the last six months were collectively the warmest middle half of the year in NASA's records—dating back to 1880.
According to the National Climatic Data Center, which keeps a separate record of global temperatures, this April ranked as the warmest April on record. Followed by the warmest May on record. Followed by warmest June on record. (July wasn't quite as hot—just the fourth-warmest July on record.) But August—again, you guessed it—was the warmest August on record. The NCDC will release its numbers for September later this month.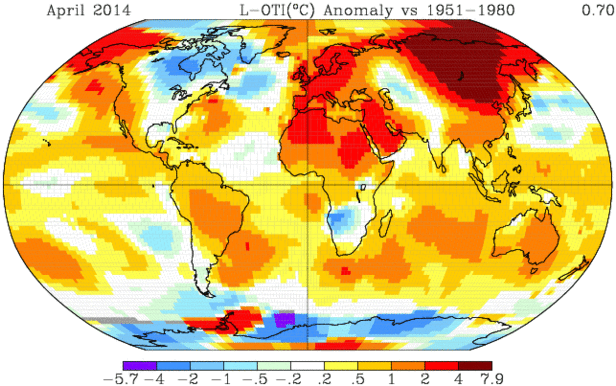 If the last six months are any indication, the pace of atmospheric warming may finally be picking up.
Update, Oct. 14, 10:15 a.m.: On Tuesday​, Japan's Meteorological Agency confirmed that last month was indeed the warmest September ever measured. (JMA's global instrument records date back to 1891.) According to JMA, every September in the 21st century has been above the long term increasing trend, a sign of accelerating warming.
Future Tense is a partnership of Slate, New America, and Arizona State University.