Here Are All the Different Genders You Can Be on Facebook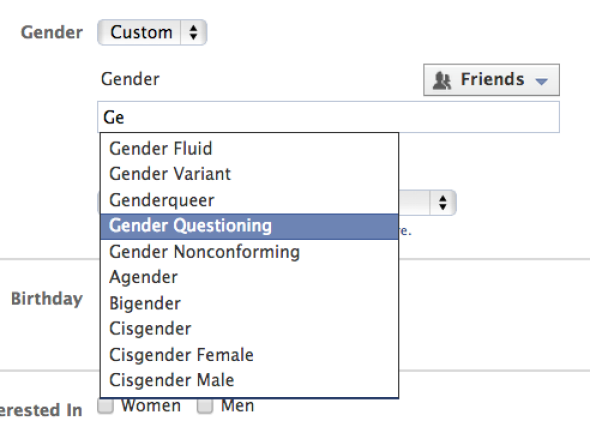 Facebook on Thursday added more than 50 custom gender options for users who don't identify simply as "male" or "female." While this was welcome news to LGBTQ advocates, the company did not publish a list of all the options, leaving users to begin typing into an empty text field in order to bring up a drop-down menu of autocomplete choices. (The site does not seem to allow users to simply leave the field blank, or to type in a gender identifier that is not among the preset options.)
Facebook told me it has no plans to publish a comprehensive list of the choices it offers. So we took it upon ourselves to reconstruct it by typing each letter of the alphabet into the text field, one at a time, and transcribing the options that appeared. We found 56 custom options, bringing the total number of options to 58 including male and female. Please note that it's possible that the list below is not complete. If you find one that we missed, please feel free to point it out in the comments and we'll update accordingly.
Advertisement

Agender
Androgyne
Androgynous
Bigender
Cis
Cisgender
Cis Female
Cis Male
Cis Man
Cis Woman
Cisgender Female
Cisgender Male
Cisgender Man
Cisgender Woman
Female to Male
FTM
Gender Fluid
Gender Nonconforming
Gender Questioning
Gender Variant
Genderqueer
Intersex
Male to Female
MTF
Neither
Neutrois
Non-binary
Other
Pangender
Trans
Trans*
Trans Female
Trans* Female
Trans Male
Trans* Male
Trans Man
Trans* Man
Trans Person
Trans* Person
Trans Woman
Trans* Woman
Transfeminine
Transgender
Transgender Female
Transgender Male
Transgender Man
Transgender Person
Transgender Woman
Transmasculine
Transsexual
Transsexual Female
Transsexual Male
Transsexual Man
Transsexual Person
Transsexual Woman
Two-Spirit
Future Tense is a partnership of Slate, New America, and Arizona State University.
TODAY IN SLATE
Politics
Talking White
Black people's disdain for "proper English" and academic achievement is a myth.
Operation Backbone
How White Boy Rick, a legendary Detroit cocaine dealer, helped the FBI uncover brazen police corruption.