Why Is Justin Bieber's "Love Yourself" No. 1?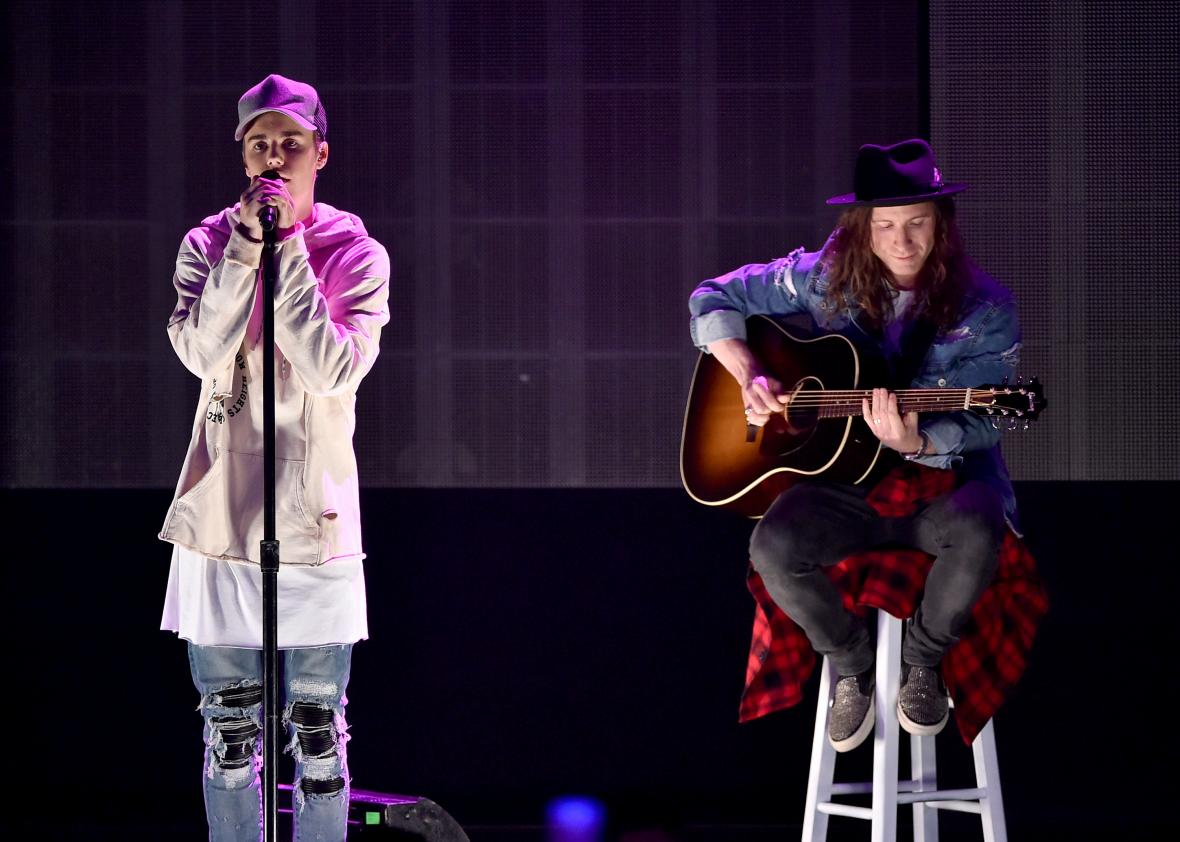 Here's a fun trivia question: In terms of Billboard chart history, what do Bob Dylan, Randy Newman, Bruce Springsteen, and Ed Sheeran have in common? I mean besides the fact that these quirky, downcast geeks became unlikely pop stars in the first place.
As of this week, we can add Ed Sheeran, the 2010s' favorite acoustic-guitar–wielding hobbit, to this list. Last winter, Sheeran experienced what must have been a heartbreaking chart run: His lugubrious, wedding-ready ballad "Thinking Out Loud" spent an impressive eight weeks at No. 2 on the Hot 100, stuck behind 2015's top hit of the year, Mark Ronson and Bruno Mars's "Uptown Funk!" One year later, Sheeran finally tops Billboard's flagship pop chart for the first time—as a songwriter. Like the chart-toppers penned by Dylan, Newman, and Springsteen, Sheeran flies to the top on the wings of an even more radio-friendly pop act.
Those wings belong to Justin Bieber, who hits No. 1 on the Hot 100 with the Sheeran–co-written "Love Yourself." As big a deal as this song is for Sheeran, it is also a pretty BFD for Bieber. America's favorite manchild not only scores his third No. 1 song in a row—keep in mind, just five months ago, Justin got his career-first with "What Do You Mean?"—Bieber actually pulls a Taylor Swift and replaces himself atop the Hot 100, as "Love Yourself" ejects his own "Sorry" after that song spent three weeks on top. According to Billboard, this makes Bieber only the 12th act in the Hot 100's 58-year history to succeed himself at No. 1, joining the ranks of everyone from the Beatles to Boyz II Men to the Black Eyed Peas. (There's been a lot of that on the chart lately—in the last 15 months, both Swift and the Weeknd have pulled off the successive–No. 1s trick.) "Love Yourself" has actually been the best-selling song in America for most of the last month, but in the last couple of weeks the track's airplay and streaming numbers have been catching up. It's now got radio's third-biggest audience and is the country's second-most-streamed song, after Bieber's own "Sorry."
So the simple answer to why "Love Yourself" is No. 1 is that Justin Bieber is on an unprecedented Hot 100 hot streak. However, this song represents a significant sonic changeup for Bieber, after two consecutive chart-toppers fueled by an EDM-lite, tropical house vibe. If ever a hit deserved to be called a "ditty," "Love Yourself" is it: a small-scale semi-acoustic number that's more "Hey There Delilah" than "Hey Mama." This is not a totally unprecedented sound for Bieber—since 2010, he's released two hit albums with the word acoustic in the title, devised to defy naysayers who doubted the kid's ability to sing or play guitar without layers of production. (The fact that the albums contained layers of production anyway, including obvious digital effects and occasional synths, meant critics were not appeased.) But both of these albums were mostly rewarmed collections of previous Bieber material, and despite their strong sales, neither generated any hit singles.
That makes "Love Yourself" a genuinely new thing for Bieber: a minimalist, stripped-down radio smash. Which is why I led off with the Ed Sheeran news—perky acoustic ditties are Sheeran's stock-in-trade, and the ginger guitarist's fingerprints are all over "Love Yourself." It's much closer to the Sheeran sound than anything Bieber's ever done, even on the latter's "acoustic" albums.
In just half a decade Sheeran has become not only the sensitive dorm-hallway strummer of his generation but also an improbable transatlantic hit-generator. The West Yorkshire lad broke big in 2011 with "The A Team," a painfully emo ode to a street wastrel and a Grammy Song of the Year nominee when he was not yet 22. This sensitivity branded Sheeran early, but more recently his hits have gotten funkier, following in the dance steps of Justin Timberlake, and his lyrics have alternated between sweet and spiteful. Sheeran's 2014 single "Don't," his first U.S. Top 10 hit, was a kiss-off to an unfaithful lover, widely thought to be fellow U.K. pop star Ellie Goulding (a rumor Sheeran has done a lousy job denying). On that perky, hip-hop-flavored acoustic ditty, co-written with veteran popsmith Benny Blanco, the seemingly mild-mannered lad had a surprisingly foul mouth. When the song is played on the radio or live TV, Sheeran sings the chorus either as "Don't mess with my love" or with the second word swallowed—but the original cut has a choice four-letter word in place of "mess."
Bieber's "Love Yourself" might as well be the sequel to Sheeran's own "Don't." Co-written and produced by Sheeran and Blanco again, this time with Bieber, the song is a Trojan horse: a seemingly romantic trifle—from its title to its ingratiating guitar riff—carrying a withering diss track in its gut. You're meant to hear Bieber's chorus and replace "love" with the same four-letter word as "Don't." And as with Sheeran and Goulding, you're meant to hear the vindictive lyric and imagine Bieber's own famous departed paramour, Selena Gomez—or one of any number of unfortunate starlets from his Instagram feed. It's both handily universal and shamelessly tabloid.
Forget all-purpose, though: We love a specific, targeted diss track. Or at least, we love speculating on whom it's about. The history of pop hits is lousy with diss tracks, and sure, the vague ones are great: Dion's "Runaround Sue" (No. 1, 1961), according to Dion, is not actually about a girl named Sue; Bob Dylan's "Positively 4th Street" (No. 7, 1965) is reportedly about either the people who booed Dylan at Newport or various folk-scene hangers-on; and TLC's "No Scrubs" (No. 1, 1999) was about several of future Real Housewife Kandi Burruss's ex-boyfriends, not a specific one.
In a way, then, "Love Yourself" is a double-whammy among notoriety-seeking kiss-off hits. Co-authored by two famous guys who date other famous people, it's primarily vibing off of Bieber's very public on-again-off-again Gomez romance but was likely inspired, at least in part, by Sheeran's own heartbreak. What's even funnier is, given Sheeran's nice-guy public persona, it will go down in chart history as further evidence of Bieber's bad-boy profile and caddish attitude toward women—but it's just as much Ed's jerky diss record as Justin's. As recently as two years ago, when Bieber was in the midst of his two-year "lost weekend" of rude behavior and minimal hitmaking, pop-watchers began speculating that in his absence the unassuming Sheeran was quietly slicking up his material and stepping up his game to steal Bieber's crown. Instead, by the end of 2015, this decade's two biggest solo-male crush objects decided to join forces in pop-bro solidarity.
Maybe Sheeran can take the lead on the bros' next songwriting collaboration and finally get his own No. 1. He's got time—when they each scored their No. 2–peaking chart hits, Bob Dylan, Randy Newman, and Bruce Springsteen were between the ages of 24 and 34; Sheeran is only turning 25 this month. Seeing as how the tabloid-fodder approach seems to be working for him hit-wise, maybe Sheeran should go out looking for trouble—hook up with an even more famous star than Ellie Goulding, break up with her, write a rant, and get Benny Blanco or Pharrell Williams to throw a hot beat behind it. All Sheeran needs is a pal who can introduce him to that next heartbreaker. I think he knows just the guy.