This Picture is Worth 20 Words: Secret Service Edition
Welcome back to Slate's caption contest. Post your captions—20 words or fewer—in the comments section.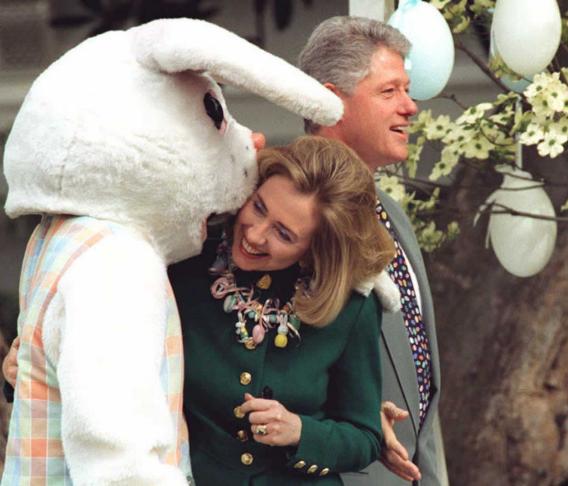 Hillary Clinton feigns delight as she realizes that the attempt to set up a photo op with a rabbi has gone awry.
Undercover agent informs Sec. Clinton that terror alert level has been elevated to pastel.

Actual Caption:

WASHINGTON, DC - APRIL 17, 1995: US First Lady Hillary Clinton (C) listens to the Easter Bunny (L) whispering in her ear while President Bill Clinton (R) stands by during the annual Easter Egg Roll at the White House in Washington 17 April. President and Mrs. Clinton played host to thousands of children who turned out to search for more than 25,000 wooden and hard boiled eggs. (RICHARD ELLIS/AFP/Getty Images)