STUNNING lunar eclipse photo
Last June, there was a total eclipse of the Moon, and I posted some really nice pictures of it (see Related Posts, below). Later, I saw one that was truly amazing. Seriously, it doesn't get much better than this: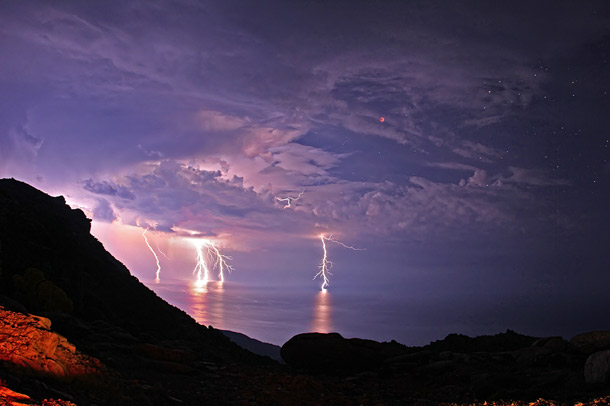 Holy wow! [Click to penumbrenate.]
That picture, by Chris Kotsiopoulos, is clearly a once-in-a-lifetime shot. He took it from Ikaria, a Greek island in the Aegean Sea. He thought he was going to miss the eclipse due to a thunderstorm, but the clouds parted for a few minutes right in the middle of the eclipse, and he got his shot. You can see the Moon, dull red, floating in the sky to the right of center. The multiple lightning strikes are, well, striking. As someone who has tried to take pictures like this many times, what's even more remarkable to me is that this was a 28 second exposure! That didn't allow him too many chances to get this shot right.
---