In the shadow of the Earth
Yesterday, the Moon passed into the Earth's shadow for the longest lunar eclipse in many years. Unfortunately for me, North America had its back turned to the event, but folks in South America, Europe, Africa, Asia, and Australia had a great view. Tim Bates, in Adelaide, took this fantastic series of pictures of the Moon in and out of totality: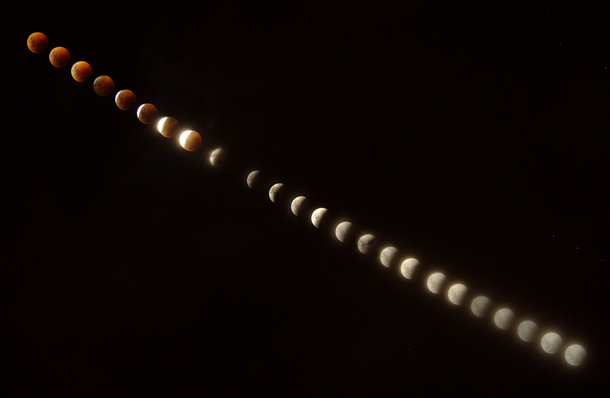 Advertisement

YouTube user Jakub Barabas posted a lovely video of the eclipse as well:
Once the Moon went into full eclipse he increased the exposure time a bit so you can see the red glow on the Moon's surface, which is difficult to photograph when exposing correctly for the still-brightly-lit surface. The red is due to sunlight passing through Earth's atmosphere before getting to the Moon; it's the same reason sunsets are sometimes red.
Did you take some good pictures or video of the eclipse? Leave a link in the comments!
---
TODAY IN SLATE
Politics
Talking White
Black people's disdain for "proper English" and academic achievement is a myth.
Operation Backbone
How White Boy Rick, a legendary Detroit cocaine dealer, helped the FBI uncover brazen police corruption.