A Bargain at $5.3 Billion
Los Angeles' plan for an Olympics on the (relatively) cheap should change the games forever.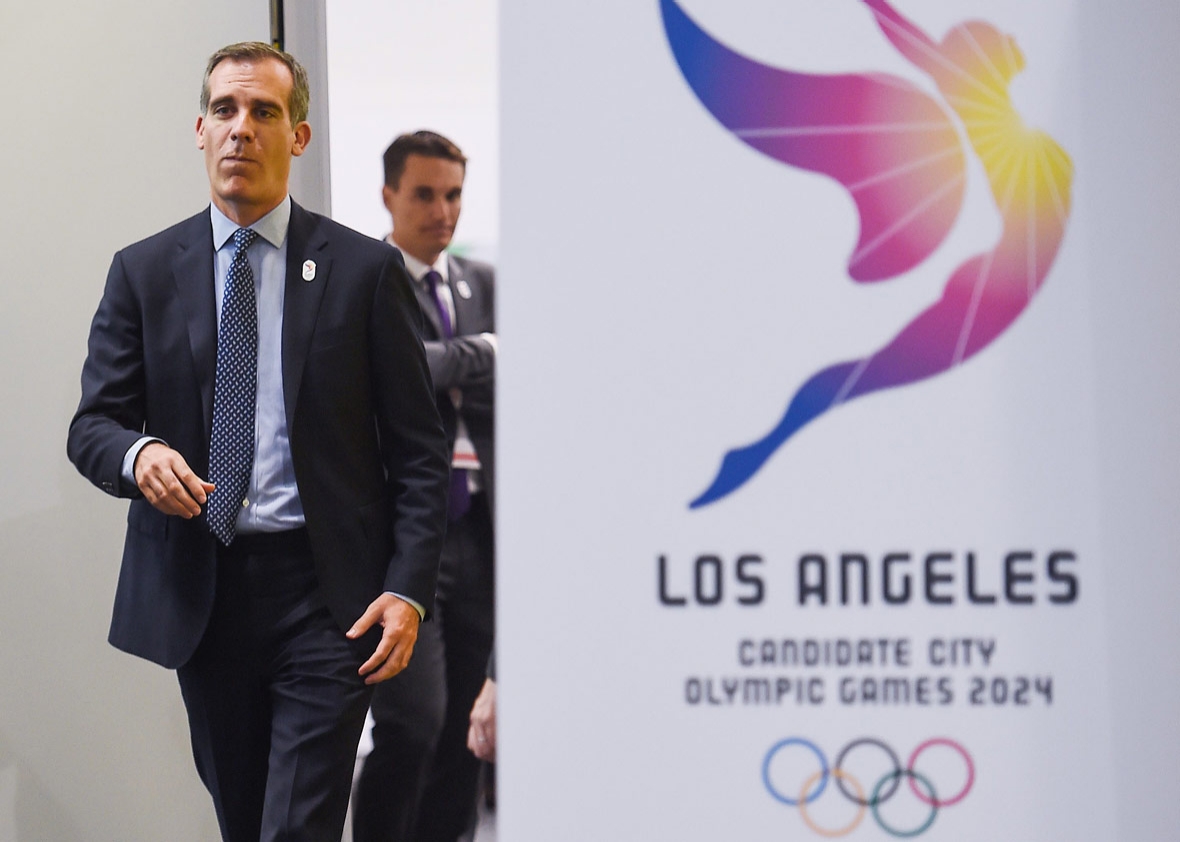 The competition for the 2024 Summer Olympics came to a very un-Olympian finish this week: Gold medals for everyone! One went to Paris, the last city standing in the hunt for the 2024 Games. Los Angeles, too, has been draped in gold after agreeing to host the 2028 Games instead. And let's go ahead and give a gold medal to the International Olympic Committee, for obtaining not one but two commitments to host its quadrennial spectacle of debt. (And from democracies, no less!)
Want to listen to this article out loud? Hear it on Slate Voice.
Listen to an audio recording of this article
Get Slate Voice, the spoken edition of the magazine, made exclusively for Slate Plus members. In addition to this article, you'll hear a daily selection of our best stories, handpicked by our editors and voiced by professional narrators.
Start your free 2-week trial
Your Slate Voice podcast feed
To listen to an audio recording of this article, copy this link and add it to your podcast app:
For full instructions see the Slate Plus podcasts FAQ.
The IOC still needs to formalize these agreements at its summit in Lima, Peru, in September, but for L.A. Mayor Eric Garcetti and his Parisian counterpart Anne Hidalgo, confidence runs high:
Je suis très optimiste : nous allons tout faire pour que le vote à Lima, le 13 septembre, soit un moment historique. #Paris2024

— Anne Hidalgo (@Anne_Hidalgo) July 31, 2017
The settlement turns a coin toss between Paris and L.A. into a "win-win-win," IOC President Thomas Bach said on Monday. The decision to award two Olympiads at once was framed as a reflection of "the exceptional circumstances and unique opportunities" presented by the two cities. But if you think the IOC decided to forgo its usual bribe-fueled dog-and-pony show because Paris and L.A. were both so grand, I've got a billion-dollar aquatics center to sell you.
In reality, the IOC is making the most of a bad hand. In the wake of the scandal that was Sochi and the ongoing debacle in Rio de Janeiro, the committee has been buffeted by a near-total lack of interest in the 2022 Games, which were awarded to Beijing, and a string of stinging repudiations from voters in Oslo, Vienna, and Hamburg. Boston, Rome, and Budapest all dropped out of the 2024 sweepstakes due to a lack of popular enthusiasm. In 2014, the IOC approved a 40-point plan of repentance, but the details of its arrangements with host cities are yet to be hammered out. Well, now's the chance.
Paris is determined to showcase a once-in-a-generation infrastructure project to unite Paris with its suburbs via the construction of 68 new metro stations. Like Los Angeles, it has a history hosting mega-events—the Olympics twice, the World Cup in 1998, and the European Cup last summer—and will rely largely on temporary and repurposed venues to cut the cost. The city will also outsource elements of the competition to other French cities, making the soccer competition national and holding sailing races in Marseille. Back in 2005, Paris put in for the 2012 Games with a modest, low-cost bid that lost out to London's gargantuan investment. Now that Olympic fashions have caught up, it will have its turn.
But it's Los Angeles, deferring its bid to 2028, that has the more radical Olympic idea: Build almost nothing. The organizers propose a handful of temporary venues and four new permanent venues, some of which will be privately funded and each of which has a documented future use. The city has also dropped plans for a brand-new Olympic Village, instead proposing to house athletes in existing and already-planned dormitories at the University of Southern California and University of California, Los Angeles. All in all, the city projects the games will cost $5.3 billion—not even half the cost of Rio, and in a much more expensive place to build. Not quite an "austerity Olympics," as the 1948 London Games were known, but a welcome rebuke to the bloated spectacles of the past. Only $1.2 billion is budgeted for infrastructure upgrades. That wouldn't even cover one NFL stadium. And while every megaproject always features cost overruns, there's not much "project" in the L.A. Olympic budget. Most of the money goes toward operations, technology, and workforce, with another $177 million for the opening and closing ceremonies.
The recent bad run for Olympic hosts began with Athens, in 2004, where the games wound up costing 10 times the initial $1.6 billion bid and double the project's final budget. Most facilities were left abandoned and unused. That investment wasn't the cause of the country's subsequent debt-fueled debacle, but for Greeks upset with a vengeful international order, it did become a symbol. Sensitive to that association, then–IOC President Jacques Rogge went so far as to suggest the games had actually helped abate the nation's economic crisis. "Had Athens still been outmoded, the economy would have been much worse probably than it is today," he said in 2010.
This week's IOC decision comes as Rio undergoes the traditional year-after Olympic check-in, with the usual results: The city and state are broke, the venues have been abandoned and the apartments remain unsold, and it's hard to see any long-term benefits from the $13.1 billion investment. The Associated Press reports that the IOC has refused to help Rio pay off its creditors, after the Rio 2016 organizing committee attempted to do so with used air conditioning units, electrical cables, and other leftover games hardware. On Monday, the Rio de Janeiro State University announced it would suspend the start of the semester indefinitely because the state—which backed the organizing committee's credit and is, along with the city, inheriting its debts—has no money to pay teachers and other employees.
It's not that there's no money to be made in sports. Sponsorships and television deals continue to bring in billions and account for more than 90 percent of the IOC's direct revenue. Between 2009 and 2012, the IOC took in nearly $4 billion from broadcast rights and nearly another billion from sponsors. In the following four years, that revenue was up to $5.6 billion. The IOC says it redistributes 90 percent of revenue to promote and operate the games and keeps 10 percent. Even if that's true—and the IOC is a notoriously corrupt organization—the IOC is taking home hundreds of millions on each games and sticking host cities with all the risk.
In some ways, the current state of play recalls the run-up to the 1984 Olympics. Then too, Los Angeles was the only bidder. And then too, it used that position as leverage in negotiations with the IOC, ensuring a lucrative television deal and a profit-sharing arrangement that wound up funding youth sports programs for years to come. As I wrote in 2015, nifty adjustments in urban management showed the kind of city Los Angeles could be and, to some extent, the city it has become:
Congestion fell by 60 percent as commercial deliveries were made at night, employers let employees work from home, and streets reversed their flows to smooth traffic. But most of all, what made the 1984 Games go was a specially devised Olympic bus network, which, when it was rolled out, became (on its own) the fourth-largest transit system in the state of California.
How much of that is possible now, working with an IOC that has tightly guarded its Olympic moneymaking capacity? The answer ought to be: a lot.
We know Los Angeles has already negotiated some concessions with the IOC, including an $180 million advance to cover committee costs and fund youth sports in the city. The bid includes a contingency budget of nearly $500 million, which, if unspent, will revert entirely to the city rather than partly to the IOC as has been customary. The IOC will contribute at least $1.8 billion, and possibly more than $2 billion, thanks to a new arrangement that allows the city to sell domestic sponsorships that IOC corporate partners don't want. (The initial arrangement called for the IOC to share $1.3 billion with the city.) That suggests Garcetti and the bid committee have pushed hard, and the city council—which will have to review and approve public expenditures—should add its own demands.
One mark Los Angeles can make on the games: shredding the red carpet that host cities typically roll out for the IOC. Part of the pitch for L.A. is that the city, ever a disappointment to tourists, has the opportunity to introduce the world to its new self-image as the polyglot American metropolis—with a newly built subway network! That means it's time to stop pampering a group that my colleague Ben Mathis-Lilley once described as "a notoriously ridiculous organization run by grifters and hereditary aristocrats."
When Oslo rejected the Winter Games, it was in part after a list of demands from IOC members leaked to the press. That list specified:
The IOC members should have separate entrances and exits to and from the airport.
IOC members get to meet the king prior to the opening ceremony.
IOC members shall be greeted with a smile when arriving at their hotel.
Seasonal fruit (in Norway, in February)
Seasonal fruit might be easier in Los Angeles; finding a king will be a challenge.
No public works endeavor in the United States should have room for those kind of riders, nor for another gift that's currently included in the L.A. plan: "a robust and free-flowing Olympic Route Network [on which] ... drive-times to and from almost all competition and non-competition venues will be less than 30 minutes."
UCLA to the Coliseum in 23 minutes? If the city can't make that possible for everyday commuters, it shouldn't shut down highway lanes to grant those perks to the stewards of the Olympic movement. This will have to be a people's Olympics if it's going to be any success at all.