Why Were All Those Guys So Weird About Mad Max's Jenny Beavan Winning an Oscar?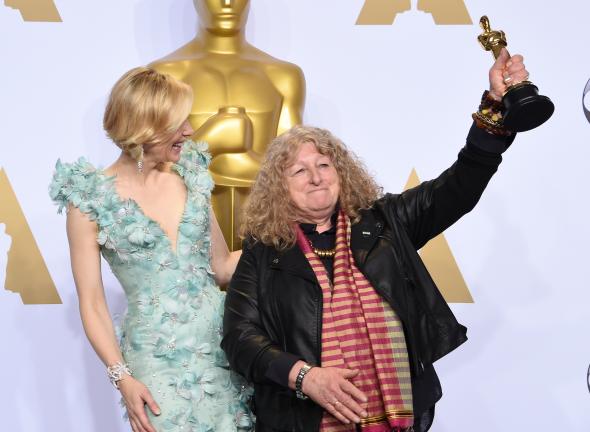 One of the most striking moments in last night's Academy Award ceremony was the apparently cold reception that Best Costume Design winner Jenny Beavan received from the crowd as she walked down the aisle to claim her prize for Mad Max: Fury Road. In a Vine that has now been viewed more than 11 million times, none of seven men sitting along the aisle are seen clapping for her.
Eventual Best Director winner Alejandro González Iñárritu keeps his arms crossed and virtually glares at Beavan as she tromps down the aisle. Spotlight director Tom McCarthy covers his mouth and giggles. Steve Golin, a producer of The Revenant and Spotlight, looks her coldly up and down, and otherwise doesn't move a muscle.
What was going on here? One charitable interpretation is that Beavan was seated in the back of the room along with the other technical-award nominees, so perhaps the front-of-the-room elites had finished clapping by the time she worked her way to their section. Maybe Iñárritu, whose grouchiness read as the most extravagant, was mad that his movie didn't win. Poor guy.
The less-charitable interpretation, and one it's awfully hard to avoid, is that they were taken aback by her appearance. Beavan was wearing baggy black pants, a faux leather jacket emblazoned with a skull inspired by Mad Max's Immortan Joe, and a scarf that she later said was meant to recall an oil rag. The first impression she made was of a woman who hasn't realized the Oscars are a formal affair.
More to the point, Beavan's entire appearance reads as a cheerful middle finger to Hollywood. Her hair is a huge gray wedge with scraggly bangs, a style she appears to have been wearing for decades. Her teeth are imperfect, she doesn't seem to wear makeup, and her physique suggests she doesn't do grain bowls or barre. She swung her arms as she tromped down the aisle, beaming all the way.
The contrast between Beavan and the blonde, thin, Armani-clad Cate Blanchett, who presented her with the award, was striking. On the street, Blanchett is the one who would attract stares; in the parallel universe of the Dolby Theatre, it's Beavan who looked remarkable to the men in the room. Indeed, her insistence on looking like an average 60-something woman seems to have read as either hilarious or uncouth to the judgy aisle bros.
Backstage after her win, Beavan was breezy and confident: "I don't do frocks and absolutely don't do heels, I have a bad back," she told reporters. She got the jacket at Marks & Spencer, she said, adding, "I had a bit of a shoe malfunction and the glitter fell off. I just like feeling comfortable and as far as I'm concerned I'm really dressed up." A few weeks ago, she wore a similarly casual ensemble to the Baftas, where she also won.
This was Beavan's 10th Academy Award nomination, and her second win. She previously won in 1987, for the Merchant Ivory production A Room With a A View, the kind of period drama that traditionally wins costume Oscars. For that ceremony, Beavan wore a tuxedo and a gold scarf. She spoke in a softer voice than she did last night, reading her list of thank-you's cautiously from a notecard, after her co-recipient had said his piece. Last night, she took the stage alone, and seemed more comfortable in her own skin.
As Slate's Jacob Brogan wrote last week, Beavan more than deserved the award for the grubbily futuristic ensembles of Mad Max, which subtly signify important information about their wearers. Immortan Joe's Plexiglas suggests a kind of faux accessibility, for example, while the gauzy white ensembles of his "wives" recalls both wedding dresses and bandages. Mad Max depicts a brutal and unforgiving world that's tough on mere mortals. Last night was a reminder that on some counts, Hollywood is almost as intimidating.
Update, March 3, 2016, 9:26 a.m.: Alejandro González Iñárritu responds in a statement to Slate: "I think Jenny Beavan is a masterful costume designer and very deserving of the Oscar for Mad Max: Fury Road. By editing and omitting the full reality and suggesting I felt anything but admiration is mean-spirited and false. What you don't see in the 10-second clip being circulated is my applause for Jenny as she ascended the stairs to the stage. I've learned a lot this awards season… that I should never cross my arms when I am sitting down."