The Official Eric Cantor Tribute Video Barely Mentions Obamacare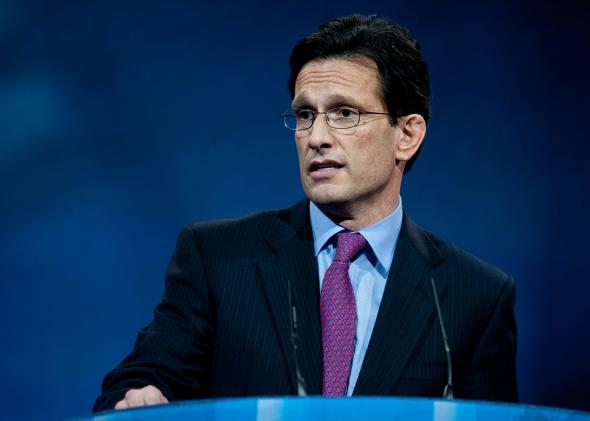 At this week's meeting of the House GOP conference, the assembled were shown a two-minute tribute to former Majority Leader Eric Cantor. His tenure was the only one many members had known—three years and seven months of slugging it out with the Obama administration. And in this official history, with music that sounds like something Hans Zimmer noodled around with before breakfast, the Cantor era was a time of bold, bipartisan experimentation with no compromise on Republican values.
Interesting to note what made it into the video. We see Cantor advocating the Gabriella Miller Kids First Research Act, speaking at the annual March for Life, speaking atfer a visit to a death camp in Poland, and talking up a campaign to end child trafficking. The only glancing mention of Obamacare comes when Cantor stands behind a lectern with the hashtag #SenateMustAct, and says "we're into the fight, and we want the Senate to join us." That was the hashtag (and speech) used when the House acceeded to conservative demands and tried to jam the Senate with a continuing resolution that defunded Obamacare. This vote was forced on Cantor after his original plan to stage a CR vote and a separate defund vote angered the right.
I guess there can't be any mention of the House GOP's 2014 vote to replace Obamacare with a conservative dream bill. That plan died when Cantor lost his primary.