Charlotte Mayor Arrested for Taking Bribes; Read the Charges Here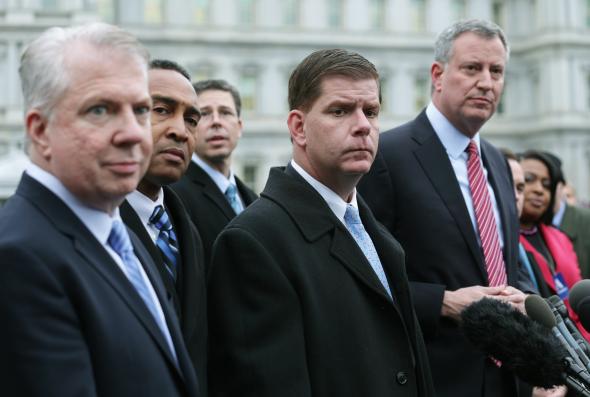 Patrick Cannon, who was elected mayor of Charlotte just five months ago, has been arrested after a four-year FBI sting that caught him taking bribes. According to the DOJ, "between January 2013 and February 2014, Cannon allegedly accepted from the undercover agents over $48,000 in cash, airline tickets, a hotel room, and use of a luxury apartment in exchange for the use of his official position."
Some context: This has been a bad couple of months for the Democrats who triumped in 2012 and 2013. Charlotte is one of the few major cities that's relatively competitive between the parties. Cannon won his race by only 6 points; the last mayor once removed, Pat McCrory, was a Republican who made it to the governor's office. The mayor immediately before Cannon, Anthony Foxx, was headhunted by the Obama administration to become its current secretary of transportation. Among their predecessors: former Rep. Sue Myrick, nearly-successful Senate candidate Harvey Gannt. The point is that a fortysomething, African-American mayor of North Carolina's largest city had quite a political future, unless he frittered it away by taking bribes.
It gets worse. In 2012 Democratic Rep. Bob Filner became the first member of his party in a generation to run San Diego. Filner's epic run of sexual harassment complaints drove him (eventually, and after some creepy smiling) out of office. Six weeks ago Republicans took back the mayoralty. And for months FBI stings have been taking down Democratic California state senators, the latest of them being Leland Yee, who is (nobody laugh) apparently tied to "infamous Chinatown gangster Raymond 'Shrimp Boy' Chow." The resignations have cost California Democrats their supermajority in the upper house.
None of this makes sense to me, just like former Virginia Gov. Bob McDonnell's implosion made no sense. Why take bribes? Why not wait out your term and take a job on a corporate board where you can collect money for "consulting"?