Anthony Weiner's Public Meltdown Continues [UPDATE: Man Appears to Tell Weiner, "You're Married to An Arab"]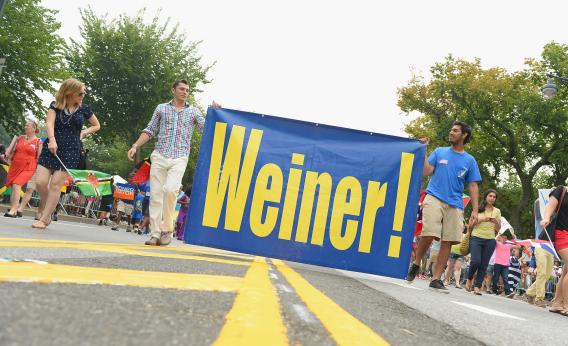 Tomorrow is Rosh Hashanah, the Jewish New Year, is a holiday of spiritual cleansing—so of course Anthony Weiner used today as an opportunity to get into a screaming match with a constituent. [See the update at the bottom for the full context.]

Weiner's campaign-turned-clickbait-tour stopped in Borough Park, home to a large community of Orthodox Jews, to get some traditional Rosh Hashanah baked goods Wednesday. Weiner was interrupted mid-chew by a man in a yarmulke calling him "disgusting." Unfortunately, the video doesn't show exactly what prompted Weiner's ire, though it leads to this schoolyard retort: "Charming, charming. Yeah, it takes one to know one, jackass." After the man in the yarmulke continues to shout at Weiner, Weiner goes back into the bakery to confront him. It goes about as well as you'd expect:

Man: You have a nerve to even walk around in public—
Weiner: Oh yeah, and you're a perfect person?
Man: I'm not perfect, but I didn't do what you did—
Weiner: You're my judge? You're my judge? What rabbi taught you that? What rabbi taught you that you're my judge?
Man: You're fine. You talk to God and work out your problems, but stay out of the public eye. That's the difference.
Weiner: That's up to you to judge, my friend. I don't take my judgments to you and I don't judge you.

Man: You're a bad example for the people.
Weiner: That's your judgment?

Watch the whole thing here, if you dare:
Weiner later tells the man to "go talk to your rabbi" and in general sounds like a dad arguing with the ump at his kid's softball game:

Weiner: By the way, I've fought very hard for this community and delivered more than you will ever in your entire life.

Man: You never delivered anything for me or any of these people.

Weiner: You know nothing. You know nothing. Your ignorance is being shown to the entire world.
Less than a week until the primary!

UPDATE: The Weiner campaign has released the full video of the confrontation, showing the pretty legitimate cause of Weiner's initial reaction. As Weiner pays and exits the bakery, the man yells, "You're a real scumbag, Anthony." Weiner continued to make his way out, saying, "Wow, very nice. Very nice. That's a charming guy right there." Then, the man appears to say, "You're married to an Arab." At that point, Weiner says, "That's very nice, in front of children you use that language." And that's where the edited video that was originally passed around begins. Obviously, Weiner's response seems much more proportionate in context. Most ironic is that the man in the yarmulke starts by tossing a racist slur about Huma Abedin, then goes on to chide Weiner for dishonoring his wife.

Correction, September 4, 2013: This post originally said Rosh Hashanah is a holiday of atonement. Yom Kippur is the Jewish holiday of atonement.