Trump Tweets "I Should Have Left Them in Jail" About UCLA Basketball Players Arrested in China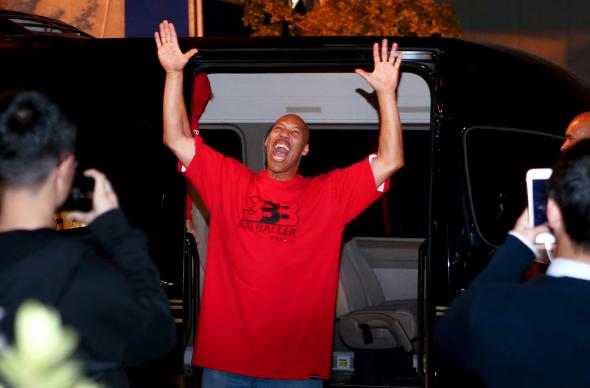 President Donald Trump's caudillo-like insistence on injecting himself into all aspects of American life continued on Sunday morning, when the president of the United States made another gallingly unnecessary tweet, this time about the legal case of three UCLA basketball players who had been briefly held in China on the suspicion of shoplifting. One of the three freshman players involved in the incident was LiAngelo Ball, brother of Los Angeles Lakers rookie Lonzo Ball and son of professional father, LaVar Ball.
Trump, shockingly, was aggrieved that he wasn't getting more appreciation for helping facilitate their release from the country (aka doing his job).
Now that the three basketball players are out of China and saved from years in jail, LaVar Ball, the father of LiAngelo, is unaccepting of what I did for his son and that shoplifting is no big deal. I should have left them in jail!

— Donald J. Trump (@realDonaldTrump) November 19, 2017
The UCLA players were on a team trip to China to play a game against Georgia Tech when they were arrested on Nov. 7 on suspicion of stealing a pair of sunglasses from a Louis Vuitton store as well as items from two other high-end stores near the team hotel in Hangzhou. The incident escalated quickly and the players' passports were taken and their travel restricted by Chinese authorities. The players missed the team's game with Georgia Tech in Shanghai and were forced to remain behind in China to deal with the fallout of the charges even after the rest of the team returned to Los Angeles.
President Trump said he raised the players' case with China President Xi Jinping while on his Asian tour earlier this month. The players returned home to the U.S. on Tuesday. By Wednesday, Donald Trump managed to be pre-emptively offended that he wasn't being sufficiently feted.
Do you think the three UCLA Basketball Players will say thank you President Trump? They were headed for 10 years in jail!

— Donald J. Trump (@realDonaldTrump) November 15, 2017
During a Wednesday press conference, the teenage players, themselves, issued apologies for their behavior and thanked everyone involved for helping to resolve the matter and bringing them home, including President Trump. "I'd also like to thank President Trump and the United States government for the help that they provided as well," LiAngelo Ball said. All three players were suspended from the Bruins basketball team indefinitely.
That seemed to please our leader who took a pass at dishing sage, almost father-like tweet advice.
To the three UCLA basketball players I say: You're welcome, go out and give a big Thank You to President Xi Jinping of China who made.....

— Donald J. Trump (@realDonaldTrump) November 16, 2017
....your release possible and, HAVE A GREAT LIFE! Be careful, there are many pitfalls on the long and winding road of life!

— Donald J. Trump (@realDonaldTrump) November 16, 2017
LaVar Ball, who has made a name for himself as a professional talker while attempting to build a brand around his three basketball playing sons, was in China during the week-long incident. It's not totally clear what the exact circumstances of the players' release were, and when asked about the president's role, Ball told ESPN Friday: "Who? What was he over there for? Don't tell me nothing. Everybody wants to make it seem like he helped me out."
Ball's comments, while not particularly gracious given the circumstances, once again proved no slight is too small to pierce the president's thin candy shell. Sunday's tweet from the president of the United States calling out Lavar Ball by name somehow seemed like a foregone conclusion. And, in the end, that's surely exactly what Ball wanted.