Army Sergeant Bowe Bergdahl Avoids Jail Time After Pleading Guilty to Desertion in Afghanistan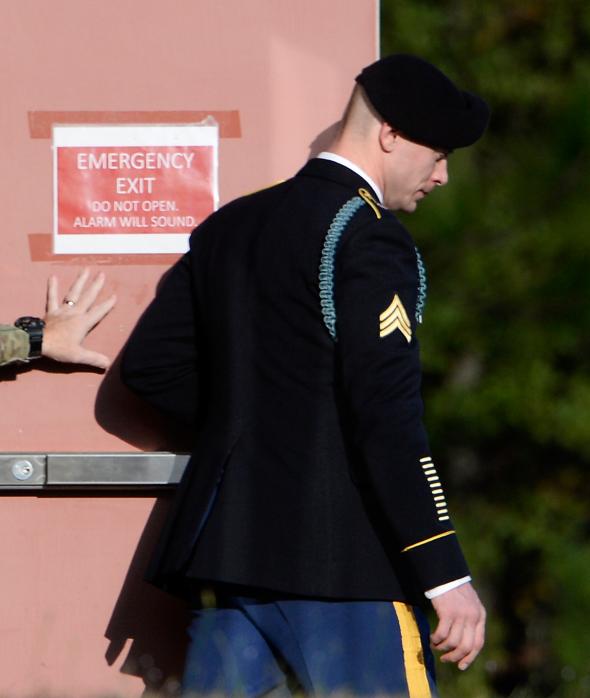 A military judge ruled Army Sgt. Bowe Bergdahl will not have to serve jail time after the 31-year-old pleaded guilty to charges of desertion and misbehavior before the enemy last month for leaving his post while stationed in Afghanistan. Bergdahl will be dishonorably discharged. While AWOL, Bergdahl was captured by the Taliban in 2009 in the country's Paktika province and held captive for five years, where he faced multiple instances of torture, before being recovered in a controversial 2014 prisoner exchange. The exchange of Guantanamo prisoners and the fact that other U.S. soldiers were injured risking their lives to retrieve Bergdahl made him a polarizing figure.
The military crimes Bergdahl pleaded guilty to meant he could have faced life in prison, but the prosecutor in the case asked the judge for a 14-year sentence; Bergdahl's attorney had requested a dishonorable* discharge as punishment. The judge, Army Col. Jeffery R. Nance, told Bergdahl during the hearing process that "a dishonorable discharge from the Army would be socially stigmatizing and block him from economic opportunities, including generous home loans offered through the Department of Veterans Affairs, and the G.I. Bill, which provides education benefits to troops and veterans," according to the Washington Post. "Bergdahl told the judge that he understood and that the recommendation from his defense team reflects how desperately he hopes to avoid further confinement."
"Bergdahl suffered from numerous mental illnesses, including schizotypal personality disorder and post-traumatic stress disorder, according to Dr. Charles Morgan, a forensic psychiatrist and professor at the University of New Haven and Yale University, who testified for the defense Wednesday," according to CNN. "The defense also argued that the information Bergdahl was able to provide upon his return—and his willingness to share that information and cooperate with investigators—warranted a more lenient sentence."
Update, 1:20 p.m.: President Donald Trump's two cents spread out over 140 characters.

The decision on Sergeant Bergdahl is a complete and total disgrace to our Country and to our Military.

— Donald J. Trump (@realDonaldTrump) November 3, 2017
*Correction, Nov 3, 2017: This post originally said Bowe Bergdahl's lawyer requested an honorable discharge as punishment; the judge was asked for Bergdahl to be dishonorably discharged.